East Midlands Trains extends Technical Service Agreement
Trains (EMT) has extended a Technical Service Agreement (TSA) with Bombardier for a further three years until March 2018…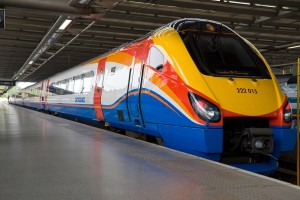 The Maintenance Services Support Contract, originally signed by both parties in 2007, covers ongoing maintenance services support for East Midlands Trains' fleet of Meridian diesel-electric multiple units (DEMUs). The contract also includes an option for a further extension to March 2019.
Tim Sayer, Fleet Director said: "It's great news for passengers that our franchise will continue until at least March 2018, and we've got lots of plans to improve our services. We're looking forward to continuing to work with Bombardier over the coming years to ensure our Meridian trains offer a reliable and enjoyable travelling experience for our passengers".
Contract to maintain 27 Class 222 Meridian DEMUs for East Midlands Trains
Hugh Heath, Head of Project Management for UK Fleet Contracts, Bombardier Transportation said, "We're honoured that our industry partners East Midlands Trains chose Bombardier for the continued provision of maintenance services. We've worked hard to enhance safety, reliability and availability of the Meridian fleet, including targeted attention to improve the customer environment and increase capacity. We look forward to continuing those improvements in the future through our ongoing collaborative relationship with EMT".
Bombardier has been maintaining the 125 mph Class 222 Meridian DEMUs since 2007. The fleet consists of 27 train sets (143 vehicles), with a requirement for 24 train sets to be available daily.