Centralised control centre: South Africa's answer to rail traffic management
A state-of-the-art control centre has opened in the South African province of Gauteng integrating rail traffic management from 35 existing control rooms. The advanced rail traffic management control centre, known as the Gauteng Nerve Centre (GNC), accommodates 35 control rooms in a single location. The GNC constantly monitors each and every one of the over […]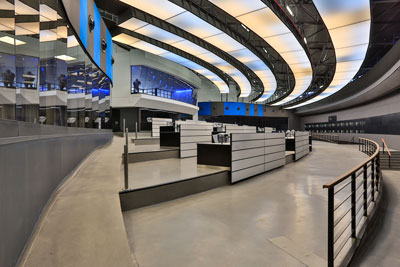 A state-of-the-art control centre has opened in the South African province of Gauteng integrating rail traffic management from 35 existing control rooms.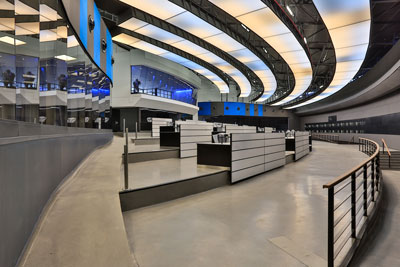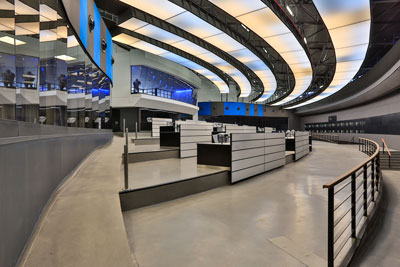 The advanced rail traffic management control centre, known as the Gauteng Nerve Centre (GNC), accommodates 35 control rooms in a single location. The GNC constantly monitors each and every one of the over 600 trains in operation every day and can immediately respond to any operating failures, accidents and other incidents. The centre has now become operational with the changeover of railway stations commencing in January 2016.
The control centre, built by Siemens, covers an area of approximately 3,400 square metres and  acts as an 'eye' which overlooks the entire railway network of the Passenger Rail Agency of South Africa (PRASA). The control room at the heart of the GNC is equipped with a video wall over 52 metres long and two metres high, monitoring all train movements and displaying traction power supply, weather information and operational data. The train movements are controlled via 30 multiscreen workstations, which are each fitted with an integrated communication module, combining telephone, trunked radio and GSMR communication. The GNC also takes overall control of passenger information systems, monitoring equipment for the overhead contact line systems and CCTV systems for stations.
GNC rail traffic management control centre monitors over 600 trains per day
Commenting at the official opening of the Gauteng Nerve Centre, Minister of Transport, MS Dipuo Peters said: "As we are officially handing over this world class facility to PRASA today, we are of the view that the days of having a fault based signalling system and unreliable data will become a thing of the past.
"The investment that the Gauteng Nerve Centre brings to South Africa will ensure that we change the rail landscape of our country forever and put PRASA at the forefront of signalling technology. As the myriad of investments is taking place in our railway industry, all these developments will require integration, which makes the GNC pivotal to the whole railway system."
PRASA, the state-owned rail operator, has pledged to invest heavily in the expansion of railway infrastructure in order to strengthen Gauteng's position as an economic hub for South Africa. The region includes the cities of Johannesburg and Pretoria and is currently responsible for generating 10 percent of Africa's total GDP.
Gauteng's signalling system is currently obsolete with a mix of technologies dating back as far as the 1930s. PRASA has begun the process of updating the system and trackside equipment to help develop the densely populated province of Gauteng as an economic region. The updated track systems will reduce the headway between successive trains from 15 minutes to around 2.5 minutes. This will increase operating capacity, provide greater flexibility, establish a higher level of safety and reduce train delays. Three of the regions 92 stations have already been fitted with interlocking technology supplied by Siemens.