Allerton Depot opens following £23m upgrade to maintain electric trains
Allerton Depot has been transformed thanks to a £23 million upgrade to service Northern Rail's new fleet of electric trains. Having acquired Allerton Train Maintenance Depot in 2011, Network Rail undertook refurbishment on the site close to Liverpool South Parkway on the busy Manchester to Liverpool line, transforming it from an almost derelict state to […]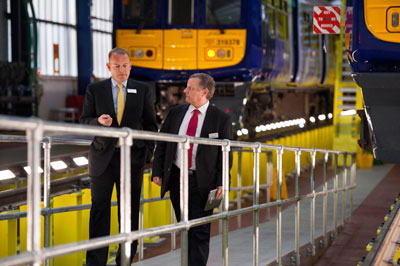 Allerton Depot has been transformed thanks to a £23 million upgrade to service Northern Rail's new fleet of electric trains.
Having acquired Allerton Train Maintenance Depot in 2011, Network Rail undertook refurbishment on the site close to Liverpool South Parkway on the busy Manchester to Liverpool line, transforming it from an almost derelict state to a new maintenance facility initially for Northern Rail's fleet of diesel trains. Work then commenced to implement a package of improvements to re-electrify the depot as part of Northern Rail's North West Electrification Programme.
Transport Minister Andrew Jones said: "Our investment in infrastructure is transforming the railways in the North, giving passengers better journeys and helping to build the Northern Powerhouse.
 "The re-electrified depot at Allerton will help us to deliver more electric trains on the Northern Rail network, expanding the fleet in the North West, and crucially, provide additional seats and capacity for customers."
Allerton Depot to aid delivery of further electric trains on Northern Rail Network
Martin Frobisher, route managing director for Network Rail, added: "The electrification of Allerton depot is an important part of our Railway Upgrade Plan with Network Rail investing over £1bn to improve rail services across the north.
"By electrifying routes between key towns and cities, passengers will benefit from bigger, better and more environmentally friendly trains. The improvements at Allerton mean these trains can now be housed and maintained to help deliver these benefits."
Welcoming the re-electrification of Allerton train maintenance depot, Northern Rail's managing director Alex Hynes said: "Creating a Northern Powerhouse of jobs, investment and prosperity is a key objective of the Government's long term economic plan. Northern is proud to be playing a key part in bringing this to life; by introducing 20 Northern Electrics trains we are improving connectivity across the North and providing much needed extra capacity on some of the UK's busiest routes.
"Network Rail's support through the improvement and extension of Allerton depot is vital. It means that we are not only equipped to maintain the electric trains we already have in service, but we are able to introduce even more in the coming months."
Work on Allerton Depot began in 2014 with upgrade work commencing in three stages. The first two stages are now complete and included electrification and extension of the existing train shed, depot protection system to safeguard staff, modernisation and expansion of the existing maintenance 'pit', new sanding equipment to help address track adhesion problems and installation of over a mile of new and re-conditioned track.
The final phase is currently underway to improve capacity at the depot, enabling it to stable up to 100 trains. Work is scheduled for completion by the end of 2015.
Related topics
Related organisations