New Oxford to London rail link opens
A new Oxford to London rail link has opened thanks to a £320 million investment by franchise operator Chiltern Railways and Network Rail. The Oxford to London rail line will offer a new direct service to the capital and act as an alternative to travelling into London via Reading and Paddington. The Chiltern Railways service […]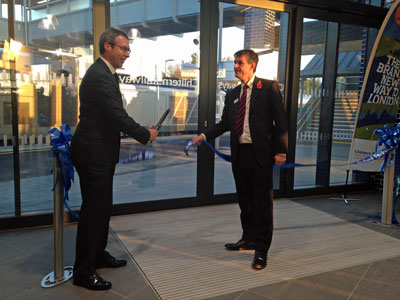 A new Oxford to London rail link has opened thanks to a £320 million investment by franchise operator Chiltern Railways and Network Rail.
The Oxford to London rail line will offer a new direct service to the capital and act as an alternative to travelling into London via Reading and Paddington. The Chiltern Railways service is expected to attract an additional 250,000 return commuter journeys each year and is a rare example of new direct competition on Britain's railways.
The first new rail link from a major British city in more than 100 years will also serve two new stations at Oxford Parkway and Bicester Village. The stations, which also opened today as part of the programme, will provide a direct connection to Bicester Village shopping complex from London's Marylebone station in as little as 46 minutes. This will enable the 603 million shoppers who visit the destination each year to travel by train for the first time.
Oxford Parkway is a brand new station on the outskirts of Oxford designed explicitly to be attractive to motorists, making it easy to take cars off the road. Immediately adjacent to the congested A34, it is close to the A40 and A44 trunk roads and has 1,500 car parking spaces at the site.
Chiltern Railways has invested £130million of the £320million total cost of the new line and stations with Network Rail contributing £190m. The new service will offer two new fast trains per hour throughout the day between Oxford Parkway and Bicester Village station and London.
Oxford to London rail link: a rare example of new direct competition on Britain's railways
Commenting at the launch of the new line and service, Chiltern Railways Managing Director, Rob Brighouse, said: "This is an historic day. Our significant and unique investment will economically advantageous for the regional economy creating competition in the rail market between Oxford and London, as well as delivering the first new service between a major British city and London for over 100 years. Passengers are at the heart of every decision we make at Chiltern Railways, which is why we conceived this new line to link London, Oxford and Bicester Village for the benefit of shoppers and commuters."
Mark Carne, Chief Executive of Network Rail, said: "Investing in new rail links and train stations boosts the economy, providing opportunities for new housing and more jobs. By working closely with Chiltern Railways on this part of our Railway Upgrade Plan we have been able to deliver precisely what its customers want – a much-needed new transport option for Oxford-based business and leisure travellers to London. It will also help provide the capacity needed as rail travel is forecast to double over the next two decades."
Commenting on the opening of the new rail link between Oxford and London, Michael Roberts, director general of the Rail Delivery Group, added: "The opening of a new rail line between Oxford and London is good news for passengers and businesses, bringing with it new opportunities for people to connect with jobs, friends and family. This new link highlights the crucial role rail can play in the nation's economy and, while there is always more to do to improve services, it demonstrates the success story that is Britain's railway." 
Under the agreement, Network Rail will provide the capital for the upgrade and recover this through a facility charge over the next 30 years, payable by the existing Chiltern Railways franchise and by subsequent franchisees.
Related topics
Related organisations