London Midland launches free entertainment and Wi-Fi on trains
London Midland has announced a free entertainment package of movies, TV programmes, eBooks and magazines for its trains, as well as free Wi-Fi.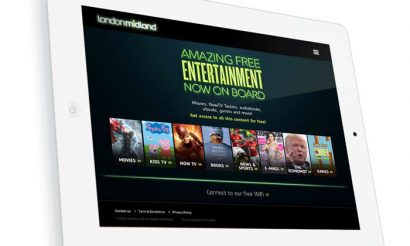 The entertainment package is called Motion and it is the first-time movies have been available on trains on a web browser (meaning there is no need to download an app before travelling).
The following is available on Motion:
Major Hollywood movies
Children's TV favourites
Popular TV shows from Sky and Now TV
Over 70 eBooks and audio books
A selection of games
Digital magazines
Motion will operate independently of the free passenger Wi-Fi connection, freeing up bandwidth for those who need it most. Furthermore, to give the best possible service, a state-of-the-art router is connected to three different networks providing the fastest free connection currently available on UK railways.
"Our aim is to create simply better journeys for all our customers"
"Twelve months ago we pledged to install WiFi on all of our long-distance trains but we have been able to do much more," said Patrick Verwer, Managing Director of London Midland. "Our innovative approach to technology means we have been able to include the industry-leading entertainment package and cover key local routes too.
"Our aim is to create simply better journeys for all our customers. Free entertainment and Wi-Fi will not only improve the customer experience – it will change the way people think about travelling on our trains.
"We have made the package as user-friendly as possible and this is the first time that Hollywood studios have given the green light for on-board movies and TV shows to be streamed directly to a browser, rather than through a third-party app."
The Wi-Fi and entertainment package has already been installed on over half of London Midland's long-distance fleet and Birmingham's Cross City line between Lichfield and Redditch. By October, passengers on over 70% of journeys will also have the new service.