Transport Secretary confirms HS2 routes
Transport Secretary Chris Grayling has confirmed Britain's high-speed rail lines to the north-west, East Midlands and Yorkshire.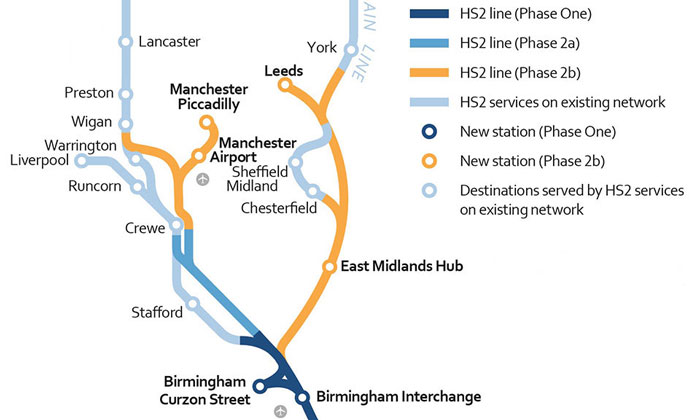 The will mean new connections between Birmingham, Manchester, Liverpool, Leeds, Sheffield and the East Midlands – with all of them being linked to London by the line. This is set to bring a massive economic boost for the north and the Midlands by increasing productivity and creating new business opportunities.
The new line will also free up thousands of extra seats and additional services on local lines, with new research showing that the impact of HS2 could more than double rush hour seats from Manchester Piccadilly towards Stoke and Crewe; and from Leeds towards Wakefield, as well as almost double peak seats from London to Peterborough and east coast destinations further north. Furthermore, by providing new routes for intercity services, HS2 will free-up space on our existing railways for new commuter, regional and freight services, taking lorries off roads.
"We have taken a huge step forward in connecting eight of our largest cities, freeing up space on our railways and building a catalyst for growth across the country," said David Higgins, Chairman of HS2 Ltd. "Once completed 30 million people will be served by HS2 across over 25 stations, helping to change the economic geography of the country, and bring prosperity to the midlands, the north, and beyond."
This announcement will mean journeys from Birmingham to Manchester will take 40 minutes – a trip that takes more than 80 minutes on services currently.
"Britain's new railway line will bring huge economic benefits across the country and help ensure this government delivers on its promise to spread wealth beyond London and the south-east," added Transport Secretary Chris Grayling. "But as well as creating skilled jobs, apprenticeships and business opportunities, it will also mean real day-to-day improvements for people across the country.
"By building a whole new railway line for high-speed intercity connections, we will free up local services, meaning more comfort, more seats and more trains for passengers across the north and the midlands. We will now press ahead with building the line, while continuing to ensure affected communities get appropriate support and are treated with fairness, compassion and respect."
The government remains on track to open the link from London to Birmingham in 2026, the route to Crewe in 2027 and the routes to the East Midlands, Yorkshire and Manchester in 2033. Preparatory work on Phase One has already commenced, with major construction starting in 2018 to 2019.
Related regions
Related people