New Elizabeth line images released as project moves closer to completion
New images released by Crossrail highlight the progress being made with the architectural fit out of the Elizabeth line stations in central London.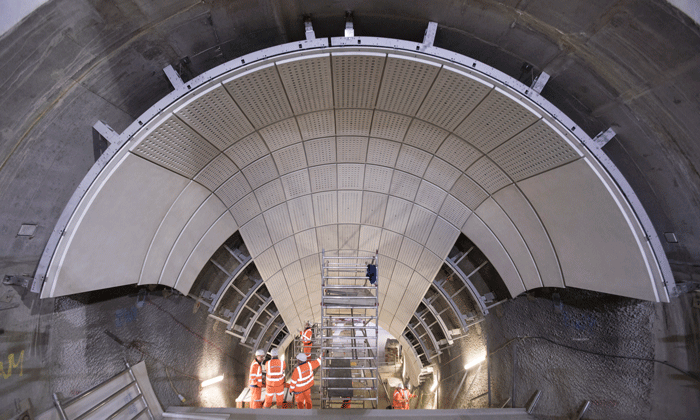 The Elizabeth line images highlight the common architectural components used to create a recognisable look and feel to the railway, as well as bespoke elements designed to reflect the character of the local community.
Julian Robinson, Crossrail Head of Architecture, said: "Crossrail is working with the best architects and engineers in the world to create a railway that builds upon the unrivalled heritage of London and its iconic transport network. As the project passes 85% complete, these new images highlight the progress being made to install the architectural elements that will soon become familiar to the hundreds of thousands of passengers who will use the Elizabeth line every day when it opens in December 2018."
The new images released include:
Platform level – glass-fibre reinforced concrete panels that will create large and bright spaces with curved, sweeping corners
Paddington – bespoke brick panels, and architectural light fittings and columns inspired by the adjacent Grade II listed national railway station
Tottenham Court Road – theatre-like acoustic ceiling drums inspired by the West End and underground glazing decal based on the street map of Soho
Farringdon – the deep coffered ceiling of the eastern ticket hall inspired by the neighbouring Barbican
Woolwich – bespoke brickwork and full-width beams which create a large, welcoming space.
The design and architecture of the new railway can be explored at a major exhibition at the London Transport Museum. The design line: stations, art and public space on London's newest railway contains images, films and models of the stations; new exhibits include a bespoke wall panel from Tottenham Court Road and a prototype station clock.
Related topics
Related organisations