Indian Railways' freshly-painted locomotive revealed
GE Transportation has revealed Indian Railways' first Evolution Series locomotive's new paint scheme.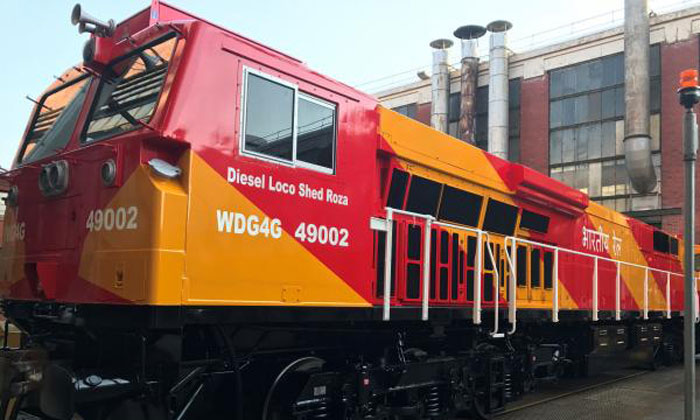 The ES43ACmi (Indian Railways' class WDG4G) Evolution Series locomotive, painted in a distinctive red and yellow pattern, is the first of 1,000 diesel freight locomotives that GE Transportation will deliver to Indian Railways as part of a $2.5 billion order.
The new locomotives are part of the Government of India's Public Private Partnership program to modernise the country's rail infrastructure and the bright colours hold special meaning in India with red representing energy and yellow representing freshness.
"This new ES43ACmi locomotive is the ideal solution for Indian Railways' modernisation efforts," said Yuvbir Singh, Vice President of Global Locomotive Operations for GE Transportation. "The design is based on our Evolution Series locomotives. It will provide greatly improved fuel efficiency and emissions compared to Indian Railways' existing non-Evolution Series fleet."
The ES43ACmi locomotive is one of two models GE Transportation is building for Indian Railways as part of the order. It's a dual-cab locomotive with a 4,500-horsepower engine. The second locomotive, model ES57ACi, features a 6,000-horsepower engine. It is currently in the design phase and will begin production later this year.
"It is great to see Indian Railways' first locomotive emblazoned in the railroad's ornate paint scheme," added Nalin Jain, President and CEO of Asia Pacific for GE Transportation. "This is a great example of the 'Make in India' initiative, which will instill a sense of pride in Indians nationwide as it hauls freight throughout the country."
GE Transportation is preparing to ship the locomotive in a few weeks. It is expected to arrive in India later this year.
Related organisations
Related regions