SJ launches a new feature for its app
SJ, the Swedish travel partner that offers sustainable train travel, has launched a new feature for its app: Where Do I Stand On The Platform.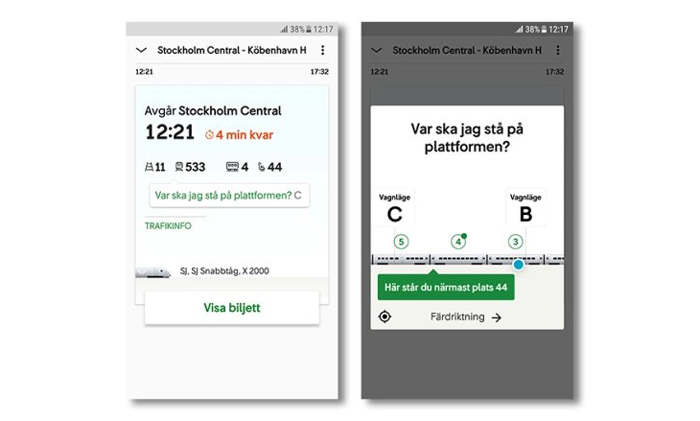 This will make it easier for SJ's passengers to stand in the right place on the platform when the train rolls in.
The function, which has been developed with the help of SJ's travellers, had been requested and tested in the SJ Labs app for use with high-speed traffic in 2016, where it received positive feedback. Now it has moved to SJ's usual app to include most of the stations SJ operates with the X2000 and SJ 3000 trains and has become available to a larger user audience.
"We have listened to the travellers and helped them to gather the data needed to develop the function," said Claes Lindholtz, Head of Business Development at SJ. "Our customers have helped us to help them, which of course feels extra fun."
To collect all of the information required for this new feature on the app, SJ launched its Great Skyltjakten competition where the company's SJ Prio account holders took pictures of where carriages were positioned when the trains rolled into certain stations. The pictures would then submit its GPS coordinates to be saved in the app, with the passengers taking the most pictures receiving a certain amount of SJ Prio points.
"Many of the 5,000 travellers who tested the 'Where Do I Stand On The Platform' feature have [been] heard and been very positive," said Claes Lindholtz when the competition was launched back in May 2017. "They… missed the old plans that showed where on the platform to stand. It will be an unnecessary stress for many people that only when the train roll[s] in [to] see where to go… Now, when we scale up the feature and make it available to a larger user queue in the SJ app, we'll help our… customers to collect the exact coordinates of the wagons."
The function will only be available at the stations along the Western Pole.
Related regions
Related people