Senior industry figures form supervisory board for East Coast Main Line
Railway companies running the East Coast Main Line (ECML) have united to form a dedicated Route Supervisory Board. The board will ensure that a single voice represents customers, holds the rail industry to account and ensures the different elements work together to drive improvements.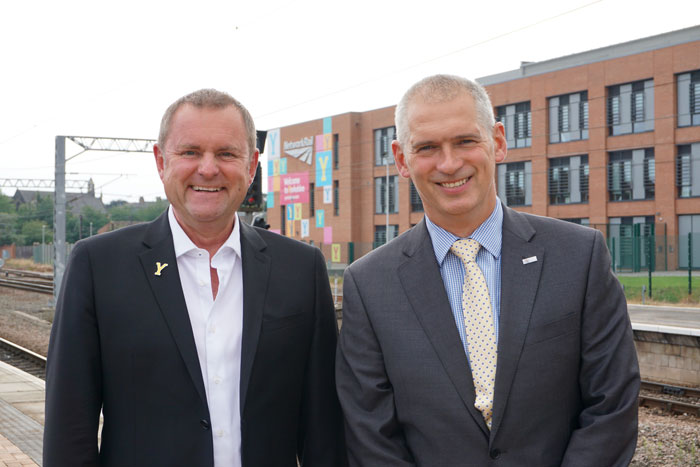 Sir Gary Verity and Rob McIntosh. Image courtesy of Network Rail
Sir Gary Verity, business leader and Chief Executive of Welcome to Yorkshire, will independently chair the board. The supervisory board will be formed of senior representatives of Network Rail and the train companies operating on the ECML, along with representatives from passenger groups and regional economies along the ECML.
Supervisory board aims high
Commenting on the role of the board, Rob McIntosh, Managing Director of Network Rail's London North Eastern & East Midlands route, said: "Britain's railway is ever more important to economic growth so, working together, we are determined to deliver more for customers and communities across the country. The board will work together with one voice to best represent customers the length of the East Coast Main Line, bringing track and train closer together, driving improvements and holding the industry to account."
"I'm very pleased that Sir Gary has agreed to chair our board, bringing his valuable insight from outside the rail industry to help us grow the ECML and deliver its maximum potential value for UK Plc."
Sir Gary Verity said: "I'm very excited to become part of the team at this important time in the evolution of train travel. I'm looking forward to working with rail industry partners and stakeholders across the regions to help deliver a successful next chapter in the history of East Coast Main Line."
Chris Grayling, Secretary of State for Transport, said: "This is excellent news for passengers between Scotland, the North East, Yorkshire and London. We are investing in the biggest upgrade of the railway since the Victorian age, including a brand new fleet of Intercity Express Trains on the East Coast Main Line.
"Delivering such major improvements and repairs, whilst keeping the busy railway moving, is a tough task, and is much better done by a joined up local team. Bringing the management of track and train closer together will mean disruption is minimised as we deliver these better journeys for passengers."
David Horne, Managing Director of Virgin Trains East Coast said: "Together with Network Rail, we're moving forward at great speed in transforming rail travel on the east coast and I welcome the appointment of Sir Gary as someone who shares Virgin's passion and drive to deliver a truly best in class railway for our communities."
Richard McClean, Managing Director of Grand Central said: "Setting up a Route Supervisory Board for the East Coast Main Line is a wonderful opportunity for the whole rail industry to work smarter together as one team to deliver for the passengers and communities that we serve.
The appointment of Sir Gary shows how seriously we take our responsibilities in this area and I look forward to working with him and rail industry colleagues to unlock the real potential of this vital part of the rail network."
The supervisory board will begin from September this year with further details to follow.