Chinese universities unite to forge innovation centre for rail safety technology
The Hong Kong Polytechnic University (PolyU) and Southwest Jiaotong University (SWJTU) forward their strategic partnership to advance the nation's rail transit technologies by setting up the Joint Innovation Center for Rail Transit Safety Monitoring Technology.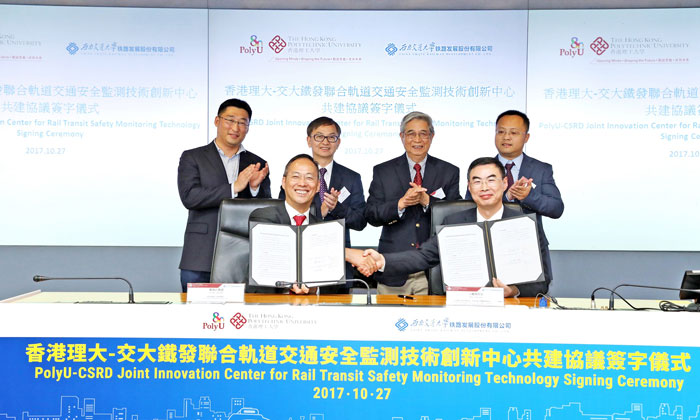 A collaboration agreement was signed on 27 October 2017 between PolyU Base (Shenzhen) Limited, a registered legal entity of PolyU in the Chinese Mainland, and China SWJTU Railway Development Co., Ltd (CSRD) of Southwest Jiaotong University.
Led by Mr Wang Pengxiang, Dean of Beijing Research Institute of SWJTU, Chairman of CSRD, a delegation came to Hong Kong to attend the signing ceremony on PolyU campus. The agreement was signed by Mr Wang and Ir Professor Alex Wai, PolyU Vice President (Research Development).
High expectations for innovation centre
The signing ceremony was officiated by the Guest of Honour Dr David Chung Wai- keung, Under Secretary for Innovation and Technology. Dr Chung believed this Joint Innovation Center would usher in a new phase of cooperation. He expected more mutually beneficial cooperation in the development of the Hong Kong-Shenzhen Innovation and Technology Park – the largest-ever innovation and technology park of Hong Kong – which would help connect the upstream, midstream and downstream sectors of the innovation and technology industry, thereby developing Hong Kong as an international innovation and technology hub in the Guangdong-Hong Kong-Macao Bay Area.
At the signing ceremony, Mr Wang Pengxiang said that PolyU and CSRD have worked together on various large projects including the Beijing Shanghai HSR (High-speed Railway) and the Lanzhou-Xinjiang HSR project in 2012 and 2014 respectively. Both PolyU and CSRD will further leverage their expertise to strengthen the collaboration on research development through the Joint Innovation Center. As a result, rail safety will be enhanced to meet the nation's robust demand in rail transit development, providing active support for the Belt and Road Initiative, as well as the Guangdong-Hong Kong-Macao Bay Area development plan.
The centre's research covers several areas including R&D of Structural Health Monitoring (SHM) systems tailored for rail tracks and subgrades; SHM systems tailored for high-speed trains and their components; fault diagnosis and prognosis methods for comprehensive evaluation of vehicle-rail health condition; and establishment of a comprehensive monitoring and control laboratory for real-time feedback.
The Joint Innovation Center will be co-led by representatives from CSRD and PolyU Base (Shenzhen) Limited, led by Professor Ni Yi-qing, Director of National Rail Transit Electrification and Automation Engineering Technology Research Center (Hong Kong Branch), Professor of Department of Civil and Environmental Engineering of PolyU.
Ir Professor Alex Wai, PolyU Vice-President (Research Development) remarked, "The signing of the agreement means closer collaboration in developing new railway transit safety monitoring technology, and PolyU will further participate in the nation's High-Speed Rail projects through its PolyU Shenzhen Base. I believe this strategic partnership will take the development of China's High-Speed Rail to higher levels of excellence."