Jeannette Frett joins Network Rail Consulting North America as Chief Human Resources Officer
As Chief Human Resources Officer for Network Rail Consulting, North America, Jeannette Frett will lead the design and delivery of strategic human resources services, policies and programs.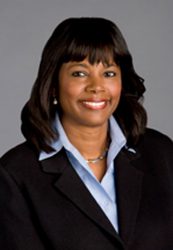 Network Rail Consulting aims to harness the range of skills and experience available within Network Rail to demonstrate British expertise overseas and be an international ambassador for Britain's rail industry. Jeannette Frett has a wealth of experience in improving performance and leading change through talent acquisition and has held leadership roles with Banco Popular, Verizon and the Federal National Mortgage Association (Fannie Mae). Working with Network Rail, Jeannette will be leading the design and delivery of strategic human resources, services and programs.
As a previous member of the Senior Leadership Team at Trinity Washington University, Jeannette directed a number of Masters' Programmes, as well as creating a vision and strategic plan for the Business and Graduate Studies department. Owing to her passion for education, Jeannette will obtain a doctorate in higher education, EdD, from the University of Pennsylvania in May 2018.
Commenting on her appointment, Jeannette said: "I am thrilled to be working at such an ambitious company, with so much potential and expertise. In partnership with NRC's leadership team I look forward to fostering a high-performing culture of engaged, productive employees, aligned with the business goals and priorities of NRC."
Ron Hartman, President NRC North America, said: "It is a great pleasure to welcome Jeannette to Network Rail Consulting as Chief Human Resources Officer. Her expertise will be crucial in ensuring NRC staff continue to deliver outstanding results."
Related topics
Related organisations
Related people