The station for Texas high-speed train is revealed
The bullet train project is expected to cause economic growth, new jobs and area development, with increased property values as a result of the new station…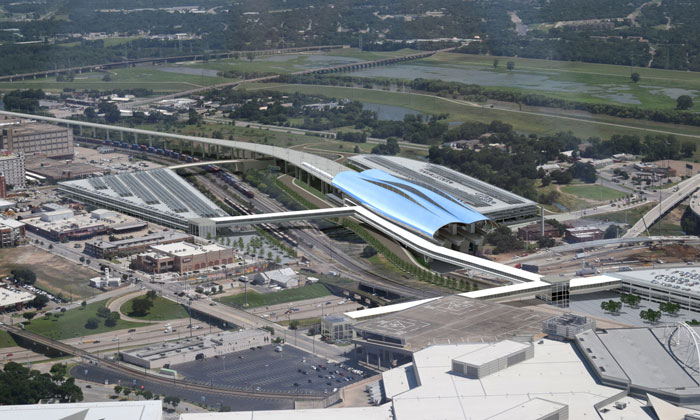 Developers of the Texas Bullet Train revealed details on its passenger station in Dallas, which will be built on a vacant 60-acre plot in the Cedars neighbourhood.
Federal regulators overseeing the project said the 200mph North Texas – Houston train will "alleviate the strain" on the road infrastructure, providing riders with a quick and comfortable access into the states.
From the Dallas station to the Greater Houston region will take 90 minutes and ongoing plans hope to connect the local station with multimodal transportation networks, including traveller-friendly connections with DART's systems.
"This station will be a magnet for economic activity in an area ripe for development," said Carlos Aguilar, CEO at Texas Central. "And it will connect seamlessly with local roads and public transit."
The introduction of the Texas Bullet Train to the Cedars will accelerate economic growth in the southern part of town as well as attracting new residents to the area. This is expected to encourage the densification of the Cedars neighbourhood and the region's highway congestion relief efforts.
The federal report provides guidance as the project reaches its pre-construction phase, ensuring the safety of counties along the 240-mile long route. Aguilar also said the train is a draw for Amazon's new headquarters, providing easy access to the urban, suburban and rural areas of the state.
The station is expected to increase house prices in its vicinity, generate more revenue for property-taxing entities and the ticket sales should produce more in local sales taxes.
"The impact to property tax revenue would be beneficial for all local jurisdictions," said the Federal Railroad Administration (FRA). "These additional resources would benefit schools, libraries, parks, hospitals and emergency services."
The Railroad will create 10,000 jobs throughout each year of construction and 1,500 full-time jobs when operations start.
The station is going to include restaurants, bars, seating areas, fast foods, concessions and rental car counters and will be connected to a new parking facility by enclosed, elevated pedestrian bridges.
The Bullet Train project therefore will create a beneficial impact for commuters and road users but also the communities in the nearby areas.
Related organisations
Related regions