First new Class 195 Northern train heads for track testing
Northern continues its work to improve customer journeys across the north of England, reaching the track testing stage for the first time with the new trains…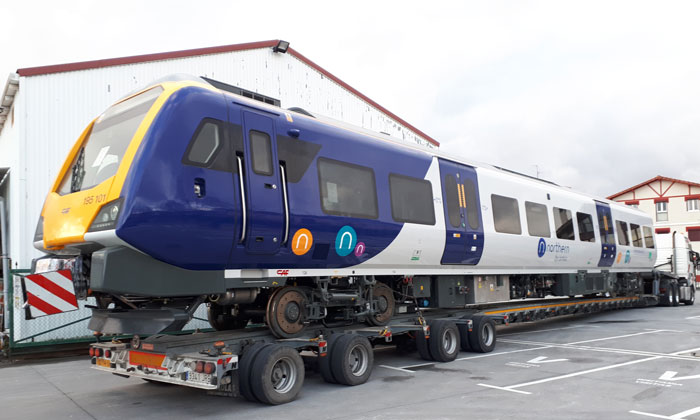 Northern's first brand-new Class 195 DMU train has left the CAF factory at Irun in northern Spain, beginning a journey to reach Velim in the Czech Republic.
The new unit was placed onto the back of a low-loader and shipped to Germany where it will be put back on a lorry to travel to Velim.
Ian Hyde, Northern's Head of New Trains, said: "It made its first move under its own power on 8 March 2018. We've worked for so long on the design and construction of the new trains it's a real thrill to see one on the move for the first time, even if is only for a few metres!"
The train is scheduled to arrive at the test track by 11 March 2018 where it will undergo commissioning work. By the end of March 2018, full track testing will begin.
Northern is introducing 98 new electric and diesel trains, all of which will feature complimentary Wi-Fi, a plug socket per seat and air conditioning.
Ian added: "Delivering this milestone brings us closer to seeing the trains out and about, which as part of the Great North Rail Project, will help improve customer journeys across the north of England. Once work is complete in Velim, we expect the first of the new trains to reach the UK by the summer for further testing, before they head out onto the Northern network to carry passengers in December 2018."
Related topics
Related organisations
Related people