Norway has selected Thales to provide next-generation Traffic Management System
Norway's modernisation programme includes a new signalling system and will increase the attractiveness of rail travel through improved passenger service as well as delivering environmental, social and economic benefits across the country…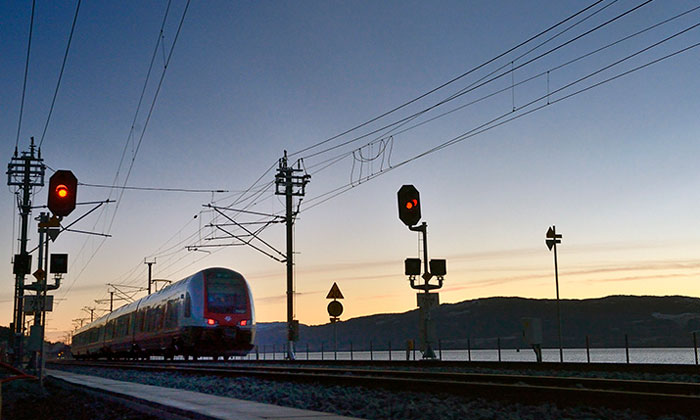 Credit: Øystein Grue/banenor.no
The Norwegian national rail administration, Bane NOR, is planning a new signalling system based on the European Rail Traffic Management System (ERTMS) standard and has selected Thales to be the provider.
Thales is providing a next-generation solution based on the ARAMIS traffic management system. This leverages the full potential of the modernisation programme to improve train punctuality, passengers' safety and comfort and facilitate the mobility of people and goods throughout the country.
The goal is to renew most of the existing systems on the railway network by 2034, including signalling systems, on-board equipment and a national Traffic Management System (TMS).
The early deployment of a country-wide TMS will replace three existing systems. A state-of-the-art management system is crucial to help railway operators make the most of their infrastructure, deploy more trains on the network and deliver an efficient, high-capacity railway system to improve train punctuality, enhance passenger safety and comfort and facilitate the mobility of people and freight throughout the country.
"Thales is pleased to be chosen as the supplier of the key component in the digitalisation of the Norwegian railway," said Millar Crawford, Thales EVP for transportation systems. "This investment is a significant and important step towards a Norwegian railway revolution."
Bane NOR will benefit from the scalable TMS solution that is combined with a next-generation platform able to adapt to a growing network. This technology has the capacity to meet Norway's needs for the next 25 years.
The next-generation solution has also been enhanced to provide a cyber-secure, cloud-ready platform with a fully adapted Human Machine Interface. The Thales TMS will have an interface with the existing systems during the migration period, ensuring a smooth transition to the new system.
The European Railway Traffic Management System (ERTMS) aims at replacing the different national train control and command systems in Europe, to enable the creation of a seamless European railway system and increase the competitiveness of European railways. Norway has committed to the implementation of ERTMS on its national railway network and this major project will be completed over the next 17 years.