UK's first tri-mode train is being introduced by Great Western Railway
The tri-mode fleet will provide more seats, improved interior features for passengers and flexible operation on the London and Thames Valley services…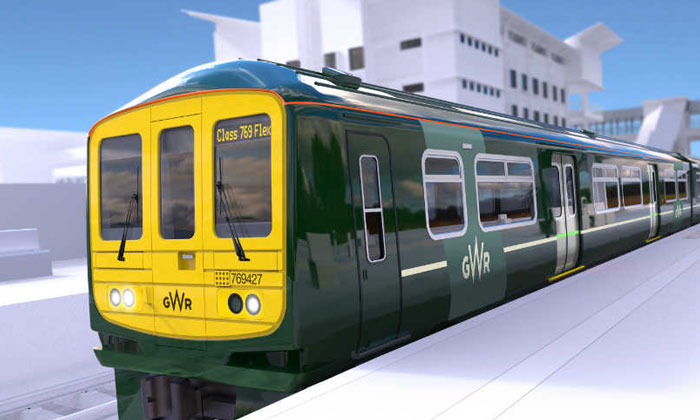 Great Western Railway (GWR) with Porterbrook Leasing are introducing the UK's first tri-mode train following a deal between the two companies.
This will be the first fleet of trains capable to run on overhead lines, third-rail electric lines and their own power and will be introduced onto London and Thames Valley services on the GWR network in 2019.
The 19 Class 769 Flex trains will release a similar number of Turbostar trains; adding capacity in the Bristol area and offering the potential for new routes to be launched across the city.
This is the latest step in GWR's project to provide more seats across its network and builds on the 8,000 additional seats delivered into and out of London earlier in 2018.
GWR Managing Director, Mark Hopwood, said: "We are already delivering the biggest fleet upgrade in a generation across the Great Western network, but this news shows we have not stopped looking at ways to improve our service by adding extra capacity to our network."
The innovative fleet of tri-mode trains will operate in four-carriage sets which will be refurbished inside and out, with free Wi-Fi and power points at each seat, air cooling systems, more space for luggage and new seat covers. Its modern two-engine design will offer a quieter and cleaner experience for customers.
Initially, the fleet will support the introduction of refreshed trains on Heathrow Express services but will be predominantly used on routes between Reading and Gatwick, and Reading and Oxford. However, the tri-mode nature of the train will give GWR maximum flexibility to use them in other areas of the network if necessary.
Final details of exactly how and where the new fleet will be used are currently being drawn up and are expected to be finalised later in 2018.
Mary Grant, CEO of Porterbrook, said: "I am delighted that Great Western Railway have agreed to add our innovative tri-mode trains to their fleet. These trains will offer GWR greater operational flexibility with reduced operating costs, at the same time their conversion and upgrade will see skilled engineering jobs secured in the UK supply chain."