Norway to invest NOK 120 billion in rail projects between 2018-2023
As part of its National Transportation Plan for 2018-2029, the Norwegian government has announced approximately NOK 120 billion is allocated for the rail industry during the period 2018-2023 to cover a number of rail infrastructure and digitalisation projects…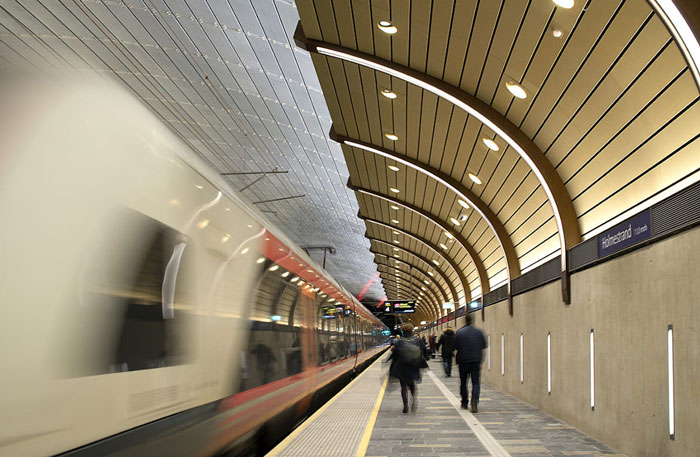 Holmestrand Station. Photo Credit: Anne Mette Storvik, Bane NOR
As part of its National Transportation Plan for 2018-2029, the Norwegian government has announced it will, on average, pump NOK 90 billion annually into investments, operations and maintenance of its roads and railways. Approximately NOK 120 billion is already slated to go into the rail industry for the period 2018-2023. This will cover new major projects, renewal and investments in existing infrastructure and digitalisation as Norway gears up to build railway systems to meet the needs of its growing population and reduce congestion and pollution on the roads.
The plans were presented by Helga Nes, Executive Vice President of the Bane NOR Infrastructure Construction Division, at the recent Bane NOR Railway Tender Conference in Oslo. Helga said: "There's been extraordinary growth in infrastructure development in Scandinavia in recent years. The new projects and enhancements demonstrate Norway's continued commitment to building the railway of the future. To realise our plans, we are reliant on national and international suppliers, and a strong focus on cost efficiencies and technology and innovation. Simplification and standardisation of processes, and new contract and collaboration models will also be key to realising our plans."
Bane NOR is the national Norwegian rail company responsible for infrastructure construction and management, traffic operations, property management and digitalisation and technology development and services. It is working with industry suppliers to deliver a safe, reliable and efficient network at the heart of Norway's future railway industry.
Several major projects were highlighted at the conference, including the InterCity network, which involves building 270km of new double-tracks and 25 stations in South-Eastern Norway. The new tracks will allow for speeds up to 250km/h. The InterCity area consists of lines under planning, lines under construction and lines that are completed. The plan is to complete the InterCity network by 2036, at an estimated cost of NOK 150 billion.
For its Ringerike line and E16 highway project, Bane NOR is working together with the Norwegian Public Roads Administration to develop and increase the commuter area around the capital of Oslo. The project work includes the construction of railways, highways, bridges and tunnels, including the longest railway tunnel in Northern Europe. Work on the main contract is scheduled to start in 2021/2022, with pre-qualification in 2019/2020. Approximately NOK 32 billion will go to this project, which is slated for completion by 2028/2029.
Echoing Helga Nes and her call for new capacity, Henning Scheel, Director Contract and Supplier Relations at Bane NOR, said: "The development of the InterCity network is a major undertaking. We also have big construction projects in West/Mid Norway, and the Oslo tunnel. Indeed, there's strong growth in railway investments, maintenance, and operations. Not only is there more work but also larger contracts. For instance, we have identified 25-30 potential billion NOK contracts (for road and rail) that will be issued in the market over the next three years. This will create opportunities for all types of suppliers."
Henning said the new projects and enhancements provide "strong impetus to develop new capacity and to leverage on Norwegian and international expertise to complete the projects successfully. Also, our extensive plans require suppliers contributing and taking ownership to cost-efficient, sustainable solutions in the fields of engineering, railway technique, procurement and construction. For instance, there are special ground conditions here in Norway, so it's important to us that the suppliers and subcontractors are familiar with the challenges, also as regards geotechnical aspects."
As part of its push to modernise its railways, Bane NOR will also invest NOK 20 billion in digitalisation and automation of its rail network and systems over the next 10-year period. The ERTMS (European Rail Traffic Management System) initiative will be handled by Bane NOR's Digitalisation and Technology Division. Earlier in April 2018 it signed a contract with Siemens for delivery of a new digital signalling system worth NOK 7.5 billion, one of the largest technology contracts in Norway. Bane NOR has also recently awarded contracts to Alstom for digital equipment for trains, locomotives and work machines, and Thales for a new traffic management software solution.
Following the conference, Bane NOR will be holding a series of dialogue sessions with industry suppliers interested in participating in the upcoming infrastructure construction projects.