Paris Gare du Nord will be transformed, and its size tripled, by 2024
The Board of SNCF Mobilités met to negotiate an exclusive project with CEETRUS (Immochan) to support the transformation of Paris Gare du Nord…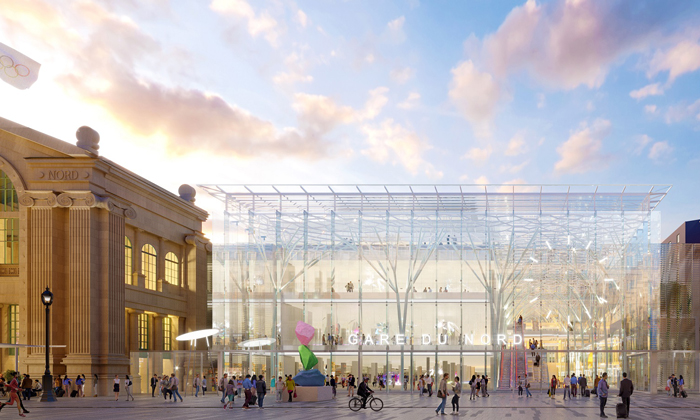 The Gare du Nord will have tripled in size by 2024, in time for the Olympics to be held in Paris.
Denis Valode will be the architect to lead this huge transformation, an operation similar in size to the one conducted by the architect Jacques Ignace Hittorff in 1864.
The new departure terminal reinterprets the famous 19th century Haussmanian concept of the 'passage parisien'; a gallery 18m tall and 300m wide, offering an array of railway, intermodal and commercial services. The project's focus on every day buses and trains is as important as the pivotal role given to long distance trains.
The most symbolic transformation is the adaptation of the station to accommodate the modern evolution of sports activities, by proposing for the first time in France a one kilometre track across Parisian roofs, alongside public cloakrooms and diverse sports facilities.
The new Gare du Nord will also set environmentally-friendly standards, offering public green spaces and ecological energy production. The design, construction and use of the station will respect strict environmental regulations and standards.
This ambitious project is led by SNCF Gares & Connexions and structured in an innovative way to ensure that the largest station in Europe will be open, functioning and ready for the 2024 Olympics.
Related organisations
Related regions