Phase 1 progresses in the Charlotte Gateway Station project
This future multi-modal station will consolidate public transport and intercity transportation, providing passengers with greater accessibility throughout the region.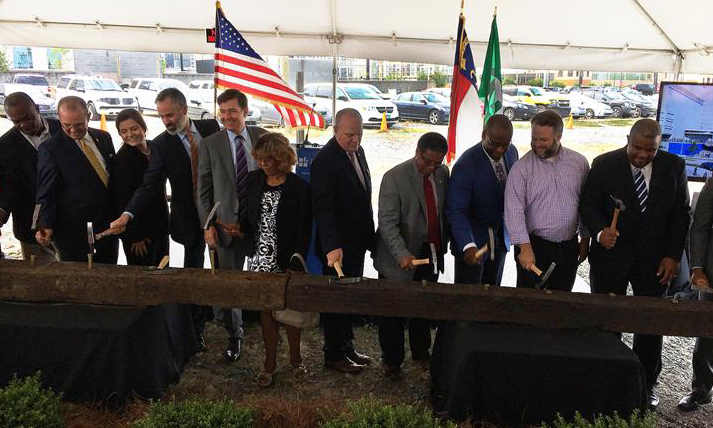 State and local dignitaries gathered to commemorate the groundbreaking of Phase 1 of the Charlotte Gateway Station (CGS) project with a ceremony in Uptown Charlotte, North Carolina.   
Phase 1 of the CGS project will contain the building of infrastructure for passenger rail to access the station district. This includes the construction of 2,000 feet of rail track, signals, five new bridges and a rail platform. This phase, which is partially funded through a $30 million Federal TIGER Grant, is also financed through a combination of state and local funds.
This phase of construction, awarded to Crowder Construction Company, is expected to be completed by 2022.
"This partnership will benefit our state for years to come," said Jim Trogdon, Secretary of the N.C. Department of Transportation. "The Charlotte Gateway Station will help better support North Carolina's economy and provide people safe, reliable and appealing transportation alternatives."
The City of Charlotte is working alongside NCDOT, a hired consultant team and local stakeholders including Charlotte Center City Partners to procure a private partner for the development of the full station district.
"Collaboration is at the centre of this project," said Charlotte's Mayor, Vi Lyles. "We look forward to working with the private sector in creating an iconic multi-modal station that allows for robust growth in the Queen City."
The formal Request for Proposals process is expected to begin in late summer 2018. A private partner could be selected as early as December 2018.
Related topics
Related regions
Related people