Wales & Borders orders electric trains from Stadler Rail
Stadler CITYLINK tram-trains and FLIRT trains are set to become a familiar sight on the Wales & Borders and South Wales Metro services.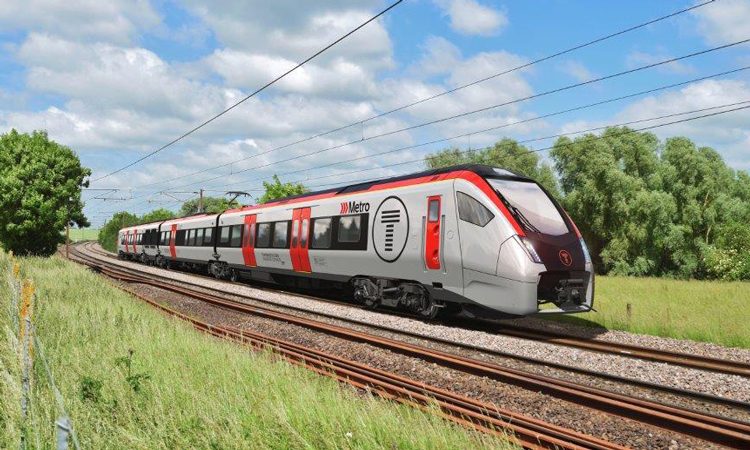 Wales & Borders has ordered 36 three-car CITYLINK tram-trains and 35 FLIRT trains from Stadler, a total of 71 vehicles which will be introduced from 2022.
The 36 CITYLINK three-car tram-trains will operate from Cardiff to Treherbert, Aberdare and Merthyr Tydfil. Relying on 25kV as well as battery power, these trains will bring on-street running back to Cardiff for the first time in 70 years.
Out of the remaining 35 FLIRT units, 11 will be diesel-operated and used on South Wales Metro services to Maesteg, Ebbw Vale and Cheltenham. The other 24 will be tri-mode, capable of running on diesel, overhead electric wires and battery power. The tri-mode fleet consists of seven three-car and 17 four-car trains.
In 2023, the 24 tri-mode trains will be used on routes linking the Vale of Glamorgan and destinations north of Cardiff. They will be powered by electricity to the north of Cardiff, and diesel to the south, providing a cross-city connection.
The use of batteries on tram-trains and tri-modes is a cost-effective solution that will provide a fully electric, environmentally-friendly service north of Cardiff by enabling 'smart electrification' on the infrastructure.
Ralf Warwel, Sales Director at Stadler Rail, said: "The introduction of new rolling stock in South Wales will be appreciated by passengers not only because of the high levels of comfort but also thanks to the use of the latest battery power technology. This new technology, when rolled out nationwide, will bring the industry one step closer to being carbon neutral."
The Stadler fleet will mean more new trains and a major improvement in passenger experience. The vehicles will be longer and contain more seats, which have been ergonomically designed to maximise passenger comfort. Each seat will be fitted with power sockets. Other state-of-the-art features include air-conditioning throughout and wide passenger information screens, providing customers with up-to-the-minute travel information. Noise and vibrations will be kept to a minimum, with the new trains quieter than the current fleet.
Included is additional space for up to six bikes on each train and level boarding to assist with prams and mobility scooters.
Economy and Transport Secretary, Ken Skates, said: "Through our £5 billion investment in rail services we are introducing innovative, cost effective and environmentally-friendly travel solutions that have the needs of our passengers at heart. Stadler's tram-trains will make up an exciting part of our new rail offer in South Wales and I look forward to their introduction."
Transport for Wales Rail Services is operated by KeolisAmey Wales Cymru. There, Colin Lea is the Mobilisation Director. He concluded: "We would like to thank Stadler for working extremely hard with us to design trains which will enable the innovative South Wales Metro solution.
"This will transform the passenger experience and enable 100 per cent electric running on the valley lines north of Cardiff. This power will be sourced from renewable energy and 50 per cent of that from within Wales. These superb trains will help us cut journey times, provide far more capacity and will put Wales at the forefront of 'smart electrification' technologies."