More freight will soon be transported along Felixstowe branch line
Public safety will be greatly improved, and 10 additional freight trains will be able to operate, with Network Rail's new bridge approved.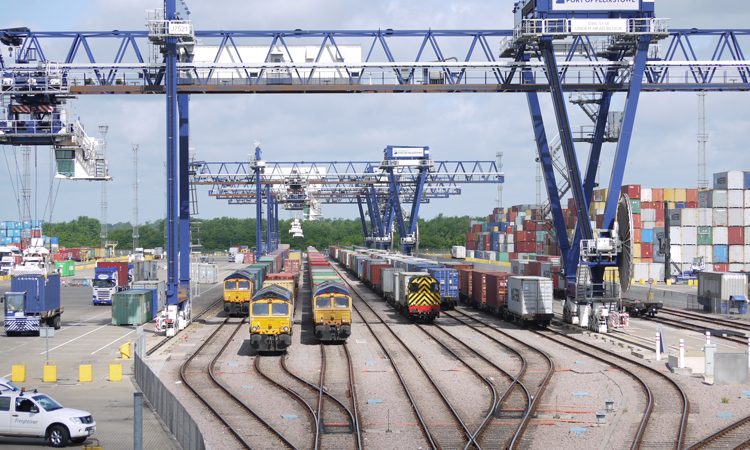 Felixstowe Port
Network Rail has secured permission to build a new bridleway bridge across the Felixstowe branch line to provide a safe public route across the railway, whilst enabling the movement of more goods by rail freight and improving reliability for passenger services.
As part of a £60.4 million investment, Network Rail has already begun important engineering works to upgrade the branch line, building the space needed for 1.4km of extra track to be laid between Trimley and the level crossing at Gun Lane.
Running more trains on the branch line increases risk for users of level crossings. Therefore the new bridge will be built on the site of the existing Gun Lane level crossing; providing an alternative safe route across the railway for walkers, horse riders and cyclists. This enables Network Rail to permanently close six pedestrian level crossings in the area; enhancing public safety.
Meliha Duymaz, Network Rail's Route Managing Director for Anglia, said: "This is a significant milestone in increasing freight services and improving reliability for passengers as part of our Railway Upgrade Plan. While closing level crossings to improve safety is always challenging, the bridge will provide a safer connection to the countryside for the community."
The bridge has been designed with consideration of both the environment and visual appearance. Network Rail's contractor, VolkerFitzpatrick will begin to build the new structure in the coming weeks and alternative footpaths and bridleways will be provided to connect the new footbridge to the local network of paths.
The work will support up to 10 additional trains in each direction to move goods to and from the Port of Felixstowe. With each additional freight train taking the equivalent of up to 76 lorries off the roads, the upgrade works will help to reduce congestion and pollution. The work also includes upgrades to four road level crossings between Trimley and Westerfield which will maintain public safety while allowing more trains to run on the line.
Paul McMahon, Network Rail's Managing Director for Freight and National Passenger Operators, said: "This is really positive news for the freight industry and we can now focus on delivering this vital upgrade. This project is the next critical stage of unlocking further capacity for container traffic to travel from the Port of Felixstowe to the Midlands and beyond. Joint funded by the Strategic Freight Network, which represents the interests of the wider freight industry, we recognise that this is the key to economic growth not only in the East of England but for the UK as a whole."