iPort Rail, the rail freight terminal in Doncaster, is officially open
iPort connects to the electrified East Coast Main Line and is located next to the M18, close to Doncaster Sheffield Airport, within two hours of the deep-water ports.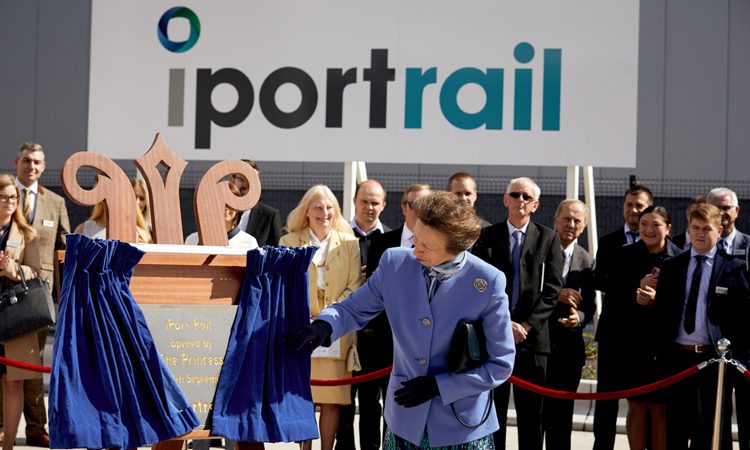 iPort Rail - HRH The Princess Royal
Her Royal Highness The Princess Royal has officially opened the iPort Rail strategic rail freight terminal in Doncaster.
iPort Rail is a state-of-the-art multimodal rail terminal, which is designed to open up the Yorkshire region with new road, rail and air connections for national and international freight transport.
Located on a 30-acre site within the 337-acre iPort logistics hub, iPort Rail is able to accommodate the UK's longest trains up to six times a day. It has storage capacity for 1,500 TEUs and is operated by reach stackers which can each lift a 115-tonne load.
HRH The Princess Royal said: "This is a huge project, not just for Doncaster but for the wider region. It already sets the standard for logistics development and there is more to come. Congratulations on what you have achieved so far."
Michael Hughes, CEO of Verdion, which developed iPort and is running iPort Rail as an independent operation, said: "Putting a rail freight hub at the heart of the site is part of the reason this is the UK's most advanced multimodal logistics hub.
"This is the perfect location: 87 per cent of the UK's population is within a four-hour drive and there are excellent connections to and from the site by road, rail and air, while the East Coast deep water port is only two hours away.
"We have worked very closely with Doncaster Council, the Sheffield-Doncaster region and many other local stakeholders every step of the way – as well as with our funding partner HOOPP. We could not have asked for more creative and positive working relationships – strong private and public sector cooperation has been essential."
iPort itself will bring up to 5,000 new jobs to the area – over two million square feet has already been committed to Fellowes, CEVA, Lidl and Amazon.
Steve Freeman, Managing Director for iPort Rail, said: "The connectivity and quality of our facility at iPort Rail is genuinely unique and businesses taking space here can take advantage of the major benefits that better access to rail freight offers. Occupiers at iPort are ready to use the rail freight facility on-site, but we are also open to businesses across the country, even if they're not based here.
"Following the official opening, we will be running up to six trains a day, six days a week with a 24 operation during those times. We are already seeing very promising demand from the industry, particularly because of the benefits rail freight can provide when the road haulage industry is increasingly stretched."
Councillor Bill Mordue, Cabinet Member for Business, Skills and Economic Development at Doncaster Council, said: "The growth at iPort has been astonishing. The site has already welcomed globally recognised tenants and the opening of its rail freight facility is another big step forward for Verdion's ambitious plans. It was our forward-thinking vision to create Great Yorkshire Way which has seen iPort develop at such a rapid rate boosting our growing economy. iPort is a huge success story for Doncaster and the wider region."