Stadler's new Traverso FLIRT trains to replace SOB's existing fleet
The new vehicles offer a high-quality passenger experience with carefully designed interiors that will satisfy all customers on board.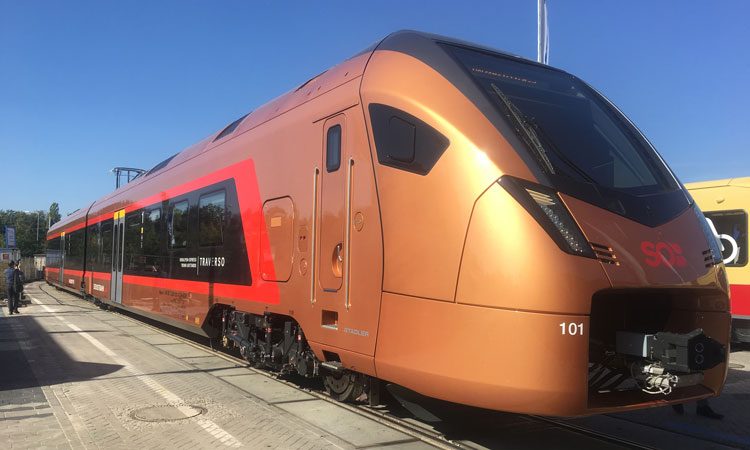 Within the Outdoor Display present at InnoTrans 2018, Stadler has revealed a new electric low-floor multiple unit FLIRT Traverso train.
This new vehicle, capable of 160km/h, will be operated by Südostbahn (SOB) in Switzerland once the timetable has changed in December 2019.
The new Traverso offers all the advantages of the FLIRT train, including stepless entrance, a fresh interior design, many spacious multifunctional zones for easy storage and lightweight aluminium car bodies which reduce energy consumption and therefore costs.
Stadler representatives, during the presentation of the Traverso, said: "Particular focus was placed on innovative running gear technology to ensure minimal wear as the trains travel along the winding routes of the SOB."
There are different areas of the train that cater for the differing types of passengers. There are spaces for commuters to work, panoramic windows for passengers wanting to see the views, designated family areas and impressive storage that is capable to cater for large luggage, such as ski equipment and bicycles.
SOB ordered six eight-car and five four-car vehicles. The eight-car will service the line between St. Gallen-Lucerne with 359 seats and a standing capacity of 485 people, and the four-car will operate on the line running between St. Gallen-Rapperswil with 197 available seats and space for 225 standing passengers.
The vehicles include modern passenger information systems and video surveillance, alongside ETCS automatic train control, motor and trailer bogies with pneumatic suspension and an automatic coupler.
Related organisations
Related regions