Rail motorway between Calais and Orbassano is officially open
The service could save approximately 1.2 tonnes of CO2 per trailer per trip; a total saving of 37,200 tonnes of CO2 each year.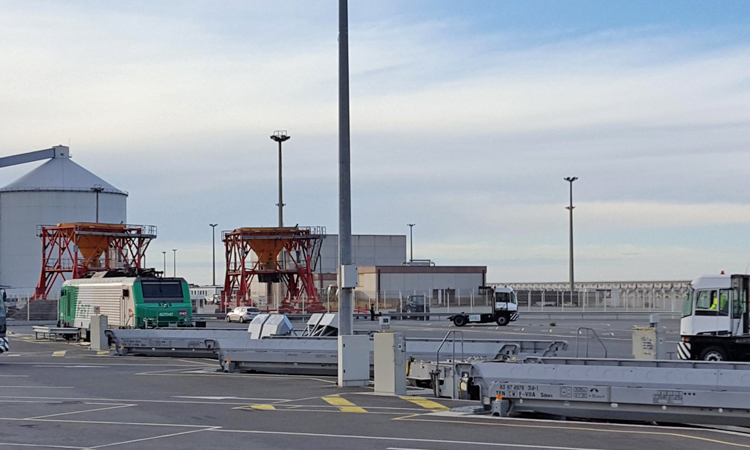 Credit: SNCF
The new rail motorway linking the Port of Calais in northern France with Orbassano in the suburbs of Turin (Italy) has been officially inaugurated.
Ultimately, the link is expected to transfer 31,000 lorries off the roads and on to rail.
The line is operated from existing terminals at the Port of Calais and Orbassano, making use of rail companies Fret SNCF on the French side and Mercitalia Rail on the Italian side. It will connect to ferry services at Calais and the UK, allowing semi-trailers to be transported unaccompanied across France to Italy.
The new service will provide three weekly round trips connecting Calais to Orbassano, a distance of 1,150km, in 18 hours. When fully operational, the new rail motorway will run two round trips a day.
SNCF Group has tasked VIIA with developing rail motorways in France and in Europe.
Thierry Le Guilloux, Chairman of VIIA, said: "This new rail motorway line between Calais and Turin Orbassano is an addition to our existing Spain service. It results from work conducted by teams at VIIA as well as the Port of Calais and Fret SNCF – and it is excellent news for the development of unaccompanied semi-trailer transport in Europe."
In 2017, VIIA carried 106,747 units, saving 75,000 tonnes of CO2 emissions.
Jean-Marc Puissesseau, Chairman and CEO of Port Boulogne Calais, said: "The launch of this new rail line confirms our vision of developing unaccompanied trailer traffic in the years to come, and our desire to support this development. With the opening of this new service offered by our partner VIIA, the Port of Calais is becoming the main hub for sea/road/rail interconnections between the north and south of Europe, and can deliver intermodal solutions to our freight customers within the port itself."
The partnership between Port Boulogne Calais, VIIA and SNCF Group is strengthened by the new Calais – Turin Orbassano line. Opened in March 2016, the Calais rail motorway terminal is a port facility that is unique in Europe. The first VIIA Britannica line connects Calais to Le Boulou on the Franco-Spanish border, offering a service up to twice a day in each direction.
Guillaume Pepy, Chairman of SNCF's Executive Board, said: "VIIA's rail motorways are an extremely effective tool for shifting from road to rail and for fighting greenhouse gas emissions. VIIA adapts rail to roads: All semi-trailers can be carried without any investment on the part of road freight companies, and with competitive journey times."
In addition to lines serving Calais, two other lines are contributing to VIIA's vision of a modal shift in transport. Since 2003, the 175km Aiton (Chambery) to Orbassano line has connected France and Italy in three hours, making four round trips a day. And the Bettembourg (Luxembourg) to Le Boulou Perpignan line, in service since 2007, makes three round trips a day over 1,045km in 15 hours.
Élisabeth Borne, French Minister of Transport, said: "Rail motorways are an excellent way to shift to more eco-friendly freight transport, through a move from lorries to rail. Today's ceremony is a striking symbol of the government's strong commitment to promoting rail freight that is reflected in key decisions taken over the past few months – such as holding the rise in freight tolls to the rise in inflation – and our confidence in this efficient, clean mode of transport."