Akiem and Bombardier launch the TRAXX DC3 locomotive in Poland
The TRAXX DC3 locomotive is now the most modern and efficient locomotive operating under direct current in Poland.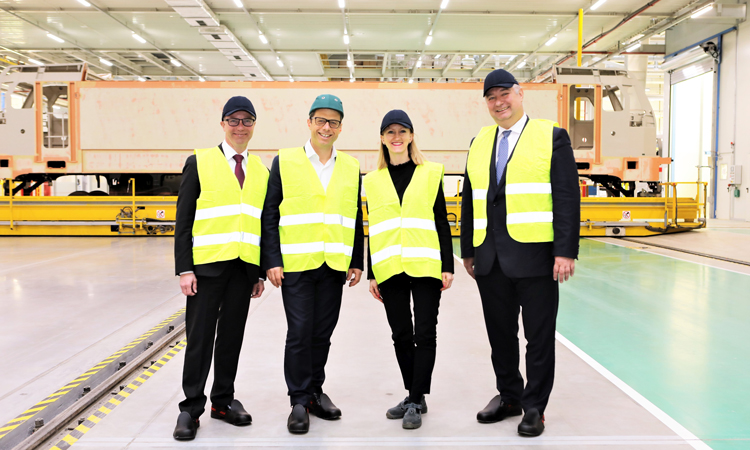 Introducing the new locomotive: Peter Ammann (Head of Global Ecosystem Freight Corridors, Bombardier Transportation), Fabien Rochefort (CEO, Akiem), Anna Puchalowicz (Key Account Manager Central and Eastern Europe, Akiem) and Slawomir Nalewajka (Head of Ecosystem Poland, Bombardier Transportation)
Bombardier Transportation and Akiem have introduced the BOMBARDIER TRAXX DC3 locomotive for Poland.
Akiem ordered 20 of these locomotives in November 2018, under contracts for a total of 33 TRAXX AC, DC and MS locomotives. The 33 vehicles are scheduled for delivery between 2019 and 2021.
Fabien Rochefort, CEO of Akiem, said: "We're proud to have been serving a large number of Polish customers operating domestic and international traffic for more than five years. We have decided to commit further to the growth and performance of rail transport in Poland as well as in Central Europe by investing in some 30 new locomotives dedicated to Polish domestic and cross-border operations. Our fleet will count no fewer than 180 TRAXX locomotives by 2020, among which will be 55 locomotives operable in Poland. We are officially opening an office in Warsaw to support the development of both Akiem and mgw Service in this region and we're delighted to embed new local skills and expertise to better serve our customers."
For the operators of TRAXX locomotives, the companies' services include spare-parts management, maintenance and a support hotline, all of which are managed by Polish teams.
Peter Ammann, Head of Global Ecosystem Freight Corridors, Bombardier Transportation, said: "This project shows once again that we are supporting the Polish economy by producing car bodies for the domestic market and exporting them almost worldwide – including more than 2,400 locomotive car bodies so far. Every car body for our European and North American locomotives comes from our site here in Wroclaw. This recent contract with our long-term partner Akiem has also extended the scope of our innovative TRAXX DC3 locomotive, the most advanced in Europe, to Poland, where the previous generation of TRAXX locomotives has been operating reliably."
Bombardier's three models, TRAXX AC3, TRAXX MS3 and TRAXX DC3, cover Europe's mainline applications under all four catenaries and offer optional Last Mile function, a support diesel engine which bridges non-electrified sections. The new locomotives are based on the successful TRAXX platform, with 18 years of experience and more than 2,000 vehicles currently in operation in Europe.