For the first time in the UK, the JAM card is introduced to rail
Virgin Trains is now 'JAM card friendly', which has been extremely successful in Northern Ireland with over 20,000 cards in circulation and 2,000 app users.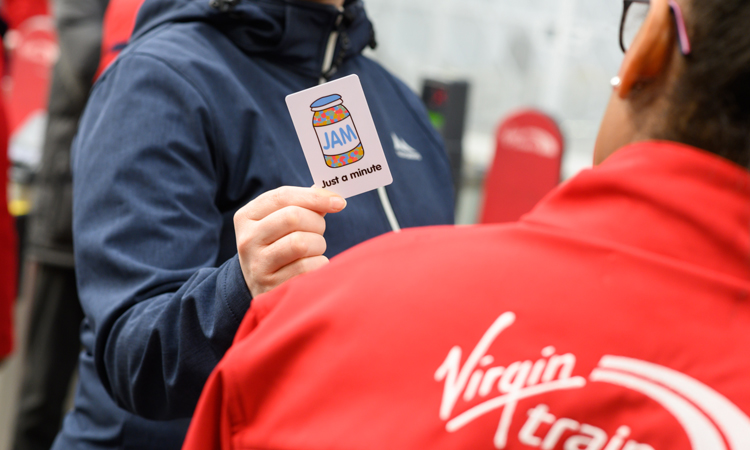 Virgin Trains has introduced an initiative for people with communication barriers: The first travel company to do so outside of Northern Ireland.
This initiative means a passenger can present a JAM card (which stands for 'Just a Minute') to Virgin Trains staff, letting them know that they have a communication barrier. This could be a result of number of factors, including autism or a learning difficulty.
The JAM card scheme is being introduced across Virgin Trains routes from March 2019 and follows the company's recent industry-first initiative with Amazon which allows customers with disabilities to book JourneyCare through Alexa.
In the style of a credit card, a JAM card will help customers discreetly make staff aware of their condition.
Frontline teams at Virgin Trains have been trained to recognise the distinctive card. During training staff gained valuable knowledge about different types of disabilities and have learned how to engage with a customer with a communication barrier.
Customers can apply for a JAM card by filling in a form online or by downloading the app. The card is available in either a physical copy or digital format.
The scheme was brought to the attention of Virgin Trains when customer Abby Cappleman attended one of the regular inclusion panels held by the train operator.
Abby, who has Autism spectrum disorder, said: "The JAM card lets other people – like checkout staff in a supermarket or a bus driver – discretely know that I have an invisible disability. Due to my condition, I am chronically disorganised so I am that person who doesn't have their money or bus pass ready. I end up faffing to find it and it holds others up. I find this card helps others be more understanding. I am really happy that my suggestion is being adopted to help passengers across the country."
Maeve Monaghan, CEO of NOW group who is behind the JAM card scheme, said: "We are delighted that Virgin Trains have partnered with NOW Group to become JAM card friendly and recognise the value of investing in training their staff to provide great customer service for people with communication difficulties such as learning difficulties, autism and dementia. This collaboration and investment is the first of its kind in the UK and will see Virgin Trains help raise awareness of the JAM card in Britain."
Minister for Disabled People, Sarah Newton, said: "Travelling by train can be a stressful experience for people with communication barriers, but initiatives like the JAM card go to show that making small changes can have a massive impact.
"With one in five people in the UK living with a disability or long-term health condition, it's more important than ever to ensure that frontline staff receive the right training.
"I want to encourage other British train providers to follow Virgin Trains' lead and ensure they are providing excellent customer service for all their passengers."