ÖBB rail freight relies on digitalisation for the Asia-Europe corridor
With the intention to set new standards in rail logistics with the use of state-of-the-art digitisation tools, Thomas Kargl, Member of the Board of Rail Cargo Group, and Alexander Kochukov, CEO of Digital Logistics LLC, signed a Memorandum of Understanding.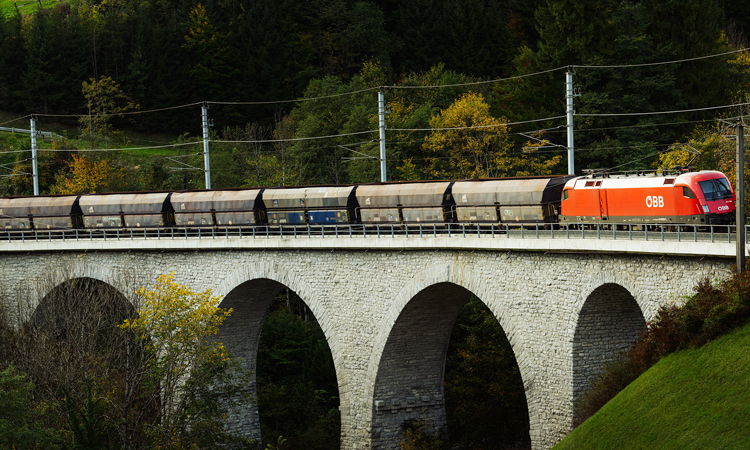 Credit: Photo_ÖBB-RCG © RCA_David Payr
During the International Railway Congress 2019, the ÖBB Rail Cargo Group (RCG) and Digital Logistics LLC signed a Memorandum of Understanding in the Austrian Chamber of Commerce.
The main purpose of this Memorandum is to promote joint developments, standardisation and digitalisation of operational processes across Europe's borders. This is expected to enable faster border processing and a shortening of end-to-end transit times.  
Thomas Kargl, Member of the Board of Rail Cargo Group, said: "This will strengthen cross-border cooperation between Europe and Russia and drive the implementation of reliable continental end-to-end logistics solutions."
In particular, the Memorandum confirms the interest of both parties in ensuring a gradual transition to digital technologies in the organisation of international rail freight services. A digital logistics platform is to be developed in order to be able to map transport processes digitally in the future as well as to enable electronic data exchange with regard to the planning and coordination of rail freight traffic.
"The signing of the Memorandum was an important step towards increasing the attractiveness of rail transports in Russia, Europe and Asia. This confirms our determination to reach a new level in international freight transportation through digitalisation measures," continued Thomas.
Digital Logistics LLC was established in March 2018 for the development and implementation of digital services in railway transport. The company is a joint venture of Russian Railways (holding 51 per cent) and INTELLEX LLC (49 per cent).
This follows the news that with the TransFER Duisburg–Venice, the ÖBB Rail Cargo Group (RCG) will create a non-stop connection between the Adriatic port of Venice and the bimodal terminal in Duisburg with rail.
Related organisations
Related people