L.B. Foster to launch new innovations at Railtex 2019
L.B. Foster Europe will return to Railtex for the first time since 2015 to launch its new, end-to-end track management and performance monitoring solutions, integrating conventional rail products with intelligent, always-on, digital technologies to improve performance, deliver cost efficiencies and enhance safety.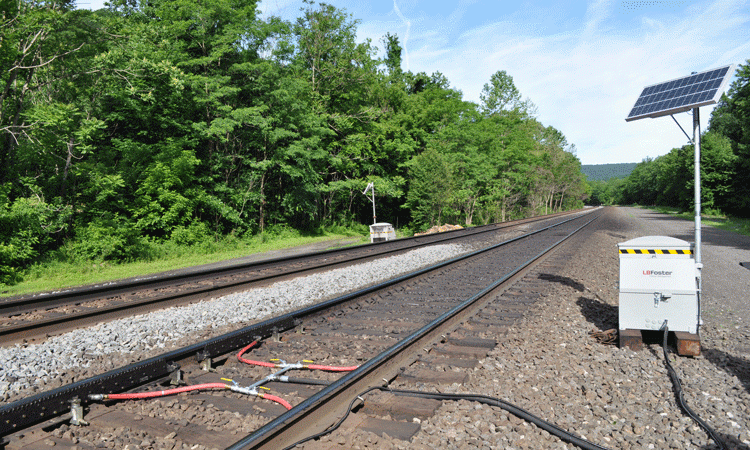 L.B. Foster's PROTECTOR® IV
Total Rail Management by L.B. Foster combines the company's comprehensive portfolio of high-performance rail products with market leading on-board and trackside friction management solutions, delivering extended asset life and improved asset performance. Total Rail Monitoring by L.B. Foster creates a smart interface between conventional track products and intelligent, performance monitoring, digital technologies, delivering always-on data that improve asset performance, drive cost efficiencies, enhance safety and assist security.
Phil Chester, Head of Marketing, L.B. Foster Europe, says: "A lot has changed around our business since we were last at Railtex in 2015. We have invested in new innovations that bring together traditional rail products with smart, web-based technologies. These products are realising new potential in remote performance monitoring, as well as unleashing performance and cost efficiencies for our customers. Adding the Total Track Monitoring portfolio to our leading track and friction management solutions positions L.B.Foster Europe as a unique partner for rail operators."
The company's Rail Technologies solutions centre is an innovator in friction management solutions and high-quality track products for the global rail markets. L.B. Foster's Global Friction Management Laboratory in Canada is expanding new technical and performance capabilities, positioning the company as a leader in the understanding and management of friction at the wheel/rail interface. These solutions are used on major rail projects around the world, including extensively across the Crossrail project in the UK.
On show at Railtex on stand F11 will be L.B. Foster's configurable, fourth generation PROTECTOR® system. This accurately targets friction modifying material on the appropriate part of the rail. PROTECTOR® IV is designed to apply either gauge face grease or KELTRACK® high-performance friction modifier. A new, digital control box with Remote Performance Monitoring (RPM™) capability, provides customers with the ability to monitor and report PROTECTOR® IV uptime, maintenance concerns and refilling requirements, in order to proactively manage the equipment installed on track more efficiently.
Alongside L.B. Foster's standard PROTECTOR® IV will be a special, bespoke, high-capacity version developed for use on the Crossrail project. The standard PROTECTOR® IV wall-mounted solution has a capacity of 80 litres; the Crossrail project specification accommodates 230+ litres of grease or KELTRACK® – an increase of nearly 300 per cent. The modified modular solution is designed specifically for tunnel applications, with the capability to retro-fit new control boxes with enhanced functionality post installation. The control box module simply unbolts, with no need to uncouple the motor or pump.
L.B. Foster's Control & Display solutions are designed and developed in the UK, bringing together decades of experience and expertise delivering for UK and European railway operators. At Railtex 2019 the company will be demonstrating its innovative new wireless, mobile disruption management information totem, delivering critical disruption information, where the passenger needs it, indoors or outdoors. Inform by L.B. Foster is the first battery powered totem display delivering a completely self-contained, wireless solution to mobile information messaging. The totem features a hi-tech display solution, comprising the latest in high definition video displays and can run for 24 hours on a single charge of its built-in, high capacity batteries. A dual screen model has a 12-hour charge capacity.
Solar Gateway CCTV is another unique solution where power and data cables are unavailable. The self-powered system sends alerts and images via 3G communications for security or environmental events. When included as part of a comprehensive remote asset condition monitoring scheme, Solar Gateway CCTV is a fully integrated monitoring, recording and communication solution.
Also on show will be L.B. Foster's Avalanche and Rockfall LiDAR system. This optimises detection of hazardous obstacles on track. LiDAR technology remotely alerts controllers about the size and location of the rock obstruction, without an engineer ever needing to visit site and re-string a wire detector.
Related topics
Related organisations
Related people