Sweden's railway infrastructure protected by Rosehill Rail's Anti-Tresspass Panels
Rosehill Rail, a leading global manufacturer of railway crossing systems and safety solutions, has announced a two-year deal with Trafikverket, the Swedish Transport Administration, to supply its Anti-Trespass panels.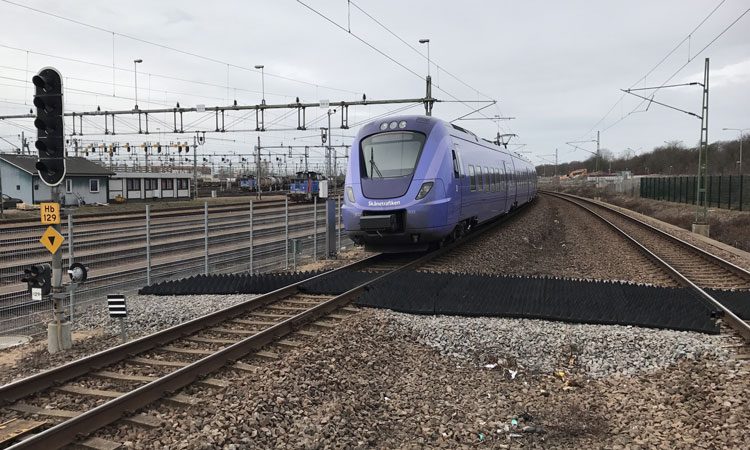 Through its local partner, Lesanco ApS, Rosehill Rail will supply Trafikverket with Anti-Trespass panels for use across Sweden. The panels will be installed on platform ends and level crossings with high levels of unauthorised track access.
Rosehill Rail's rubber Anti-Trespass panels were first developed more than 15 years ago in collaboration with Britain's Network Rail, as a replacement for traditional timber-slatted cattle grids. The product has since been refined to provide a greater deterrent while minimising installation times, and is now used around the world.
During the trial period, Rosehill Rail Anti-Trespass Panels were installed at a variety of test sites around Sweden, where CCTV monitoring showed that the number of unauthorised people accessing the tracks decreased by 38 per cent.
Andrew Knight, Export Manager at Rosehill Rail, said: "This deal is great news for both Rosehill Rail and Lesanco, whose teams have worked tirelessly over the last three years to bring it to fruition.
"On-track or off-track, Rosehill Rail's Anti-Trespass Panels are a proven physical and visual deterrent to trespassers attempting to access tracks or other prohibited areas. They are simple and quick to install, and can be easily removed and replaced during maintenance. They can also be used with existing crossing systems, and cut-to-fit around existing track infrastructure.
"Pre and post-implementation studies have shown them to reduce the number of unauthorised people trackside by up to 78 per cent, with associated reductions in delays and costs. By adopting proven, cost-effective on-site solutions like Rosehill Rail's Anti-Trespass Panels, rail networks can significantly reduce trespassing and the resulting personal injuries and unfortunate deaths."
Related topics
Related organisations
Related people