Major railway stations in Britain trial initiative to help passengers with hidden disabilities
Four of Britain's biggest railway stations will now offer passengers with hidden disabilities a discreet way to ask for extra help while making their journeys.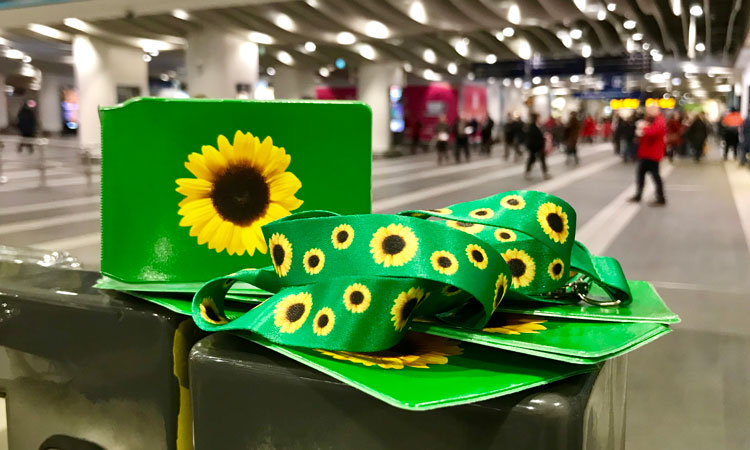 Launched on 3 December 2019, on the international day of persons with disabilities, sunflower branded lanyards and ticket holders are available at Manchester Piccadilly, London Euston, Liverpool Lime Street and Birmingham New Street stations.
The lanyard and ticket holders, which are entirely voluntary for anyone who would benefit from them, act as a subtle sign for staff that additional support or help may be required.
The types of hidden disabilities that are eligible for a sunflower lanyard include:
Autism and Asperger's
Learning disabilities 
Dementia
Mobility issues (e.g arthritis, MS, ME, chronic illness)
Visual or hearing impairments.
Network Rail employees at all four stations have been specially trained to understand what the sunflower stands for and how they can offer the right help to those passengers who need it.
Karen Hornby, Head of Performance and Customer Relationship for Network Rail, said: "Travelling by rail for passengers with additional needs can be a daunting experience and we're always looking at ways our staff can make it easier for people. The sunflower symbol is the perfect way for passengers to discreetly identify themselves to our staff so we can do everything we can to make their journeys as smooth as possible."
First trialled at Gatwick Airport in 2016, the sunflower lanyards have since been successfully adopted at other major airports, in some supermarkets and by train operator, LNER.
The initiative is supported by the Royal National Institute of Blind People (RNIB) and other charities including Alzheimer's Society, The National Autistic Society and Action on Hearing Loss.
The ticket holders have been uniquely made by Network Rail from an idea suggested by members of Birmingham New Street station 's disability access forum.
This allows for extra discretion should the person wish to only disclose when they need the help, rather than wearing a sunflower lanyard which is on show to everyone.
The four stations will trial the sunflower scheme for three months in the hope it will be rolled out to other Network Rail managed stations across the UK.
The sunflower scheme is the latest commitment to help passengers with additional needs following the introduction of more recognisable purple uniforms for Mobility Assistance staff at Manchester Piccadilly, London Euston, Liverpool Lime Street and Birmingham New Street stations earlier this year.