€86 billion modernisation programme approved for German rail network
The LuFV III programme will modernise and renew the infrastructure of the current rail network in Germany, including tracks, stations and signalling.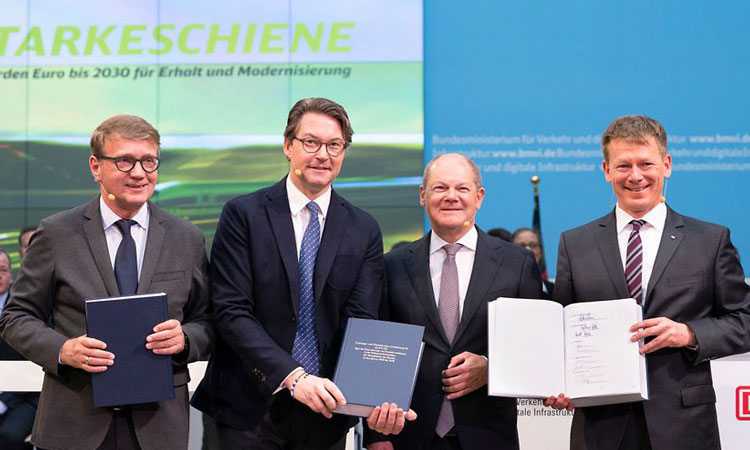 Credit: Deutsche Bahn
Germany's federal government and Deutsche Bahn (DB) have signed an agreement for the record sum of €86 billion for the maintenance and modernisation of the existing rail network in Germany, including the renewal of the tracks, train stations, signal boxes and energy supply systems.
The federal government is set to contribute €62 billion of the total fund, and DB will add €24 billion of its own finances. An average of €8.6 billion euros per year is available for the project, which signifies an additional 54 per cent than what was dedicated in the previous planning period. 
The agreement was signed by Federal Transport Minister Andreas Scheuer, CEO of Deutsche Bahn AG Richard Lutz and Deutsche Bahn Infrastructure Director Ronald Pofalla on 14 January 2020, in the presence of Federal Minister of Finance Olaf Scholz. 
Richard Lutz, CEO of Deutsche Bahn, said: "We are well prepared for the decade of railway. The infrastructure is the basis not only for growth and modal shift, but also for good operational quality and high punctuality. With the new service and financing agreement, we can tackle the investment backlog and fundamentally modernise the infrastructure. This will make the rail network more robust and reliable, and train stations will become more attractive."
The LuFV III programme, spanning from 2020 to 2029, regulates the replacement investments in the existing rail network, determines quality indicators and sanctions for non-compliance. The programme will also ensure that approximately 2,000km of track and 2,000 switches are renewed each year, and a total of 2,000 additional railway bridges will be renovated within the decade.
Andreas Scheuer, Federal Transport Minister, said: "The wow effect is coming. The twenties will be a brilliant era for rail. We have signed the largest modernisation programme ever in Germany. Our goal: a strong, powerful, high-quality network as the basis for active climate protection. We are replacing outdated systems, creating barrier-free access, improving construction site management and the condition of railway bridges – passengers will receive the maximum benefit from this."