HS2 Old Oak Common station construction plans submitted
The new HS2 station plans have been submitted as part of the Schedule 17 submission, and moves the beginning of construction a step closer to being underway.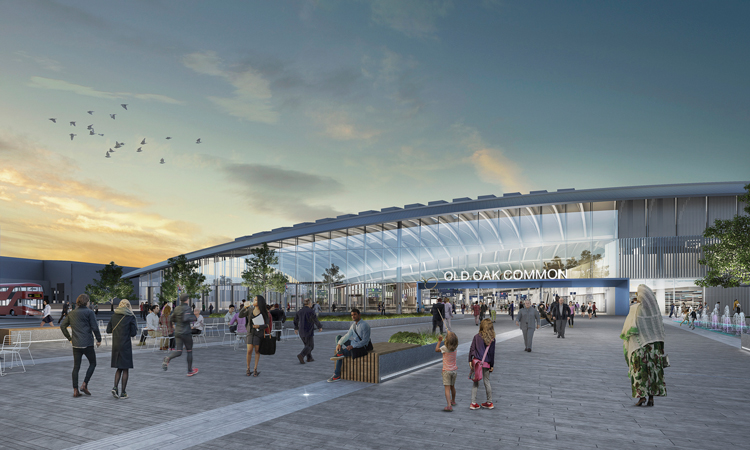 Credit: High Speed Two Ltd. - Concept design of Old Oak Common Station, exterior view
Moving one step closer to the beginning of construction for the London super-hub, High-Speed Two (HS2) has submitted part of the Schedule 17 submission to the Old Oak and Park Royal Development Corporation (OPDC). The recent submission involves plans for the Old Oak Common station, as well as updated concept designs.
The new HS2 station is expected to accommodate a daily estimate of 250,000 passengers, providing passengers with a world-class interchange and gateway into Old Oak and Park Royal, one of the largest regeneration sites in the UK.
The submission is the most recent stage of the development of the Old Oak Common site. The surrounding communities and wider general public were consulted on the designs for the station in 2019, through a series of formal public engagement events.
Stations Director at HS2, Matthew Botelle, said: "Significant progress is already being made at Old Oak Common with site clearance ready for station construction to start. The Schedule 17 submission is the next step in HS2's delivery of a world class railway, with landmark station architecture designed with future passengers in mind. HS2 will transform Old Oak Common, and will be the key to unlocking thousands of new jobs and homes around what will be the UK's best connected transport hub."
In addition to the main station, there are also plans to transform the wider area around the station, with the area around the new HS2 station set to become a neighbourhood with the potential to create tens of thousands of homes and jobs.
The new station will provide a direct interchange with conventional rail services through eight conventional train platforms, to be served by the Elizabeth Line (Crossrail), taking passengers to Heathrow and Central London, and trains to Wales and the West of England.
Designs for the station outline six high-speed platforms that will be situated underground with an integrated connection to the adjoining conventional station at ground level via a shared overbridge. The planning submission also includes an application to lower and widen Old Oak Common Lane, which will improve access to the station for buses and pedestrians.