Prime Minister Boris Johnson confirms HS2 will go ahead
The UK Prime Minister has confirmed that HS2 will go ahead, with construction for Phase 1 from London to the West Midlands set to begin in April 2020.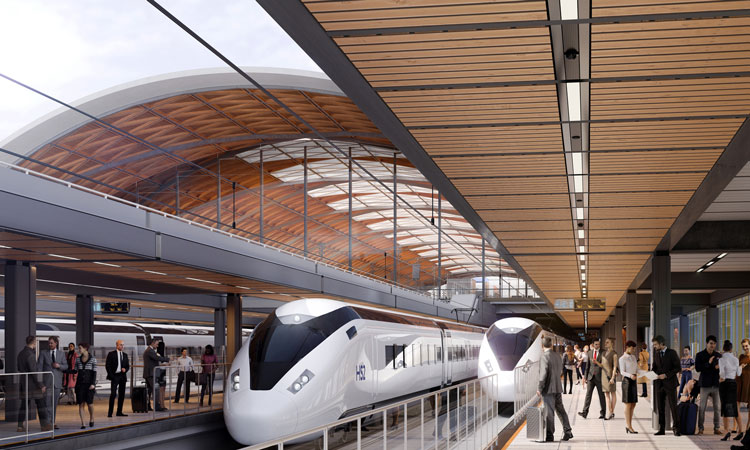 Artist impression of HS2 at Birmingham Curzon Street station. Credit: Midlands Connect
In a statement to Parliament, Prime Minister Boris Johnson set out that after careful consideration of the independent Oakervee review, the decision has been taken to proceed with HS2. With the right reforms in place, 'HS2 will become the spine of the country's transport network, bringing our biggest cities closer together, boosting productivity and rebalancing opportunity fairly across the country'.
Alongside this, the PM outlined his vision for a revolution in local transport to ensure that towns and cities in every region have the modern, joined-up network needed to fire up economic growth.
Prime Minister Boris Johnson said: "Delivering better, faster and more reliable transport connections is the way to close the opportunity gap across this country. But it is not and never will be an 'either/or' between big projects and local services. Dramatic improvements to local transport and the decision to proceed with HS2 will shift this country's centre of gravity away from the capital and transform connectivity between our towns and cities. I am drawing a clear line under the mismanagement of the past – HS2 must be delivered more efficiently and cost-effectively so that communities feel its benefits more quickly, particularly those in the North."
Douglas Oakervee's independent review into HS2 has also been published, and after thorough analysis of the benefits and impacts of the project, work on Phase 1 (the route between London and Birmingham) is set to start in April 2020 with the government set to 'revive' the legislation to deliver Phase 2a (connecting Birmingham to Crewe) as soon as possible so that preparation works can move forward.
The PM also outlined a number of measures to instil discipline and financial order to the project, including: appointing a dedicated minister with specific oversight and accountability for HS2; redefining HS2 Ltd's role so that they can give maximum focus to successfully delivering Phase 1 and 2a, and making new delivery arrangements for Euston station and the design and construction of Phase 2b, to ensure better value for money and on time delivery; and improved transparency through regular reports to Parliament from the responsible minister.
Transport Secretary, Grant Shapps, said: "I've been clear that we needed all the facts to decide the way forward with HS2. Fully informed by a comprehensive and detailed scrutiny of all the facts, now is the time to drive HS2 forward, alongside a 'High Speed North' plan to give the North and Midlands the capacity and connectivity it vitally needs. We are also clear that the project must reform and improve, with clearer accountability and transparency to ensure its incredible benefits are matched by a tight control of costs. Our vision for increasing opportunity and prosperity across every part of our country doesn't stop with HS2. We achieve that not only through investing in critical national projects to transform journeys in the future, but delivering on the vital connections people rely on today to ensure no community is left behind."
Douglas Oakervee, Chair of the independently-led review into HS2, said: "I am proud of the work that the Review Panel has carried out. The Review's Report is a comprehensive appraisal of a challenging project. I believe the recommendations help offer it a way forward, a means of increasing scrutiny and oversight, protecting the interests of passengers and taxpayers, and rebuilding confidence in an important piece of critical national infrastructure which will do much to rebalance the economy. I am delighted that a decision on the project has been made, and it is now the job of the government to take this ambitious project forward.
The industry responds:
Rail Delivery Group (RDG)
Paul Plummer, Chief Executive of RDG, representing train operators, freight companies and Network Rail, said: "These are crucial decisions that will turbo-charge rail's role in levelling up Britain's economy. Taken together, HS2 and High Speed North represent vital investment to improve today's railway and, through seamless integration with the existing tracks, build a reimagined rail network for the next 100 years. High Speed North will increase capacity and improve reliability while bringing the north of England closer together and build on the roll out of new trains across the region. HS2 will mean more frequent local services on existing lines, less road congestion with more freight going by rail and faster, and more punctual journeys between many parts of the country."
HS2 Ltd
An HS2 Ltd spokesperson said: "Today's announcement from the Government provides much needed clarity on the future of the project for our contractors and the wider community. HS2 has been 10 years in the planning and development, and we are shovel ready to start building the first new railway north of London for over a century. Building HS2 will relieve pressure on our overcrowded rail network. It will transform the UK economy by helping to bridge the gap between London and the South East and the Midlands and the North. And, by getting more people and freight onto trains, taking cars and lorries off our roads, and reducing domestic air travel, HS2 will be crucial to the UK reaching the net zero carbon target by 2050."
Transport Focus
Anthony Smith, Chief  Executive of the independent watchdog, Transport Focus, said: "Our research shows passengers want more reliable, longer trains for the future. Reliability is the key driver of current satisfaction. And if the new trains go faster, that helps. HS2 provides a once-in-a-generation opportunity to create more capacity and more reliable services. These new services will make train travel a more attractive choice and help contribute to battling climate change. Just as important is the space freed up on existing lines and avoiding the pain and extra expense of trying to upgrade existing lines. Passengers will be paying for some of the new lines through fares so cost control is crucial. Let's get on and build all the component parts of HS2 into a modern and reliable railway."
Railway Industry Association (RIA)
Darren Caplan, RIA Chief Executive, said: "The RIA and our members support the Government's decision today to get HS2 done, a decision that could unlock a new 'golden age of rail'. HS2 will not just boost the UK's economy and connectivity, but will also enable other major rail infrastructure projects to be delivered too, such as Northern Powerhouse Rail, Midlands Rail Hub, East West Rail, Crossrail 2, and a range of other schemes. It will also unlock economic growth throughout the UK, not only by directly connecting eight out of 10 of the UK's largest cities, but also by increasing capacity at 73 stations serving towns and communities across the country, 54 of which aren't even on the route. The jobs and housing benefits are clear too. HS2 already employs 10,000 people, will support 15,000 by the end of the year, and 30,000 at peak construction. And beyond the project itself, will act as a catalyst for some 500,000 jobs and 90,000 homes. So we now urge everyone – whatever their previous view on HS2 – to get behind this important project and to work together with the railway industry to deliver the full scheme, whilst also ensuring value for money for passengers and taxpayers in the months and years ahead."
Hitachi Bombardier High Speed Joint Venture
Matt Byrne, President, Bombardier Transportation UK and Jim Brewin, UK Country Lead, Hitachi Rail, from the Hitachi Bombardier High Speed Joint Venture, said: "This decision is a symbol of confidence in UK plc and great news for the whole country. As Britain's biggest train manufacturers, we're excited to continue our joint bid to design and build the Great British train here in the UK. It would support thousands of manufacturing and supply chain jobs and unite the Midlands and the North. It's time to work together to deliver the full benefits of HS2."
Institution of Mechanical Engineers
Jenifer Baxter, Chief Engineer at the Institution of Mechanical Engineers, said: "The Institution of Mechanical Engineers is delighted that the Government has retained confidence in the benefits of the HS2 project.  The resulting improvements to both north-south and east-west flows in the North of England will lead to economic growth, modal shift from road and air to rail for both passengers and freight. This will provide significant benefits for reduced greenhouse gas emissions and reduce pollutants that contribute to poor air quality. The routes minimise the impact of construction on the operation of today's railway with opportunities to investigate how the high-speed rail link can be delivered with minimal environmental impacts. For example, more refined modelling using information from High Speed 1 might indicate where some expensive tunnelling may be avoided."
FTA
Alex Veitch, Head of Multimodal Policy at FTA, commented: "FTA is calling on the government to provide reassurance that HS2 will release much-needed capacity for rail freight services on existing lines once operational; the UK's rail network is bursting at the seams and too often freight loses out to commuter and leisure services. With HS2 trains able to carry more than 300,000 people per day, the shift in traffic will release significant capacity on existing lines; FTA is seeking a guarantee from government that this capacity will not be pre-allocated to passenger services, but instead made available for bids from freight operators, in a fair and transparent way."
 Alex continued: "While FTA and its members appreciate the clarity this decision provides, HS2 should be considered as just one element of a nationwide strategy to upgrade the rail network; this is long overdue. For example, we need to see upgrades to freight facilities in the trans Pennine network; this area is currently excluded from a broader programme of upgrades, which is a missed opportunity in the view of FTA. We would also like to see the complete electrification of the network so rail freight can become the first zero carbon freight mode, and the delivery of the Strategic Freight Network, which is a suite of projects aimed at unlocking freight capacity on the conventional network. As the UK transitions to a net-zero emission economy, rail will play a much larger role in logistics; the government must ensure the framework is in place to enable this transition."
Midlands Connect
Midlands Connect Chairman, Sir John Peace, said: "HS2 is the only shovel ready infrastructure project that can future-proof our rail network, keep rail travel affordable and bring our country together in an environmentally-sustainable way. We must now get on delivering this once-in-a-century upgrade of our rail network to level up the economy and unleash the potential of the Midlands and the North. We must now make sure that the benefits of HS2 are maximised through proper integration with regional transport strategies like our Midlands Engine Rail (MER) proposals, using the capacity released by HS2 to introduce 700 additional rail services every day, vastly improving journeys for millions of commuters who use the existing network. Midlands Connect will continue to work closely with HS2 Ltd, the Department for Transport, Network Rail and local authorities to develop a plan that maximises the benefits of HS2.
Transport for the North
Barry White, Chief Executive of Transport for the North, said: "The green light to get on and build HS2 is the right decision for the UK. It is an ambitious and significant step forward in releasing the Northern economy from the straightjacket of poor infrastructure that has held it back for so long. The powerful combination of HS2 and Northern Powerhouse Rail (NPR) will transform the rail legacy left by the Victorians, now creaking under the strain of demand. That's east-west and north-south connections for our 15 million people and businesses. That the Prime Minister has stated clearly that this isn't a choice between one or the other is a giant leap forward, something our Northern leaders have been steadfast on. Benefits to the North's communities need to be delivered as quickly as possible and we're determined to push ahead and get spades in the ground here. A pause to review how both HS2 and NPR work as a fully integrated railway for the North is understandable on projects of this scale. We need an integrated plan and committed investment pipeline for the North that delivers in years, not decades. We welcome the Prime Minister's commitment to quick progress and we'll work with Government to drive this forward."
Siemens Mobility
Will Wilson, CEO of Siemens Mobility, said: "As a long-term supporter of HS2, Siemens Mobility Limited welcomes today's announcement that this vital project has been given the green light by the Government. HS2 is a once in a lifetime opportunity to level up the different regions of the UK, playing its part to close the 40 per cent productivity gap that exists between London and the north of England. It will serve as a strategic asset for the rail network and the UK economy for generations to come. With faster, more frequent services and the introduction of new direct services, HS2 will bring people, businesses and communities closer together. As a high capacity, fully electrified rail service, its construction is also essential for the UK reaching our net zero carbon emissions target, with the expectation that it'll take more than 2.5 million trucks' worth of cargo off the road. The connectivity provided by HS2 is essential to our ongoing business success. Ensuring strong rail links east and west is as important as increased linkage to London for continued investment into the UK. This includes our new rail manufacturing plant in Goole, Yorkshire. Siemens Mobility Limited looks forward to continuing our work with UK suppliers and partners to realise the full potential of HS2. HS2 gives us and our suppliers increased confidence to continue our investment in technology and skills in the rail sector – something which is essential for the successful delivery of the project."
GB Railfreight
John Smith, Managing Director of GB Railfreight, who submitted a response to the Oakervee Review, said: "I am delighted and relieved the Government has given the green light to the project. HS2 will be the first new railway constructed north of London for over a century, creating much needed capacity and connections across the North and Midlands. There is no other viable alternative to the project, as both the Oakervee Review and the Prime Minister have acknowledged. By signing off on the scheme, the Government has committed to expanding capacity beyond just passenger services. The decision will free up extra capacity on the West Coast Mainline which will help the growth of rail freight, supporting economic growth across the UK and helping the delivery of the Government's targets to decarbonise the economy by supporting the shift of freight from road to more sustainable rail services. Delivering HS2 will, in the long-term, support the UK's regional cities and towns to prosper and connect to other surrounding areas. I applaud the Prime Minister for making the right decision rather than delay any further."