TX Logistik expands rail freight service for Coop in Sweden
TX Logistik AG has doubled the number of freight trains between Stockholm and Malmo for the Swedish retail chain Coop, a connection that is supplying food to the supermarkets in the south of the country.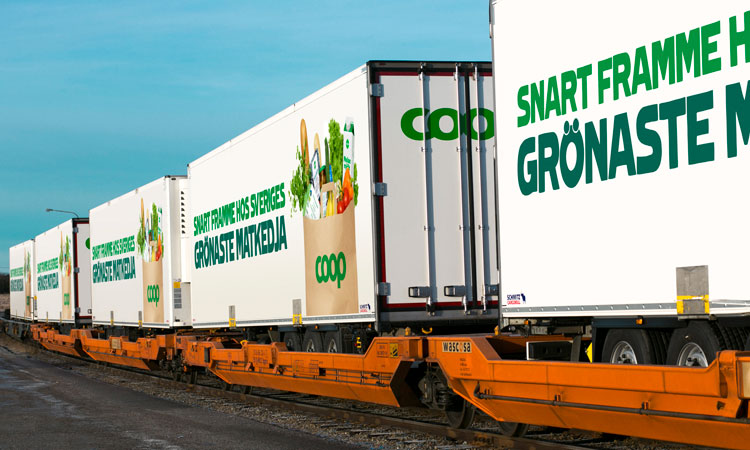 Credit: Coop
TX Logistik AG (TXL), a company specialised in Europe-wide transport services and part of the Italian railway group Polo Mercitalia (FS Italiane Group), has expanded its rail freight traffic in Sweden. As of 6 April 2020, the number of trains between Bro (Stockholm) and Malmo for the Swedish retail chain Coop was increased from 10 to 20 per week. The connection is used to supply foodstuffs to the supermarkets in the south of the country.
TXL has been transporting produce for Coop in Sweden since 2012, and now the retail chain has commissioned TXL to double the number of round trips. The start and destination is the central warehouse in Bro (approximately 30km north-west of Stockholm). On its route to Malmo, the trains stop over in Alvesta near Växjo. The higher frequency freight service enables Coop to transfer 520 trucks from Sweden's roads to the rail network every week; benefiting both the environment and safety. By Coop transporting its goods by rail, the Swedish group says it saves up to 9,600 metric tonnes of carbon dioxide per year compared with road transport.
The expansion of TXL's existing business in Sweden emphasises the progressive implementation of the Mercitalia Group's European expansion strategy, in which TX Logistik plays a leading role. The transport solution developed for Coop demonstrates the level of efficiency and quality that the rail system has now achieved. Even for goods that were previously transported almost exclusively by road, a more extensive use of rail is now possible.
Related topics
Related organisations
Related regions