Internet of Trains 2.0 – Getting more return from your rail assets
Supported by:

Supported by:


Overview/Speakers
ABOUT THIS WEBINAR
Digitalisation has reached the world of trains at a tremendous speed, with trains and signalling systems generating large volumes of data.
This webinar described how rail operators and maintainers can use such data to improve their businesses and generate more return from their assets. Detailed examples will show how availability of rail assets can be improved and what will be possible with such data in the future.
KEYNOTE SPEAKER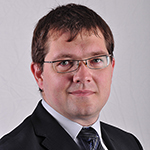 Gerhard Kress
Head of Mobility Data Services Center
Siemens AG

Gerhard is involved with corporate digitalisation strategy for Siemens, with a background in IT services and strategic consulting with McKinsey & Company. He has education degrees in Physics and International Relations and European Studies.
Register
Register to watch this on-demand webinar