In-Depth Focus: A Digital Future for Rail Freight
In this digital era, the rail freight sector must embrace the further deployment of innovative solutions to transform operations and deliver better customer experience. The authors in this In-Depth Focus explain how digitalisation is integral to their efforts of driving forward changes in rail freight delivery.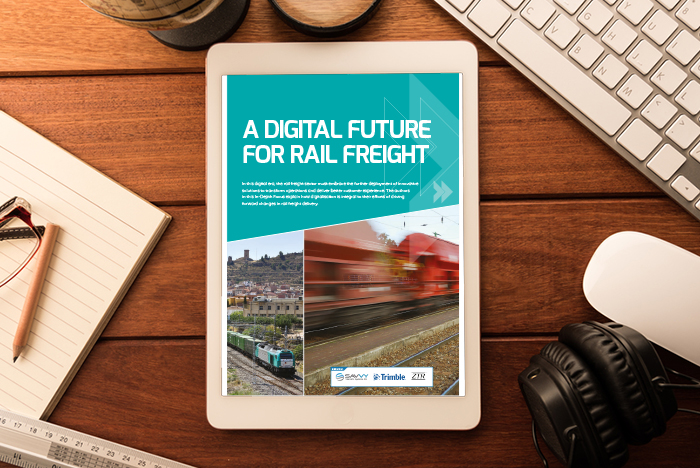 Our NEW In-Depth Focus has been refreshed and updated to enhance the reader experience. The digital version has page-turning software allowing you to "flick" through the pages, and includes many other interactive features to enhance your reading experience:
View Page:
Can be viewed as a single page or double page
Next & Back:
Jumps through pages using forward and back buttons to navigate pages
Start & End:
Progress through the magazine by skipping to the front or back pages
Information:
Enables you to see key navigational features
Printing:
Readers can choose to print certain pages and articles straight from our magazine
Bookmarking:
Allowing readers to create bookmarks within the magazine
Share Pages:
Readers can share via social channels easily
Search:
Allowing readers to search for content within the digital magazine
Zoom: 
Altering size of the page for viewing and efficient online reading. 
Included in this In-Depth Focus:
Digitalisation in rail freight: The key to a smart supply chain
Freight transport in Europe is expected to grow by 30 per cent by 2030 and, as part of the Rail Freight Forward initiative, Transfesa Logistics is committed to growing the portion of rail transport from the current 18 per cent to 30 per cent, thereby saving 290 million tonnes of CO2

. A key to achieving this lies in the continued digitalisation of the rail system and, even more, on the full digitalisation of the entire supply chain.

Bernd Hullerum

, CEO of Transfesa Logistics, explains that, as a 'door-to-door' integrated solution provider, it is putting a major effort in achieving this by focusing on paperless processes and full track and trace capabilities for its customers.
Fret SNCF's rail freight revolution
Bertrand Minary

, Fret SNCF's Chief Innovation and Digital Officer, Rail Freight & Intermodal Division, discusses Fret SNCF's approach to a total revolution in rail freight operations and how this is delivering a first step towards rail freight automation.
From the innovative freight wagon to the intelligent freight train
Colleagues from the Technical Innovation Circle for Rail Freight Transport (TIS), Project Manager, Stefan Hagenlocher

, and Spokesman,

Jürgen Hüllen

, explain the objectives of the TIS towards strengthening the rail freight transport sector by supporting the growth and development of innovative freight wagons and intelligent freight trains.
Expert Panel: Do you think the rail freight sector has a positive attitude towards innovation to increase the efficiency and cost-effectiveness of rail freight transportation?
With participants Stefan Hagenlocher

, Project Manager, Technical Innovation Circle for Rail Freight Transport (TIS);

Daragh Lowry, Sales Director, Trimble; and Sam Hassan, President and CEO, ZTR.