Five rail projects to watch in Northern California as the Capitol Corridor adapts to COVID-19
Despite having to shift focus over the last few months, Rob Padgette, Managing Director at the Capitol Corridor Joint Powers Authority, explains how the passenger rail service is forging ahead with a number of exciting projects that will drive growth and bring better rail transport connectivity to the Northern California megaregion.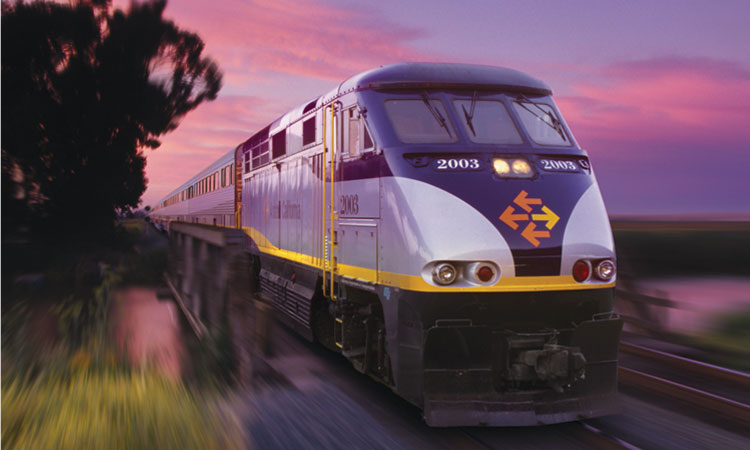 When I assumed the role of Managing Director of the Capitol Corridor in June 2019, I was fortunate to inherit a rail service that was enjoying much success – growing ridership, high customer satisfaction and a healthy financial position. Since 1991, our trains have been whisking business and leisure passengers alike past vibrant urban corridors, protected wetlands and acres of farmland along a scenic 170-mile route in Northern California. We currently serve 18 stations in eight Northern California counties, between the Sierra foothills and Silicon Valley, with dedicated, connecting bus services to expand our reach into San Francisco and counties like Napa and Santa Cruz.
In 2019, with the economy booming – especially in Silicon Valley's high-growth tech sector – the Capitol Corridor logged a record ridership of 1.77 million. With free Wi-Fi on board, local craft beers served in a Café Car along with food and other beverages, plus bicycle storage, spacious seating and beautiful views along the way, it's easy to understand why our service has been so popular.
In 2019, with the economy booming – especially in Silicon Valley's high-growth tech sector – the Capitol Corridor logged a record ridership of 1.77 million.
Then came COVID-19. Like other transportation services, our ridership plummeted. At the time of writing, in August 2020, ridership was hovering between 10 and 15 per cent of normal numbers. It's unclear how the trajectory of the pandemic and resulting workforce dynamics will impact our service going forward, but one thing is certain: We are adapting to the changing world of travel with enhanced cleaning protocols, face-covering requirements for riders and staff, social distancing guidelines and schedule adjustments to meet the travel needs of essential workers.
While we've had to shift gears these last few months to prioritise enhanced health and safety, the Capitol Corridor still has its eye on the future and is forging ahead with a number of exciting capital projects that will position us for future growth, expand opportunities for better transit connectivity in the Northern California megaregion and help fight climate change.
Below are five transformative Capitol Corridor projects to keep your eye on:
1. South Bay Connect
The environmental review process for one of the Capitol Corridor's most transformative projects, South Bay Connect, kicked off in July 2020 in the midst of the pandemic. This project will significantly alter the Southern Alameda County portion of our route by moving the service currently operating between Oakland and Newark from tracks along the Niles Canyon Subdivision to a different set of tracks to the west, called the Coast Subdivision. Both tracks are owned by Union Pacific.
While this more direct route along the Coast Subdivision will reduce travel time between Oakland and San Jose by about 15 minutes, the big win with this project would be the creation of a new train station in the city of Fremont, where the existing Ardenwood park and ride lot serves as a hub for people travelling across the San Francisco Bay on the Dumbarton Bridge into Silicon Valley and the southern part of the San Francisco Peninsula.
A new station at Ardenwood would allow train passengers from Sacramento and the East Bay to connect directly to existing Transbay express bus and shuttle services operated by AC Transit and private companies, unlocking new ridership markets on the west side of the San Francisco Bay. Prior to the onset of the COVID-19 pandemic, more than 100 shuttles served this location on any given weekday. If you have ever attempted to travel between the East Bay and the Peninsula, you know what a game-changer this would be, as getting between these two areas today is extremely challenging without a car.
Phase I of the South Bay Connect project would begin in 2024 after the completion of the environmental review and, as currently planned, would involve the construction of a simple station platform next to the park and ride lot. Phase II involves the build-out of an enhanced intermodal station with an elevated bus facility.
2. New Transbay Rail Crossing
The 21-county New Transbay Rail Crossing programme is a unique partnership and collaboration between the Capitol Corridor and the San Francisco Bay Area Rapid Transit District (BART) to create another transbay rail crossing that could potentially be utilised by both BART and Capitol Corridor passenger trains. 
Although this programme is in its early stages, it has been a long-time vision of regional planners and would be one of the most transformative transportation efforts in decades, impacting the entire Northern California megaregion. Not only will it improve passenger rail travel between San Francisco and the East Bay, but it could create a direct rail service between San Francisco and Sacramento via the Capitol Corridor – a one-seat ride with no transfers needed. 
The New Transbay Crossing would also support regional rail beyond our route and allow other agencies – like Caltrain, which serves San Francisco, the Peninsula, and Silicon Valley – to use the New Transbay Rail Crossing to access the East Bay, providing a vital link between the job-rich Peninsula and housing across the Northern California megaregion. 
With traffic over San Francisco's Bay Bridge a perennial headache for commuters and leisure travellers alike, the importance of this megaregional link cannot be overstated. Improved capacity, competitive travel times and more reliable services are just some of the benefits that would come from this programme.
3. Sacramento-Roseville Third Track
One of the fastest growing areas in Northern California is Placer County, located northeast of Sacramento. At present, Capitol Corridor runs only a single daily round-trip train east of California's capital, but the demand for more service is high. We are working to meet that need with the addition of a third track that will allow for an expanded service between Sacramento and the town of Roseville, 20 miles to the north and east.
Ultimately, the additional third track will allow the Capitol Corridor to provide 10 daily round trips instead of one, while preserving Union Pacific's freight operations for the benefit of goods movement through the region.
Phase I of this project is almost 25 per cent through the design phase and involves the construction of approximately five miles of the third main track, plus new layover and servicing facilities in Roseville. With an expected completion of 2025, this phase will result in a total of three round trips between Sacramento and Roseville.
4. Santa Clara-Great America Siding Project
On the opposite end of our route is the Santa Clara-Great America Station, in the heart of Silicon Valley and just a five-minute walk from the Levi's® Stadium, one of the region's largest sports and entertainment venues and home of the San Francisco 49ers. The nearly half-mile siding project, which is already underway and expected to be done by 2025, will create more space for trains to meet and pass south of this station, thus easing train congestion in the South Bay. This is, first and foremost, a safety measure, but it will also reduce delays and improve service to and from San Jose. 
The South Bay Connect project will ultimately deliver benefits beyond southern Alameda County.
Completion of the siding project will also make it easier for Capitol Corridor trains to run outside the normal schedule for sporting events and concerts at the stadium, once those activities resume.
The South Bay Connect project will ultimately deliver benefits beyond southern Alameda County. It will enhance economic efficiency throughout the entire Northern California megaregion and lay the foundation for increased services between Oakland and San Jose by reducing congestion caused by freight and passenger rail having to share the Niles Canyon Subdivision. 
5. Green Locomotives and Renewable Diesel
Also in the works at the Capitol Corridor is a pilot programme to transition our fleet from petroleum diesel to the greener and more sustainable Renewable Diesel (RD). The switch to RD will reduce the greenhouse gases produced by our trains by at least 60 per cent and decrease the ash produced by our locomotives by 20 per cent. RD is also the product of a supply chain that supports zero waste. 
The RD, made by Neste, is currently halfway through testing on one locomotive and is being monitored by Cummins, our engine manufacturer. While the testing phase has been slightly delayed by COVID-19, we expect full testing to be complete by March 2021. So far, the results look promising, and we expect to convert to entirely renewable diesel for our California state-owned locomotives by the fall of 2021.
With the transportation industry historically being one of the biggest consumers of fossil fuels and producers of greenhouse gases, we are excited to be an early adopter of RD and aspire to push the envelope when it comes to utilising the latest sustainable products and practices.
Moving ahead with transformation
My team and I remain committed to our core values of providing safe and reliable transportation in Northern California. By keeping our eye on the future and moving ahead with transformative projects during these challenging times, we are confident that the Capitol Corridor will be able to continue leading the way in the delivery of high-quality, customer-focused passenger rail service.

Rob Padgette is currently the Managing Director for the Capitol Corridor Joint Powers Authority (CCJPA). He has more than 20 years of transportation experience working in Chicago, Washington, DC, and now, California, and has held positions in both the public and private sectors. Prior to joining the CCJPA, Rob served as the Deputy Executive Director for the Northeast Corridor Commission, an organisation created by Congress in 2008 to promote a coordinated approach to passenger rail among Amtrak, USDOT, and the eight states and District of Columbia along the Northeast Corridor. Rob holds a Master's degree in Urban Planning and a Bachelor's in Political Science, both from the University of North Carolina at Chapel Hill.