Rail's COVID-19 Heroes – London North Eastern Railway (LNER)
As part of Global Railway Review's exclusive COVID-19 Heroes series, London North Eastern Railway (LNER) has chosen a handful of members of its team who have spent their time volunteering and working to keep both passengers and other members of staff as safe as possible during the coronavirus pandemic.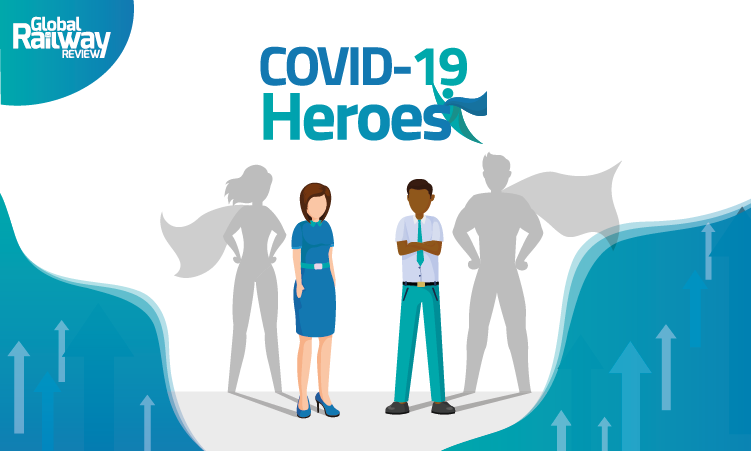 London North Eastern Railway (LNER) is working in partnership with the operator's cleaning and train presentation supplier, Atalian Servest, to keep customers safe throughout the COVID-19 pandemic, as well as in the weeks and months ahead. Here, we have highlighted a select few members of the team from both LNER and Atalian Servest who have gone above and beyond.
Davey Glover – Train Manager
Davey is a Train Manager based out of Doncaster. A typical day sees Davey work onboard LNER services between Yorkshire, London and the North East of England.
In addition to checking tickets, offering advice and information to customers and being responsible for the safety of all passengers and crew onboard, Davey has become something of a railway superstar during the coronavirus pandemic.
His parody of Celine Dion's hit single, 'All by Myself', became a social media sensation when he shared the video on YouTube during lockdown as the railway worked hard to keep key workers moving.
His parody of the 1996 track by the Canadian singer generated thousands of views across all of LNER's social media channels, as his intention was to help reinforce the message that rail travel was for key workers and essential travel only. Davey was just one of the many customer service staff members that LNER has featured on its social media to help communicate important information to customers, from wearing face coverings to how to follow social distancing onboard and at stations.
In addition to his role at LNER, Davey volunteers with BloodFast Hull, where he can be dispatched to deliver baby milk, doctors notes, blood samples and sterile medical equipment. This role became more important than ever in 2020 as an increasing number of people relied on the service as a lifeline during the pandemic.
In July 2020, Davey featured alongside some of his colleagues at Doncaster station on BBC One's 'Peter Crouch: Save Our Summer' programme, where Alex Horne's comedy band sang a tribute to rail workers who kept key workers moving during lockdown.
Penny Bond – Travel Consultant, Grantham
Penny Bond has become a source of comfort and support to thousands of people during the coronavirus pandemic.
Penny was one of the first members of staff from LNER to become an LNER Reserve. After watching the second series of 'After Life' featuring Ricky Gervais, Penny thought about what it must be like for people living in care homes during lockdown who were unable to receive visits from friends or family. Penny decided to set about writing letters to residents, initially at her local care home, before the initiative was picked up by more of Penny's colleagues. Letters would include poems, jokes, quizzes and drawings.
Penny said: "I just got so emotional when I received letters back, knowing I was making such a huge difference, along with the rest of my colleagues in the LNER Reserves, so it was quite touching."
"As an LNER Reserve, I feel I am doing something positive. Care home residents are currently very much isolated with no access to visitors, so sending letters, poems and pictures is a way of trying to put a smile on their faces. My local community and LNER colleagues across the country are helping," she added.
More than 25 members of the LNER Reserves rallied to lend their support from Scotland to London. The 'Letter to a friend' idea has since benefitted more than 9,000 care home residents, with more than 20,000 letters written and delivered to care homes along the East Coast route.
Penny's dedication to supporting local communities as part of the LNER Reserves has meant BBC Radio Lincolnshire has followed her progress and shared her story with their listeners. Penny also helps support other colleagues who are volunteering their time, from supporting food banks to helping make hospital scrubs.
Penny is looking forward to how the LNER Reserves can continue to support local communities along the route in the coming weeks and months as restrictions continue to ease and life returns to normal.
Rene Kotlar – Community Engagement Apprentice
Rene is LNER's Community Engagement Apprentice based out of York. As a member of the Communications Team, Rene's day-to-day duties include coordinating support with LNER's range of supported charities and good causes in the community, being a point of contact for the LNER Reserve volunteers, organising training provided by the Campaign Against Living Miserably (CALM) and Samaritans, as well as managing fundraising initiatives.
During the coronavirus pandemic, the Communications Team played a vital role in keeping colleagues and customers informed, and Rene provided administrative support outside of his normal duties to ensure that the team could continue to work effectively. Rene also played an active role in volunteering, by not only being a point of contact for LNER Reserves, but by donating his time at FareShare NorthEast twice each week, ensuring the charity can continue to provide their service to the most vulnerable people in the region.
Rene said: "I am really passionate about being an LNER Reserves volunteer. As a business, we have come together as a collective to try to make a positive difference by doing what we can to support those who need it the most."
Rene is one of more than 120 LNER Reserves who have collectively clocked-up more than 2,000 hours volunteering to support charities, communities and good causes throughout the pandemic.
In addition to his day job and volunteering with LNER Reserves, Rene has completed his Business Administration Level 3 Apprenticeship with a distinction, despite the lockdown period causing significant disruption to both his working routine and studies. He continues to volunteer with FareShare NorthEast alongside his role at LNER.
Olwen Wilson – Atalian Servest
Olwen Wilson joined the company in 2012, working for the past eight years between Doncaster and York Station, getting stuck in with her teams on a daily basis and leading by example, ensuring that, from the moment a customer enters the station to the moment they board a train, facilities are cleaned to the highest standards.
Cleaners outnumber drivers at LNER, so it is no wonder that LNER has been widely recognised for the work being done to keep customers and staff safer than ever during the coronavirus pandemic. Since the initial lockdown, almost 300,000 cleaning hours have been delivered to ensure LNER's fleet of trains and managed stations are not only gleaming, but are also helping to reduce the spread of the virus. Olwen is one of the 210 strong team from Atalian Servest who has played a part in almost 100 deep cleans of stations each week.
Olwen has had many awards for her hard work and devotion to immaculate cleaning and train presentation. Olwen's colleagues admire her professional approach, knowing that no job is too small or too big for her and her team.