Digital twins: Accelerating the digital transformation in the rail sector
Tommaso Spanevello, Public Affairs Manager at UNIFE, explores the opportunities for digital twins in the rail sector and highlights how continued Research & Innovation to develop this technology is pivotal in driving forward rail's digital transformation.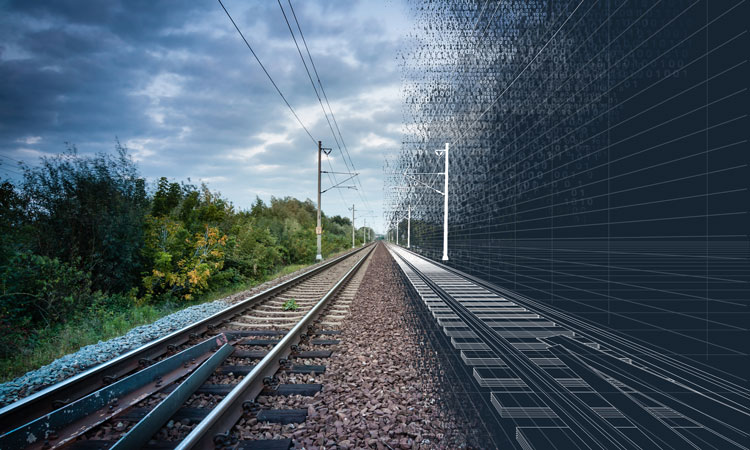 Fostering digital transformation is an objective higher than ever on the European Union's (EU) political agenda and has been identified as key for unlocking future growth in Europe. All sectors are experiencing a fast‑paced evolution as the businesses, products and services fostered by digital technologies grow in sophistication. Transport is no exception, with the rail sector increasingly acknowledging its assets and importance in Europe's successful 'digital leap'.
The European Commission's (EC) Executive Vice‑President for A Europe Fit for the Digital Age and Competition, Margrethe Vestager, and Commissioner for the Internal Market, Thierry Breton, have been given the responsibility of crafting 'a digital Europe that reflects the best of Europe'. Such an ambition necessitates a bold approach towards digital technological development and sets out how these innovations will be used to meet our climate neutrality objectives. The 'Shaping Europe's digital future' masterplan, presented in 2020, aims to establish Europe's technological sovereignty, affirm its global leadership, safeguard European values across the world and consolidate the EU Digital Single Market.
It is undisputable that the twin challenges of green and digital transformations go hand-in-hand. The EC has made it clear that technological innovation needs to also be carried out in a way that contributes to a sustainable, climate neutral and resource-efficient economy. Digital components, in this regard, will also be key in reaching the European Green Deal and Sustainable Development Goals' (SDGs) ambitions.
The European rail supply industry fully acknowledges that these digital tools can be powerful enablers of the transition towards an economic and social model based on whole sustainability. This vision has been enshrined in the 'Rail fit for digital age (2020)' paper recently published by UNIFE. Digital twins are one of the many trends thoroughly examined in the document, as the technology clearly displays how digitalisation is essential to strengthening the sustainability-related assets of rail – energy efficiency, circularity and capacity.
Digital twins in the rail sector: which opportunities?
Digital twins are one of the most talked about topics in transport, because it promises to leverage innovation to improve design, visually enhance collaboration and increase both asset reliability and performance. Many other industries have opened their eyes towards this technology – the rail supply industry is no exception. From healthcare to smart city management, digital twins are becoming essential tools for optimising entire manufacturing value chains and innovating new products.
At the EU-level, the EC has explicitly stressed on the importance of digital twins in the framework of the Green Deal. With the goal of radically improving climate change mitigation and adaptation strategies, as well as crisis management capabilities, the EC has been setting the Destination Earth initiative (DestinE) as an important area of application of its digital decarbonisation plan.
European rail manufactures see digital twins as a great enabler of technological advancement for rail transport, interacting as much with big data as with artificial intelligence (AI) and blockchain. One of the true advantages of digital twins technology lies in its ability to anticipate key developments on rail systems and subsystems, deriving insights about the future performance of the physical asset and, eventually, enabling test-driving solutions before taking on the actual applications.
Since digital twins technology spans the asset's entire lifecycle, one of the major areas of potential is rail infrastructure and rolling stock, especially with regard to predictive maintenance. In fact, the use of digital twins in asset simulation can be very helpful for the prediction and identification of components in tracks and vehicles that pose the risk of failure. This ensures that the lessons learned thanks to these digital solutions contribute to design enhancement in line with operational requirements, and that they are applied to future products and systems.
Furthermore, during the planning and construction of a new railway or rolling stock – as well as upgrade or renewal processes – digital twins can contribute to the prediction of changes occurring in the project execution, as well as the risks brought by non-conformant construction. Therefore, using digital twins can help to drive maximum value from infrastructure and rolling stock investments, avoiding cost increases and delays. Furthermore, a digital twins ecosystem can be much broader than the core rail-related systems and subsystems. In fact, if we consider large rail infrastructure projects, such as 'Le Grand Paris Express', these ecosystems can be extended towards construction and civil work industries, as well as infrastructure planners and real estate managers.
This digital tool can be relevant also from a resource efficiency perspective. By allowing for the tracking of a rail asset's lifecycle, from the design phase through to the recycling stage, it answers the demand for the increased sustainability of process and products. The use of digital twins can, thus, enable rail to further comply with the circular economy requirements set forth by the European Green Deal.
Finally, the strict relationship between digital twins and big data should be looked at carefully. Digital twins tap into real information systems, producing and consuming large volumes of data, bringing in the issue of access to and ownership of that data. UNIFE stresses, once again, the importance of setting a framework for efficient data-sharing in the rail sector – including urban rail – to overcome questions pertaining to data access and ownership. We look forward to the upcoming 'common mobility data space' to be set up in the context of the Data Governance Act.
The role of Research & Innovation
Research & Innovation (R&I) has been playing a pivotal role in driving forward rail's digital transformation. Collaborative research, through the Shift2Rail Joint Undertaking – led by Executive Director, Carlo Borghini – has brought the whole sector's innovation ecosystem together to stive towards a forward-looking and long-term path. Shift2Rail projects have examined the potential of digital twins-related applications for various subsystems, such as control command and signalling (X2Rail projects), rolling stock (Pivot projects), infrastructure (In2Track projects) and energy (In2Stempo project). R&I activities on digital twins carried out within Shift2Rail have contributed to the implementation of a more efficient way to predict and control the present and future performance of rail assets.
Work on digital twins will be continued by Shift2Rail's successor, Horizon Europe, Europe's Rail Joint Undertaking. In the ERRAC's recently released 'Strategic Research and Innovation Agenda (SRIA)', one of the proposed transforming projects is 'Railway Digital Twin, Simulation and Virtualisation'. Applied to several areas with high impacts on business performance, the transforming project would tackle all modules of relevant subsystems – i.e., vehicle, infrastructure, power supply, signalling – with their interfaces and interactions. The objective will be to truly develop a framework 'railway digital twin', based on Shift2Rail outputs, which would cover the entire railway sector and system.
Through the transforming project, the representation and detailing of digital twins will be allowed to continuously improve over time and in areas where positive effects are foreseen. The digital twins' capability will be not just help to understand asset histories and present situations, but also simulate scenarios with continuation and forecast alternatives for use and maintenance evolution/change. This approach will lead to huge benefits and impacts in designing the significant evolution of the rail system.

Tommaso Spanevello is Public Affairs Manager at UNIFE, responsible for innovation policy, digitalisation and sustainable and urban mobility. Between 2018 and 2021, Tommaso was also the Executive Secretary of Rail Forum Europe, the Members of the European Parliament's Association dedicated to rail transport. Prior to joining UNIFE, Tommaso was in charge of the policy department of the European Rail Infrastructure Managers Association (EIM). With a background in international law, Tommaso studied and worked in Italy, the United States, Finland and Hungary.