Empowering the passenger: "Forewarned is forearmed"
Here, Patrick McDougall, CEO of Nexus Alpha, provides thoughts on a number of topics, from how to improve customer information, how the industry reacted to COVID-19, through to sustainability and how solar powered passenger information signs can help train operators move towards net zero.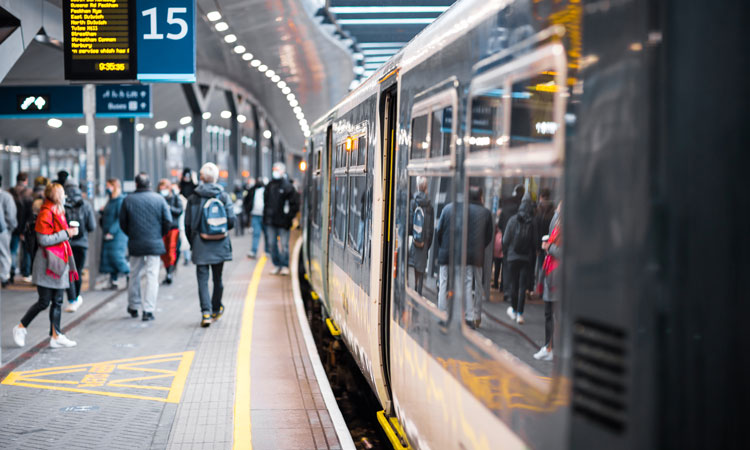 How does providing service disruption information (which is negative) actually encourage the use of public transport?
When we started working with rail operators (Regional Railways, Intercity and Network SouthEast in the early days of Nexus Alpha), there was a dearth of information available about service disruption. This is how I remember it, two-and-a-half decades on…
BBC Travel, where this journey started, had been presented by one division of Network SouthEast (Great Eastern) with a printed working timetable, a laminated list of what was titled 'single needle telegraph codes', and an operational pager. So, when the pager went off indicating 'CAPE 1P36' it was a matter of looking up CAPE (which of course means cancelled – one of the easier ones), and then looking up 1P36 in the correct part of the timetable, to identify which service the 1P36 was (perhaps the '1558 London Liverpool Street to Norwich'), and then publishing this on a Ceefax page for the public to view.
Following an innovative paper proposed by Chris Green (my memory suggests that it was called 'The Well-Informed Customer Initiative'), passengers were rebranded as customers (after all, they handed over money for a service), and the concept of keeping them accurately informed about service disruption was born.
Whether knowledge of disruption leads to an extra slice of toast with the family in the morning and a later train (rather than standing at the station, waiting) or a drink after work on the way home (or perhaps just some more work!), forewarned is forearmed.
Via Ceefax, radio stations, telex, fax, staff pagers, SMS and email, and then mobile email and apps, via Twitter, push notifications, TOC websites, station CIS, onboard PIS, live departure boards, and other outlets the idea, regardless of the technology of the day, was to keep everybody informed – ideally, in advance of service disruption where possible – with accurate, timely, consistent information.
Whether knowledge of disruption leads to an extra slice of toast with the family in the morning and a later train (rather than standing at the station, waiting) or a drink after work on the way home (or perhaps just some more work!), forewarned is forearmed. Knowing what is about to happen, or how long on-going service disruption may last – and having a chance to plan around it – is empowering. It gives confidence to travel – and actually, the trains are pretty reliable – compare the delays on commuter services with cars on the M25. So, on the occasions when you may be inconvenienced, being able to find out, ideally, before the event, and at the least, the be well informed during the disruption, gives confidence to travel at all times.
How did the government and the rail industry respond to the up to 96 per cent loss of revenues virtually overnight?
Extremely well, would be my personal take on it. A large investment has gone into keeping the railways running, with both government and rail operators responding to the remarkable challenge. The rapid response meant that the rail network continued to function, albeit at an agreed reduced capacity pretty much throughout the various COVID-19 related lockdowns.
Public transport remains a critical service and moves millions of people around every day (when permitted to move, of course) generating not only wealth for Great Britain plc, but I'd argue, ensuring its very existence.
Private transport is often expensive and remains, for now and for a long time to come, environmentally inferior to public transportation. Private transportation is also not available to many either through cost, or sheer practicality – particularly when travelling to urban centres.
Many key workers who have kept the food supply chains going, who work in government, in hospitals and care homes to name but a few areas, rely on public transport. The ONS stated in 2019 that 16 per cent of key workers reported travelling to work by public transport with bus highest ranked and rail a very close second.
Putting in place emergency agreements in March 2020, annualised payments to operators ranged from £116 million to nearly £1.3 billion depending on the level of revenue support required by the TOC. Without such support, operators would have collapsed. Some of the parent companies operating the franchises saw an overnight reduction in their market capitalisation of up to 75 per cent which could have led to thousands of people losing their jobs.
Thankfully, the railways are still here and have remained open for business.
What's all this about customers – aren't they passengers?
In more recent times, perhaps the last decade, there appears to have been an association, either implied or explicitly stated, of 'passengers' being associated with a pre-privatised (or re-nationalised) railway, and 'customers' being associated with privatisation.
This is not true or course, as passengers were being called customers decades before in initiatives put forward by the (nationalised) British Rail.
If you were to use the initial logic proposed, it would mean that if were you to travel on LNER or Northern nowadays you might be considered a passenger, whereas on GTR or Avanti West Coast, a customer.
Looking up 'passenger' gives the following definition: "a traveller on a public or private conveyance other than the driver, pilot, or crew."
Customer provides the following definition: "person who buys goods or services from a shop or business."
Both are, of course, valid terms and have their place. But there is, as I would see it, definitely a stronger connotation of service, when it comes to the term 'customer'. For me, it carries the idea of a transaction – of a contract – of a service being bought, and therefore, by implication, a duty of care from the provider of the service.
In 2019, businesses categorised as services accounted for 79 per cent for the UK economy by sector. In a strongly service-led economy, it would seem to be highly appropriate to refer to users of rail services as customers – "people who buy goods or services."
That said, of course, there are many different 'customers' in the public transport arena over and above the likes of you and me. So, when Network Rail announced a recent strategy change and focus, the tag line was 'putting passengers first'.
So full circle. Does the term really matter? It's how people are treated and looked after that's key, not how they are named. Customers are passengers, and passengers are customers. Look after the passenger, and the customer will be happy!
How can customers gain the confidence to travel again in a COVID-19 world? How can Nexus Alpha help?
In the National Travel Attitudes Study released by the Department for Transport (DfT) in October 2020, the following concerns about health when using public transport were recorded, based on a survey taken between May and July 2020:
"…86 per cent expressed concerns for their health when thinking about using public modes of transport (e.g. bus, plane, train), compared to 19 per cent regarding private modes (e.g. walking, cycling, private car). Shared modes (e.g. taxi, shared bicycle schemes) were a concern for 68 per cent of respondents."
So, that was a high level of worry. The travel restrictions and work from home directives, as well as some longer-term changes in behaviour, led to the following impact. From the same study:
"A total of 388 million rail passenger journeys were made in Great Britain in 2020-2021, which equates to 22.3 per cent of 1,739 million journeys made in 2019-2020 and represents the lowest level of annual passenger usage since before the time series began in 1872."
TfW Rail saw the number of journeys fall from 33.5 million in 2018-2019, to 31.8 million in 2019-2020, and then to 5.0 million in 2020-2021.
Working with TfW Rail, Nexus Alpha developed a Capacity Checker service which records the number of mobile devices detected by the on-train Wi-Fi, determining likely crowding levels in line with the type of rolling stock forming the service, the social distancing rules in place at the time, and any adjustments to the number of carriages (e.g. short formations) in order drive out different levels of occupancy:
Seats likely to be available
Fewer seats available for social distancing
Trains expected to be busier with few or no seats available for social distancing.
Depending on the weekly rate of change in passenger/customer numbers a weekly average crowding status is provided for each station based on between two and four weeks of data. (During June and July 2021, numbers were approximately four to eight per cent higher week-on-week – whereas increases were higher immediately after lockdown restrictions were lifted, so fewer weeks were considered in the averaging).
This service provides customers with the likely loading level on the scheduled services running over the next week, taking account of timetable changes and engineering works. This allows customers to determine which trains are likely to be busier, and to make informed decisions about travel, planning accordingly to travel on generally less busy services if preferred.
How can Nexus Alpha LPS help Network Rail, train operators and councils reduce their power demand, helping them move towards the net zero targets being set?
Nexus Alpha has been providing software and services for the past 25 years to help encourage people to take public transport. It is at the heart of what we do – promoting sustainable travel.
Taking sustainability one step further, Nexus Alpha's sister company, Nexus Alpha LPS (the LPS standing for 'Low Power Systems') has been supplying the UK public transport industry with low and ultra-low power public information displays for over a decade.
There is a fundamental question that should be asked about everything that we do. Why use more power than I need to? Convenience? Cost? But, what if all of those come together – less cost, more convenience, less power.
'Reduce, reuse, recycle' has been with us for a very long time, but has never been more pertinent. The first, most important word, is 'reduce'. And we have to reduce and very significantly when it comes to power generation. Whilst we are moving towards renewable sources, there is a long way to go, and the goals of the 2015 Paris Agreement of "… holding the increase in the global average temperature to well below 2°C above pre-industrial levels and pursuing efforts to limit the temperature increase to 1.5°C above pre-industrial levels" appears to be receding. On one level, it seems overwhelming to change so much, but change is needed, and steps can be taken immediately.
Technology can help. Nexus Alpha LPS CHRONOS Displays show the same departure information that a traditional LED sign can display – or indeed the same service information that a LCD TFT TV-style can display. It's just that they use a fraction of the power of the competing technologies – so little, in fact, that they can work from locally generated power derived from solar panels, batteries ensuring operation when there is less power available (shorter days in the winter and at night-time).

Nexus Alpha LPS CHRONOS Displays use as little as five per cent of the power of an equivalent LED sign – so even if they are mains powered, you can install up to 20 signs for the same power consumption as one traditional LED unit. Far more, for a high bright LCD panel.
Our signage can help councils and the UK rail industry move toward net zero faster. To provide information to the public, with no on-going demand from the grid is something we are committed to. All of our visual systems also support audio, so are inclusive as well as sustainable.
And on rural station platforms or at bus stops and shelters where the cost of providing mains power can be very significant, solar installations cost far less.
So, if the signs cost less to commission, consume a fraction of the power of other sign technologies, and have zero associated power costs (27,000x the energy we generate on the planet is delivered by the sun every day to earth – and it's free – use it!), why would anybody install anything else? We'd love to help!