Interoperability: A duty beyond rail
Philip Van Den Bosch, Senior Freight Strategy Advisor at the UIC, explores how rail freight is key to making the transport sector more environmentally friendly and why interoperability is vital to achieving this.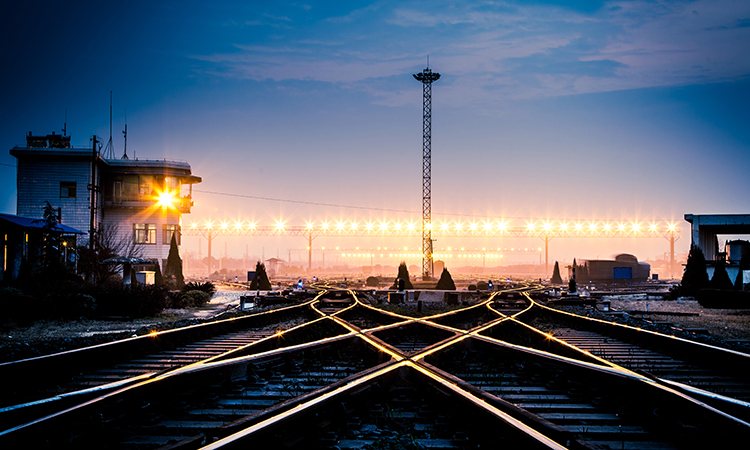 Providing solutions to decarbonise freight transport and make it more environmentally friendly is a major societal challenge. The transport sector is lagging behind in reducing emissions; it is responsible for almost a quarter of Europe's greenhouse gas (GHG) emissions. In addition, the sector has proven difficult to decarbonise and has not shown the same decreases in GHG emissions as other sectors have since 1990.
Reducing the environmental impact of transport has been rightly declared as a key policy priority at all levels in both Europe and nationally. The European Union's Green Deal and Fit for 55 programmes, together with several national action plans, define the way forward to reduce carbon emissions, among others, by 50 per cent by 2030 and to make the continent carbon neutral by 2050.
Modal shift and doubling rail freight volumes are obvious ways to contribute to a more sustainable transport system. The transport of freight by rail generates six times fewer external effects than transport by road, and taxation does not compensate in any way for the effects of road transport.
… sufficient modal shift has not taken place and will not happen until major interoperability barriers are overcome.
It should be noted that this growth in rail freight modal share is not to the detriment of the volumes carried by other modes and should not be considered as organised competition between modes. Rather, it should be seen as a rebalancing of modal share, whereby rail freight will gain share by absorbing more of the growth in transport demand. Without a decisive modal shift policy, transport by road will grow by a further 570 billion tonne-kilometres, which society will be unable to handle. This would require one million additional trucks, equalling the entire current German truck fleet.
As Pio Guido, Head of Railway Systems Department at the European Union Agency for Railways (ERA), points out in his recent article for Global Railway Review, sufficient modal shift has not taken place and will not happen until major interoperability barriers are overcome. The UIC supports the policy and legislative initiatives taken. The UIC's raison d'être to promote interoperability and its technical documentation in all domains of rail operation is well known. In order to support the sector in this direction, the UIC also cooperates closely with the European Union Agency for Railways (ERA), which references some UIC processes as AMoCs.
Specifically, in the freight and logistics domain, the UIC is reaching out to the other stakeholders in the logistics chain, both public and private. The UIC is the coordinator and driving force behind Rail Freight Forward, a coalition of many European rail freight companies. Numerous initiatives to support and overcome interoperability issues have been pushed through this coalition.
The initiative, which is being pursued with significant conviction and has already proven its virtue, is advancing digitalisation as a prerequisite for interoperability in order to deliver a more competitive sector with a higher market share. Five main technologies have been defined at this level.
Rail freight companies develop technologies to support sector interoperability
Europe will be the first continent on which the rail freight sector has committed to fully deploying Digital Automatic Coupling (DAC), at least up to Level 4, by 2030. At present, manual coupling and uncoupling is a major obstacle to competitive operations. Moreover, automated coupling enables data flows across the entire train to facilitate more efficient train management.
The Digital Platform initiative, for which European funding has been requested, aims to overcome existing functional barriers by transforming a fragmented data exchange landscape into a standardised message exchange process that is compliant with the EU Technical Specifications for Interoperability (TSI). Over 50 railway stakeholders have welcomed the project and 10 entities to date have committed to investing in this digital platform, which will eventually propose solutions addressing core operational rail processes. These are rail subsystems that urgently need to be standardised and where quick efficiency gains can be made: train operations, train handover, consignment note, train composition, data sharing, train harmonisation and ETA processes.
Modal shift and doubling rail freight volumes are obvious ways to contribute to a more sustainable transport system.
At the interface between infrastructure management and railway operations, the need for efficient capacity construction, planning and allocation is becoming ever more urgent. The ambition remains the same: to double rail freight volumes. To succeed, railway undertakings require greater capacity as well as easy access to high-quality, long- and short-term train paths, like a Google Maps for rail. Today, there is not enough capacity for all future trains. Apart from physical investments, more trains will be needed on the existing infrastructure. Digital Capacity Management (DCM) can increase the infrastructure capacity to a significant extent within a short timeframe and with comparably minor investment needs. Rail Freight Forward has identified these capacity issues as a major risk for further growth and, in collaboration with other stakeholders such as RailNetEurope and Forum Train Europe, has pushed to develop the tools and principles of DCM. An integrated IT solution that will connect the infrastructure managers and railway undertakings systems and will facilitate the entire capacity management process, from advance planning to the train run. At the same time, both infrastructure managers and passenger and freight railway undertakings can optimise their resources by using digital modelling, automated path creation starting with short-term requests, optimisation algorithms and allocation to enable fast, high-quality train paths in a single click.
These digital and technological initiatives will be part of a far larger initiative, Automatic Train Operations (ATO). In the broader scheme of things, ATO will be the next level in terms of achieving autonomous operations. Upon realisation, it will be an important step towards greater levels of efficiency. It will effectively mirror similar initiatives offered by other modes of transport. Inland waterways are close to deploying autonomous propelled barge shipments, while platooning and self-driving trucks have been previously tested some time ago.
But as a starting point, all these technologies will only deliver benefits when "the project of the century", the implementation of ERTMS, is deployed. Pressure needs to be exerted by all stakeholders on national governments in particular, who must not wait any longer to deploy ERTMS. It is the sector's duty to keep up the pace by innovating, but it is also the government's duty to create the necessary conditions. Hand-in-hand with this is the need for next-generation mobile communication technologies, such as the Future Railway Mobile Communication System (FRMCS), to make it all happen.
Interoperability is a matter for all modes
Facilitated by legislative activities at various policy levels and shaped by the sector through its digitalisation initiatives, interoperability is not only a matter for the rail sector. A solution to the decarbonisation challenge will be delivered only by means of an integrated B-to-B and B-to-C supply chain approach across the various modes of transport and with assured interoperability between these different transport solutions. Only by outplaying each mode on the basis of its strengths can a superior societal solution be delivered. What is this solution? A closer link should be formed between distance and societal cost, for example. An optimal solution for society will not be delivered if we all continue to transport our goods throughout Europe using transport modes that are very costly from an environmental and societal point of view. In short, this means that rail should be used for transport over long distances, seamlessly linked to trucking for short distances. Let's use the flexibility of trucking where it is needed, on shorter distances where high service quality makes the difference. Let's use rail for longer distances or larger volumes.
An optimal solution for society will not be delivered if we all continue to transport our goods throughout Europe using transport modes that are very costly from an environmental and societal point of view.
This mindset on intermodal interoperability is important in the context of several legislative initiatives currently at stake. The European Commission is in the process of revising Directive 96/53 EC on truck weights and dimensions and the Train Driver Directive. At the same time, a new initiative is underway with the aim of revising the Combined Transport Directive.
Regarding the directive on weights and dimensions, minor changes to the current compatible standards could have a major impact on interoperability with rail. Previous projects, such as AEROFLEX, have shown that tests within a rail context are absolutely necessary to avoid a significant impact on market dynamics leading to road-only solutions. The fact that some markets may be small at the moment should not be an argument in favour of developing even further diverging, non-interoperable standards.
The revision of the Train Driver Directive is a good opportunity to make changes in ensuring that the existing competition-impeding differences between the legal requirements imposed on truckers versus train drivers are abolished. Should we consider a unified European driver's licence? Should we look into the virtues of a single European language to facilitate the drive-through philosophy?
The initiative to revise the Combined Transport Directive has been widely applauded by the sector as it is an opportunity to extend the reach of the directive to incentivise modal shift and achieve the objectives of the Green Deal. On the other hand, it could reverse modal shift if existing and emerging technologies are interpreted too narrowly, or if the geographical limitations of the concept of combined transport are too narrow. In this context, the question of why only international traffic can be considered as intermodal transport remains a mystery.
Conclusion
Rail freight is a preferred solution to many of the environmental challenges currently inherent in transport. Interoperability will be a prerequisite for the development of rail freight, but interoperability goes beyond its own sector. Sustainable transport will be a matter for all modes of transport. If implemented properly, rail will be a strong backbone for the logistics chain. Policy initiatives should take this into account.
Reference:
DAC Level 4 includes automatic coupling of air, power and data bus lines, EP-brake and partially automated decoupling. Level 5 includes automated uncoupling.

Philip Van Den Bosch is Senior Freight Strategy Advisor at the UIC with Master's degrees in econometrics, purchasing and supply chain management. He has over 25 years of experience in supply chain matters. Before joining the rail freight sector, he developed a sound background in supply chain consulting and at several multinationals. He is able to translate the challenges from the customer of the rail freight sector into policy propositions and into concrete innovative projects to bring the sector to a next level. From time-to-time, he comments and publishes on logistics and mobility issues at stake. Photo credit: UIC/Juliette Jem