How does ProRail deal with extreme weather conditions?
Global Railway Review's Elliot Robinson interviews René Peusens of ProRail about the challenges that extreme weather conditions pose for the infrastructure manager, and the most effective approaches to dealing with climate change in the Netherlands.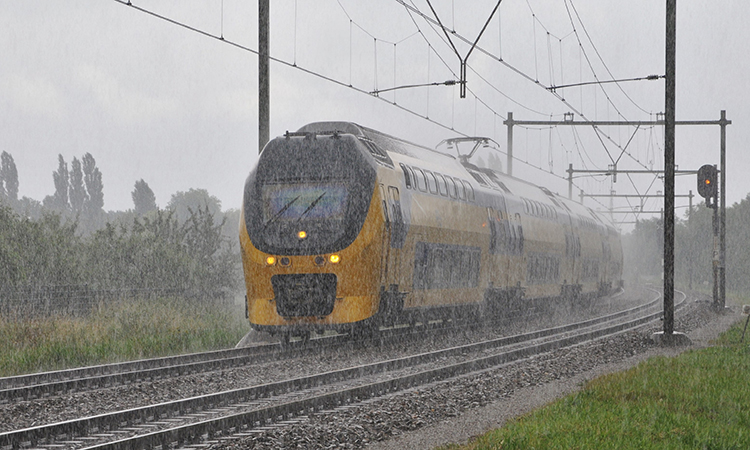 What are some of the challenges that climate change poses for ProRail?
In the Netherlands, we are dealing with five challenges. The first is flooding which comes from rainfall, while the second is flooding from rivers and the sea. I can easily say that this is the most threatening risk for the Netherlands in terms of climate change. We have 7,000km of railway in the Netherlands and there is a lot of land below sea level, so this type of flooding presents a unique set of problems. Heat is the third challenge and droughts are the fourth. An increasing number of storms are the final challenge that climate change poses for us.
Our railways were built during the 1850s, 60s and 70s on soft land with the idea of a few trenches running over them. Our goal, and the goal of the Dutch government, is to increase the number of passengers by 30 per cent in 2030 compared to 2018. So, there is a lot of work we need to do in order to meet these targets while still working to ensure that the effects of climate change are minimised for these tracks.
Why do you feel an adaptive approach to climate change is more effective?
It is impossible and far too costly to prevent everything, sometimes we have to just accept it. Our approach focuses on a well-researched and documented choice between prevention, restriction, restoration, and acceptance. We collaborate and talk with the ministry and all other stakeholders on how we deal with those aspects of climate change. For example, as a railway asset manager we can prevent the severe consequences of heavy rainfall, while flooding from the sea and the rivers is dealt with by the 'water boards'. However, sometimes when such a risk occurs, we can make evacuation plans with other public authorities.
While an adaptive approach is our main focus, we do try to prevent issues wherever we can. Considering specific cases related to heat, you can choose a preventative approach. For instance, if there are people waiting at a train platform during especially hot weather, you can provide shading via an overhead cover to keep passengers cool. However, when looking at heat in terms of fire in the woods or fields near the railway tracks, this is almost impossible to prevent, so acceptance and restoration would be more appropriate. Ultimately, our approach depends on the situation.
How can outside factors influence or affect ProRail's approach to dealing with climate change?
Outside factors can affect our approach significantly. We have made a programme and an execution agenda on climate change, but the way of implementing our proposals depends on the eventual budgets of the national government. I think this is the most important and influential factor.
The agenda we made, and it is an obligation, means the local and regional authorities have to make an agenda as well. The national government decided that these execution agendas have to be updated every six years until 2050. I think it is a very good iterative approach. Climate change itself is something we have to discover. We do not really know how it is going to affect us. We all have an idea of what is going to happen, but between 2020 and 2050, no one can claim that they have the most effective approach for those coming 30 years because they just do not know for certain what is going to happen. We take each other's hand, and we walk towards the future. In practice this means we do a lot of research and deal with all our stakeholders looking at what the best thing to do is.
Can you explain in more detail how ProRail deals with extreme weather conditions?
The first example I want to give offers more insight into our adaptive approach. When considering the issue of trees falling onto railway tracks, you can choose to cut trees down at specific places. However, when you have over 100,000 of trees near railway tracks which have a function outside the railway system, it is impossible to prevent this from happening completely. Instead, we take an adaptive approach, accepting that there will be occasions where this happens and try to formulate plans for that eventuality.
Another example is the contract we have with a weather forecast station who can foresee precisely where it is going to rain and with what intensity. We get a warning as soon as there will be a lot of rain, across approximately 36 locations in the Netherlands. This measure helps not to prevent the event itself, but to negate the severe negative consequences of such an event.
The last example I can give you regards to relay on power boxes near the rail tracks. We have to lift them up in cases of flooding to avoid water getting into these electrical systems. We are currently looking into how we can achieve this, but as you can imagine we have tens of thousands of these electrical boxes and so this challenge is not an easy one.
How does the ProRail Digital Assets Lab help you to measure weather conditions?
The ProRail Digital Assets Lab is helping us in several ways. Firstly, it takes measurements from several places near the rail tracks, looking at their temperature, humidity, and all kinds of similar aspects. The lab offers us a database with all the technical events that have happened during each day. Most of these event interruptions would normally largely go unnoticed, but we can use this tool to look over events from the last 10 years. We try to reinterpret the cause of these failures and we look to see if that cause could be climate change. Admittedly, this is still rather difficult to establish, because 10 years ago if an incident happened, it was not always classified that way. We are trying to see in retrospect if something can be linked on climate change or not.