SIFER 2023: coming back at full speed to plan the future of rail
Every two years, rail operators, infrastructure authorities, vehicle builders, suppliers, rail transport policy makers and planners all gather in Lille at SIFER.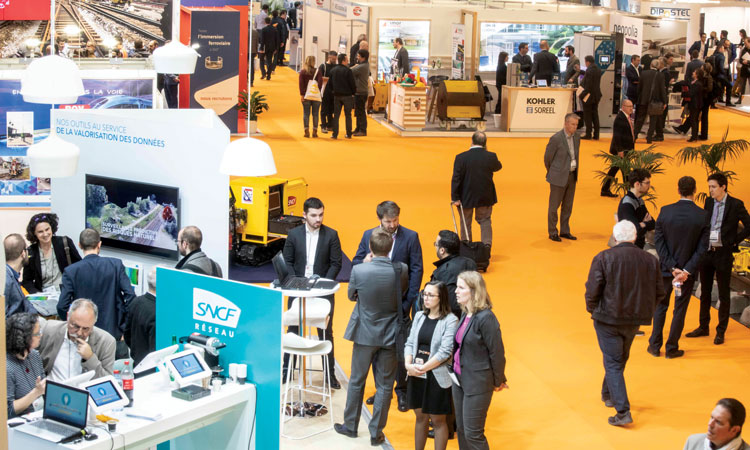 The 13th International Exhibition of Railway Technology will take place in Lille, France, from 28 to 30 March 2023.
As the most important international meeting point of the sector in France, the exhibition offers unparalleled possibilities to expand participants' networking, secure business opportunities and the chance to keep up to date with the market's latest trends.
For over 20 years, SIFER has been at the forefront of the sector's tendencies and innovations, amplifying the importance given to rail infrastructure and its technological advancements. This year, the show will host for the first time an Innovation Hub. Providing a window on the future, this space will be dedicated to start-ups with highly innovative and creative solutions to tomorrow's challenges.
Other new feature of this edition, the Railway Industries Federation – FIF will be present with a stand in the form of a "FIF Village". This area will host a dozen members of the organisation, as well as a space for conferences to discuss some of the burning challenges of the industry such as decarbonisation, innovation, or attractiveness in the current professional landscape.
And as always, SIFER visitors will also be able to discover:
An exciting exhibition area showcasing the latest products and technologies
An on-track display with sections of track laid in the exhibition hall to showcase rail-mounted vehicles and track-related equipment, allowing visitors to experience all rail products in real life.
Innovation – Sustainability – Competitivity: three key topics at the heart of the conference programme
SIFER offers a platform to debate on current events and the future of the sector. This year again, it will offer a valuable programme of conferences organised by the show partners and several sessions from exhibitors, which will address concrete challenges of the market.
#INNOVATION
SNCF Réseau Conference: "Rail Open Lab, an open association to accelerate innovation in the rail sector"
i-Trans Rail Innovation Awards: i-Trans, founding member of the ERCI network of European clusters, organises phase 1 of this railway innovation competition aiming to highlight and reward the skills and know-how of innovative companies offering solutions to increase the competitiveness of the railway sector. 3 companies will be rewarded: "Best Large Company", "Best SME", "Favourite Innovation".
#SUSTAINABILITY
BTP Rail Round Tables: "0 emissions: solutions to achieve this goal"; "Hydrogen for railway work machines"
Business France seminar: "The decarbonisation of British rail transport" & "Rail transport in Italy: a sustainable mobility issue at the heart of the recovery"
#COMPETITIVITY
UNIFE Round Tables: "Competitiveness of the European Railway Industry: Growing Challenges and Answers"; "Skills and youth – what are the challenges for the European railway sector?"
Ville, Rail & Transports Conference: "How to reorganise the French industrial sector in a changing and increasingly competitive environment?"

Associated events to promote knowledge exchange and networking
Alongside the conference agenda, SIFER will host several talk sessions and technical presentations held by some key exhibitors like Altametris, Clearsy, Instituts Carnot, Tenneco, URETEK, Vogelsang, or Wabtec.
Enterprise Europe Network Hauts-de-France and i-TRANS competitiveness cluster will organise BtoB international meetings to allow medium-sized enterprises, start-ups and larger companies as well as research institutes to find new business partners, initiate cross-border cooperation and share innovative technologies in an efficient way.
Numerous exhibitors renewing their trust
Proving the importance of SIFER in the French railway market, nearly 300 registered exhibitors, representing all facets of the industry, will attend the show next March, of which several big names of the industry: ABB France, ROV Development, Rail Europe Solutions, Sirail, Direct SAS, ACC M and more. 15 countries will be represented and 50 new companies will take part this year.
SIFER at the heart of France's leading railway region
The event takes place within the first railway region of France, the 3rd in the world. Hauts-de-France region alone represents 40% of national production. The regional sector achieves €1 billion in turnover, 1/4 of the national market, and employs 10,000 people, which represents 1/3 of the rail industry in France.
Exhibitors and visitors talk about SIFER
"We appreciated the general organisation of the show, which facilitates contact between exhibitors and/or visitors, making it a proven place of exchange" – Olivier DEJEAN – Spherea, Mipirail
"SIFER is THE meeting place for the railway industry in France, bringing together the various players in the sector's ecosystem" – SNCF Réseau
"We have been exhibiting at SIFER for more than 15 years. It's an unmissable event and you have to be there because it's THE French railway show" – Leroy Automation
Opening hours:
Tuesday 28 March 2023 10:00 – 17:00
Wednesday 29 March 2023 10:00 – 19:00
Thursday 30 March 2023 10:00 – 16:00.
Related topics
Related organisations
Related regions