The state-of-the-art long-distance train which will soon be running in Norway
Øystein Risan, CEO of Norske tog, discusses the newly announced FLIRT Nordic Express, the new long-distance trains set to revolutionise travel in Norway.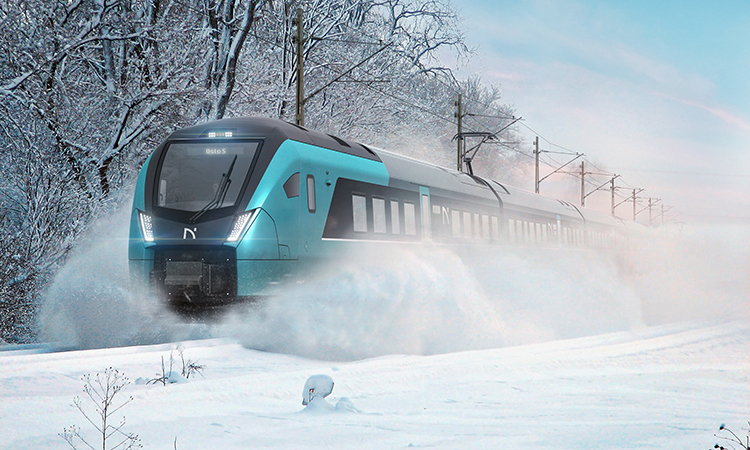 Credit: Norske tog
On 17 February 2023, Norske tog announced that Stadler had been awarded the contract for 17 long-distance trains in Norway – FLIRT Nordic Express – with an option to acquire up to 100 new trains in total.
The production of the new long-distance trains will start in 2024, and the first new train sets will be delivered for test-driving in Norway from 2025. The new train sets will be put into traffic on the Bergen Line from 2026, replacing old vehicles (locomotives El18 and class 7 coaches) reaching their technical life expectancy.
Comfort and experience
Stadler won the long-distance contract based on a total assessment of quality and cost criteria. The company is one of Europe's leading train suppliers.
The new long-distance trains will have a top speed of 200km/h. Each train set will consist of eight carriages with a total capacity of up to 542 seated passengers. Norske tog acquires train for both electrified and non-electrified train lines, including bimodal trains. Bimodal trains can run on both electricity and diesel and are thus important in getting closer to achieving the goal on a zero-emission railway in Norway for the lines that has not yet been electrified.
The train should not solely be a means of transportation, but also an experience in itself. The long-distance trains will offer both reclining seats, flexible sleeping compartments, bistro, family areas and lots of space for luggage for travellers. These are just some of the facilities that travellers can look forward to, and which will contribute to making it the most attractive way of traveling in Norway.
A new and forward-looking offer
The new trains will be more flexible when it comes to space, comfort, and different type of usage.
Passenger capacity for the FLIRT Nordic Express train sets with day operation will be 542 seats. In the combined version with sleeping compartments, 439 seating places will be available for day operation. The customer will enjoy accommodation options for sleeping, with both reclining seats, 2-bed sleeping compartments and 4-bed sleeping compartments. During daytime, the sleeping compartments can be used as private seating groups for both families and business travellers. The reclining seats can be used both during the day and night.
The new long-distance trains will also play an important role in getting more people to choose trains over cars or planes when travelling.
The train sets are planned to be compatible with infrastructure in Sweden and to Copenhagen Central Station, once the ERTMS is fully deployed on these lines. Which means that the FLIRT Nordic Express can, with the right authorisation, service all the way from Bodø in the Northern part of Norway to Copenhagen in Denmark.
With the current train offer, passengers travelling from Bodø to Copenhagen needs to switch train both in Trondheim (Mid-Norway), from diesel to electrical trains, and in Southern Sweden due to different power supply systems in Sweden and Denmark.
Access for everyone
The new FLIRT trains are universally designed, with flat floor inside the train for accessibility. With flat floors, wheelchair users are able to move between the different carriages of the train, for example to use the bistro offer. In addition, there will be four dedicated spaces for wheelchairs (designed according to TSI PRM), two wheelchair lifts and handicap toilets. The wheelchair lift can be used from all platform heights between 300mm and 760mm.
We will work closely together with interest organisations and different user groups in the upcoming design phase to ensure that the solutions for wheelchair users becomes as good as possible. It is important for us the ensure that everyone easily can travel with our trains.
A long-standing partnership
Norske tog and Stadler already have a long-standing, innovative and successful partnership together. In 2008, Stadler and NSB (Norske tog was separated from the NSB Group as an independent company in 2017) signed a contract on delivery of 150 FLIRT trains to the Norwegian railway, including both commuter trains (class 75 and 75-II), regional trains (class 74) and bimodal trains (class 76). In November 2022, the 150th train was delivered from Stadler to Norske tog.
The FLIRT trains have become the backbone of the Norwegian railway. The FLIRT train have proven to be reliable time and again, working well under the harsh Norwegian climate conditions. Every time a new FLIRT train has been put into traffic in Norway, the number of passengers has increased.
Common goals
It is challenging to deliver trains adapted to the Norwegian climate conditions. However, Stadler have delivered on time and to the agreed price, and on the whole, the trains have ticked along like high-quality Swiss watches.
Stadler have been solution-oriented, proactive, willing to learn and professional. Along the way, we have also further developed the trains together, especially when it comes to technology. For the past 10 years, we've been confident that FLIRT is a great train. We are certain that the new FLIRT Nordic Express will be an important contribution in making train the most desirable way of travel in Norway and are looking forward to continuing our functional and successful partnership with Stadler.

Øystein Risan is the CEO of Norske tog, a position he has held since the company was established in 2016. As the CEO, Risan is responsible for ensuring that the company provides a sufficient number of safe, reliable and up-to-date passenger trains to make the passenger train transport more attractive in Norway. Risan has held a number of different positions within the Norwegian railway industry for the past 30 years.