Challenging the norm: DB Cargo UK's Solutions Design team
Economic and political challenges combined with a fixed asset base and a changing customer demand, creates an environment for planning and operational complexities. In 2022, the DB Cargo UK board invested in a new team, Solutions Design. The core focus for the team is to implement resource optimisation and deliver capacity for growth, helping to deliver more freight on rail. Rosemary Aldous, Lead Solutions Design Manager at DB Cargo UK, explains more.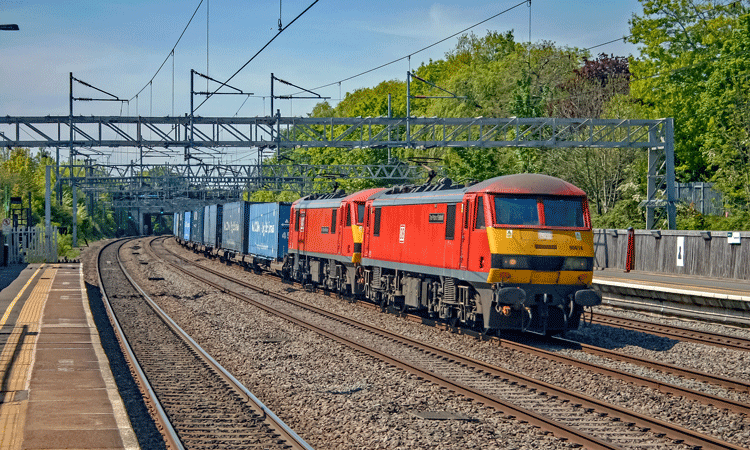 Ways of working
Challenging the norm and looking at different approaches, especially in an industry with undeniable parameters, has been paramount to the team's success. In the first year, the Solutions Design team successfully delivered £1.3 million in savings. A Kanban approach is utilised to maintain focus within the team, and ensure initiatives are seen through to completion before new initiatives are investigated. We work by the principles of Kaizen (that everything can be improved) and reducing Muda (waste), this is to aid a continuous improvement with a new dynamic team.
Delivering initiatives has absolutely been a business success as well as the team's; it wouldn't be possible to deliver change without the expertise and skills across the business. Engaging our business colleagues in ways to improve our service has been fundamental in the team's delivery, including colleagues within Service Design, Sales, Finance and across the Operational team. I believe that great ideas exist in most businesses, so it's been about collaboration and building relationships to capture these ideas whilst also critically providing feedback. For the team and I, providing feedback whether the idea or initiative is successful or not is equally important.
Some initiatives delivered may seem simple, such as running an alternative route which, for example, reduces mileage by 10 miles, however with the significant cost of track access and fuel, savings which may seem minimal at first can turn in significantly quantifiable savings on regular running traffic over the period of a year. These initiatives would not be possible without the timing specialists who secure new and amended schedules on the network. Have all initiatives been a success? No, is the short answer. However, part of the answer has been feeling emboldened to ask the obvious and to ask challenging questions twice, sometimes failing and finding the answers for ourselves.
Diversion and engineering blockades can cause significant operational complexities. My colleagues in Service Design are leading on a valuable project to understand how engineering diversions affect our resource optimisation and affect delivery for our customers.
One way we have delivered traffic for our customers reliably and to reduce carbon emissions is through 'combi-trains' where two separate traffics traversing over a 'common leg' are combined. This can bring its own challenges, such as an appropriate location to form and spilt long services, operating within the network's restrictions, particularly with looping. This is one area that adoption of technology is helping us.
Technology adoption
It's not just about the process – we all know technology adoption is key to the future success of not just enabling change but also allowing that change to be sustainable. It is about using technology to find and surface similar examples to those already identified and using the data within the organisation to find more efficiency opportunities. The Solutions Design team with the support of DB Cargo UK's digital team and a third-party software developer, Razor Ltd, have developed an 'efficiency portal'. The portal delivers a 'task list' to suggest new combination of schedules to the Solutions Design team to take forward.
Marie Hill, Chief Transformation and Digitalisation Officer at DB Cargo UK, says:
"In order to better serve our customers, we are constantly reviewing how we manage our services, how we can increase their sustainability by delivering longer and heavier trains but also how we can provide a better solution for our people to find business efficiencies and opportunities to streamline our services. We have worked closely with our innovation partner Razor Ltd to find a new solution that allows us to combine multiple datasets and surface to the Solutions Design team more of the efficiency opportunities Rosemary and the team have been working on in ranked order. We created a vision workstream with Razor Ltd where we take a process in our business and look to see how we can improve this with the use of technology. For the Solutions Design team we created the efficiency portal, which uses multiple sources of data to find more of the improvement opportunities and surface them in a visual, ranked order for the team to work on. Basically, they become focused on fixing not finding!"
The exciting opportunity about the portal is that it is something the team and I can build on, working in partnership with the digital team and Razor Ltd looks to provide lots of future digital opportunities to combat our complexities. What is important I believe is working with a mindset that embraces technology and an open mind to allow us to find different options to solve today's challenges. Working with a technology partner in an agile approach has allowed for a quick drop of value, with agile principles and the user at the heart of the design.
Matt Chubb, Chief Technology Officer at Razor Ltd, says:
"The Solutions Design team have driven incredible value within DB Cargo UK, pulling together data and information from various sources, analysing and reviewing for potential efficiency improvements and allowing the business to deliver increased freight on rail. DB Cargo UK and Razor Ltd worked together to build an innovative software solution to power up the Solutions Design team. Giving the team increased visibility of possible candidates for efficiency analysis. This system was delivered in a short amount of time to provide maximum value as early as possible. Driving efficiencies throughout an organisation as established as DB Cargo UK presents challenges, and the solutions design team has done an incredible job of bringing value. Razor Ltd strives to amplify business solutions like this to increase efficiencies through technology." 

Rosemary Aldous is Lead Solutions Design Manager and has worked for DB Cargo UK since 2017. She has a background in Supply Chain Management, with a degree in International Business and CMI in Leadership and Management.