Q&A with Olivier Loison: Alstom and Indian Railways 
Olivier Loison, Managing Director for Alstom India, discusses the collaborative relationship between Alstom and Indian Railways, and explores how this led to the milestone delivery of the 300th WAG 12B electric locomotive.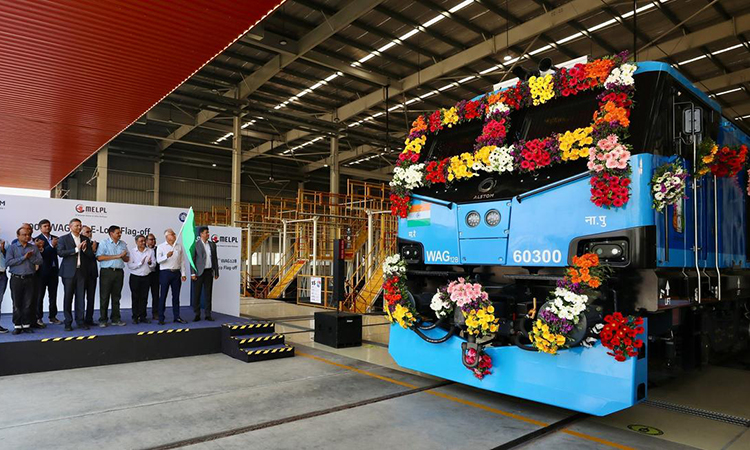 Credit: Alstom
Tell us about the collaboration between Alstom and Indian Railways and the history of the relationship?
Indian Railways (IR) is the backbone to the country's logistics system and Alstom has been associated with India's progress for over 100 years. Over the years, we have delivered global transformations by leveraging our global footprint and our expertise in delivering large railway and urban transport projects in India. We remain committed to supporting India's transition to more innovative, sustainable, and accessible mobility systems. Some examples of our work as follows: 
In 2015, Alstom signed a landmark contract worth €3.5 billion with Indian Railways to design, manufacture and deliver 800 fully electric high-powered double-section locomotives of 12,000 HP for freight services. We have delivered over 310 such eLocos so far. This joint venture with IR is one of the biggest testimonials to the 'Make in India' initiative as we have established a highly localised supplier base with more than 85% of parts coming from India. Furthermore, this project has placed India in the group of six countries that manufacture such high horsepower locomotives indigenously. The technology transfer has also added to building local engineering capabilities.

Alstom is the OEM and pioneer in launching IGBT based 3-phase propulsion for high horsepower locos manufactured by Indian Railways. With a highly reliable product, the company is uniquely placed to remain a key player in the third party equipment sales to Indian Railways, including the aftermarket annual maintenance contracts arising out of these sales.

Our Maneja site has been supplying propulsion equipment to Indian Railways for locomotives and EMUs for over two decades. Following the successful delivery of propulsion and electricals for the Mumbai Vikas Railway Corporation (MRVC) II EMU project, we have reliable products catering to the EMU/MEMU market (rolling stock manufactured by Indian Railways).

Alstom has also built a state-of-the-art Operation Control Centre in Prayagraj (UP), which is the nerve centre of the Eastern DFC (Dedicated Freight Corridor), monitoring operations across the entire corridor. We have engineered and delivered the electrification, signalling and telecommunications for the 351km stretch between Bhaupur and Khurja of the EDFC as an integrated system. This was the first fully electrified section of DFC completed by Alstom in record time.
We are, and will continue to be, a strategic partner in supporting India's freight revolution and passenger movement, and the successful delivery of these electric locomotives has strengthened our relationship. We are well-positioned and keen to partner with IR across several areas in rolling stock, signalling & telecom and services, given our ongoing collaboration with them. 
Can you provide an overview of the WAG 12B electric locomotive?
The fully electric WAG 12B locomotives have been developed for faster and safer movement of freight trains hauling more than 6,000 tonnes at top speed of 120km/h. Among the most powerful freight locomotives in the world, the locos have essentially doubled the average speed of freight trains in the sector and are playing a major role in revolutionising freight movement in the country. 
WAG 12B has introduced novel features into Indian freight trains, such as climate control systems, air conditioners, food preparations, storage facilities and toilets. They incorporate special features for smooth operations in humid or dusty environments and extreme temperatures. It is also equipped with spacious cabins for loco pilots to work comfortably. The eight-axle design of the e-Loco improves performance and minimises energy consumption and maintenance costs.   
As an innovative approach designed to shift from traditional mileage-based maintenance to condition-based predictive maintenance, we have deployed our predictive maintenance tool – HealthHubTM in the WAG 12B. This system optimises the lifecycle costs by extending the remaining useful life of all types of rail equipment, saving up to 20% in preventive maintenance labour and 15% in materials consumption. HealthHubTM is supported by various high technology data capture solutions such as TrainTracer™, an on-board real-time automated diagnostics portal capable of measuring the condition of three key consumables of a train as it moves through the portal: wheels, brake pads and pantograph carbon strips. It also monitors the condition of the relative infrastructure using tools installed on commercial trains and use predictive analytical techniques for future maintenance requirements.  
The technology is also helpful towards making the acceleration process more efficient by reducing the heat generation and traction noise. Additionally, it will not only bring down operational costs, but also reduce the congestion faced by Indian Railways. 
All eLocos are equipped with IOT-based train-to-ground communication systems, which provide real time information on critical parameters to determine the health of locos in the field round the clock. The complete route is also geo-tagged, which allows the personnel in the war room to determine the speed, kilometres run, location, and other important operational data for locos running across India.  
Can you talk about the milestone delivery of the 300th WAG 12B?
The 300th e-loco was flagged off from our state-of-the-art locomotive maintenance depot in Nagpur, which was inaugurated by the Hon'ble PM Shri Narendra Modi in 2022. This milestone was celebrated in the presence of Shri Naresh Lalwani, General Manager of Central Railway, and senior officials from Alstom, along with other key dignitaries from Indian Railways. This is a proud milestone for us, and as we continue to deliver more locomotives, this partnership will continue to boost the nation's logistics revolution. With its potential to move heavier loads at faster speeds, the Alstom WAG 12B electric locomotive has established itself as a capability multiplier. 
What do these electric locomotives mean for the sustainability of Indian rail?
India has committed to reach net-zero emissions by 2070 and the Ministry of Railways has set a goal of transforming Indian Railways into Green Railways by 2030. Being a pioneer at introducing various solutions to transition to green mobility in India, Alstom is committed to supporting India's transition to more innovative, sustainable and accessible mobility systems. 
Equipped with Insulated Gate Bipolar Transistors (IGBT) propulsion technology, these e-locos also allow considerable savings in energy consumption thanks to the use of regenerative braking. Outstanding ergonomics, safety, low life cycle costs and high recyclability also contribute towards making these eLocos an attractive sustainable choice to boost freight movement, thereby reducing congestion and air pollution significantly.  
Can you talk more about Alstom's Nagpur depot?
As part of the contract with the Indian Railways, Alstom has setup a world-class manufacturing facility in Madhepura, and built two ultramodern state-of-the-art maintenance depots at Saharanpur and Nagpur. These depots use predictive technologies to ensure high availability of India's most advanced freight locomotives and reduce maintenance cost.  
The depot in Nagpur is equipped with the latest technologies to anticipate breakdowns thereby enabling proactive maintenance of the advanced freight locomotives at significantly lower costs. It has 12 tracks for maintenance with hi-tech equipment and is equipped with Centred Fleet Monitoring (CFM) system to remotely monitor the fleet via Health hub and Train Tracer system. The Prompt Response Team (PRT) is deployed for 24 x 7 loco attention. Green features here include rainwater harvesting, zero discharge using effluent treatment plant and sewerage treatment plant, 100% LED lights, daylight panels, occupancy sensors, greenery and provisioned for 1 MW rooftop solar plant. The depot also has a fully automated loco wash plant, which completes the process in under 40 minutes – a task which usually takes half a day if undertaken manually.  
This depot has completed more than eight months of operations and records 1.6+ million service defect free kilometres for the Nagpur Fleet. The site is a success story for the Public Private Partnership (PPP) model, where supervisors are from Alstom and technicians from Indian Railways. 

Olivier Loison is Managing Director for Alstom India, responsible for executing the Alstom in Motion (AiM) strategy, driving business expansion, as well as overseeing commercial and operational performance. He has over two decades of experience in the transportation sector, contributing on some of the well-known infrastructure and railway projects across Asia and Europe. Prior to this, he was serving as the Managing Director of the East Asia cluster, within the Asia-Pacific region of Alstom.