A new generation of railways in Hong Kong
2014 is shaping up to be another exciting year for MTR. We are celebrating the 35th anniversary of the start of MTR service in Hong Kong, which opened on 1 October 1979 with nine stations along an 8km-long stretch of track in Kowloon. Though the initial operation was small in scale, it was large in impact. The launch of a purpose-built modern transit system was a milestone not just for transportation in Hong Kong but for the development of the whole city. A typical commute was previously characterised as a stifling ride in an overcrowded bus through heavy traffic, but with the advent of the MTR, journeys around town became not only fast, but also convenient and comfortable. As the rail network expanded, the city grew and the economy prospered. Hong Kong became one of the world's most dynamic international cities with the MTR an important part of it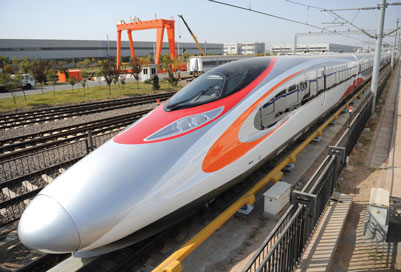 Today, you could no more imagine Hong Kong without the MTR than you could London with – out the Tube or Paris without the Métro. Our world-class operations carry 5.1 million passengers a day and we deliver them to their destinations on-time, 99.9% of the time. As we look back to celebrate our anniversary in 2014, there's a lot to be proud of. There cannot, however, be any room for complacency. The simple truth is that a densely populated and busy city like Hong Kong could not function effectively without this type of high quality performance. And it's not the only city in the world today that is facing that imperative.
World-class railway service
Hong Kong has the highest use of public transport of any major city. Approximately 90% of all journeys are made on trains, buses, mini-buses and ferries with the MTR serving as the backbone of the system. It is therefore vital for us to remain clearly focused on our train service performance. Operating 99.9% on-time provides a very narrow margin for improvement; yet we manage to do so year after year.
For regular commuters in Hong Kong, 99.9% service performance means they may experience a delay of five minutes or more once every two years. This result is a great credit of course to the men and women of the MTR working on the front line and behind the scenes to serve our passengers and keep our infrastructure and assets in tip top condition.
Our network is among the most heavily utilised in the world and this puts immense pressure on the trains and the infrastructure. Not surprisingly, I'm often asked: "How is it possible for you to achieve such a high on-time performance year in and year out?" Well, one of the most important reasons is that we have a sound financial base. From day one, we have been run on sound commercial principles and we are one of the very few urban passenger rail companies that turns a profit. This strong foundation allows us to forward-invest into our existing railway assets to keep our systems running in good order. We spend nearly HK$5 billion dollars each year to maintain, upgrade and replace our trains, tracks, and operating systems etc.
The other critically important reason that we can achieve such high standards is because of our people. The dedication of our staff – more than 15,000 of them in Hong Kong and a similar number around the world – is the foundation of MTR's success. Their teamwork, commitment to excellence and enterprising spirit drive our company forward and through our training and development programmes we encourage them to strive for even higher standards. Members of the community see this and they are impressed. A recent survey of more than 4,000 people by one of the world's leading human resources companies rated MTR as Hong Kong's most attractive employer. It is an honour that gives us great pride.
Listening and responding
With our hardware in good shape on the operations side, in recent years we've placed a renewed focus on our soft offerings, listening more closely to the things that our passengers would like us to do more of.
As important as the improvements we make on the operations side are, they are only incremental. When it comes to customer service, we can make a bigger impact by rising to the challenge of meeting the needs of a new generation. After all, what is important to people around the world is how public transport can serve the lives they want to live today and tomorrow.
So under the 'Listening • Responding' programme that we launched in 2012, we've increased train service frequencies in peak travel periods to ease crowding and reduce waiting times, and in non-peak periods to enhance comfort and convenience. We are taking advantage of developments in mobile technology to enhance the way we provide service information to our passengers, delivering them in a more timely and user-friendly manner. This year, we started to personalise our flagship 'MTR Mobile' app so passengers can select which of our lines they would like to receive train service updates about. We have extended 4G mobile service throughout the rail network, on all trains and in all stations, and also provided free Wi-Fi hotspots in every station so that people can stay connected during their journeys. And at the same time, we're improving facilities by providing toilets at interchange stations, and putting in more lifts and wide gates.
We're delivering the service enhancements that our passengers are asking for, and they have noticed and like what we're doing. Surveys show that the number of people with a positive perception of our service has increased sharply over the past two years, up to some 90%.
A new 'Super OCC'
One of the highlights for our Hong Kong railway operations in 2013 was the integration of our three heavy rail Operations Control Centres under one roof at what we like to call our 'Super OCC'. The migration was successfully undertaken in two phases during non-traffic hours and it was completed with zero impact to passenger service. This successful outcome was the result of years of detailed design, planning, installation and testing that involved close collaboration among different departments right across the company.
Bringing all our traffic controllers under one roof enhances the efficiency of train control. It improves communication and response and enhances our ability to continue providing safe and reliable service to our passengers. MTR is a fully integrated network so it makes sense for our traffic controllers to be able to get an overall sense of what is happening on the whole network.
With its high-tech facilities, our new Super OCC has quickly become a new icon for the high-quality reliable service that MTR is famous for. It is not only the talk of the town but is also impressing visitors from around the world.
Expanding the railway network
The Super OCC is designed with our network expansion in mind. It will house the controls for four of the five new railway projects under construction in Hong Kong.
Work is in full swing on these projects with more than 100 construction sites all over town and we continued to make good progress in 2013. We are starting to see a real sense of excitement building up in communities in different parts of the city as these projects move closer to completion, starting with the West Island Line that will open by the end of 2014.
Two more community rail lines, the South Island Line (East) and Kwun Tong Line Extension, are scheduled for completion in 2015, as is our 26km-long Express Rail Link (XRL) that will connect Hong Kong to China's national high-speed rail network. The first of our high-speed XRL trains is currently undergoing track testing in the mainland and will be delivered to Hong Kong later this year for commissioning.
Work is also well on track for the Shatin to Central Link – a strategic rail project that will open a new east-west corridor in 2018 and a north-south corridor in 2020.
In total, these projects will increase our rail network by 25% by adding an extra 56km of track. The new lines and new stations will knit our community even more tightly together. Older districts will be revitalised, economic development will be stimulated and reduced dependence on road transport will bring health benefits to the whole community.
A multinational company
The new rail projects under construction demonstrate one of MTR's key strengths – our whole railway expertise from design to build of infrastructure through to commissioning and operation of a world-class railway service. The expertise and capabilities that we have developed in Hong Kong are in demand in cities around the world.
Today outside our home base, MTR operates train services in six cities on three continents. We have opened brand new railway lines in Beijing, Shenzhen and Hangzhou and we have improved the performance of existing networks in London, Melbourne and Stockholm, and 2013 brought new recognition for their excellent performance with a series of prestigious awards1.
As a Hong Kong-based multinational company, MTR will continue to explore growth opportunities abroad. We have been selected as the preferred foreign investor for the Shenzhen Line 6 and are bidding for a range of franchises and concessions including Thameslink, Essex Thameside, ScotRail and Crossrail in the UK and the North West Rail Link in Sydney. We also look forward to starting a new express service between Stockholm and Gothenburg.
In Hong Kong, a new generation of railways is on the horizon. As we celebrate our 35th anniversary, we can look forward to the future with confidence as we reflect on our past with pride. A lot has changed since we started service in 1979, but it's good when the better things don't change at all. At MTR, what doesn't change is our commitment to service excellence, and to continually improve our equipment and service to meet the changing needs of our passengers.
Reference
European Commuter Operator of the Year, presented at the European Rail Congress Awards to LOROL, our UK joint venture operating London Overground; a record breaking 32 Lions, including five Grand Prix awards, at the 2013 Cannes advertising festival for Metro, our Melbourne subsidiary, for its 'Dumb Ways to Die' safety campaign; the Zhan Tianyou Civil Engineering Award presented to Beijing Metro Line 4 for promoting the highest standards of scientific and technological innovation in civil engineering in China; and the UITP World Congress Grow with Public Transport Award for outstanding innovation in supporting public transport growth that was presented for our new Shenzhen Rail + Property (R+P)
Biography
Jay Walder is the Chief Executive Officer of the MTR Corporation. He has enjoyed a distinguished career and has a wealth of experience in the public transportation sector. Before joining the Corporation, he was the Chairman and Chief Executive Officer of the New York Metropolitan Transportation Authority (MTA) in the United States from 2009 to 2011. Between 2001 and 2007, Jay was the Managing Director, Finance and Planning, of Transport for London (TfL) where he is credited with the introduction of the successful and popular Oyster Card and also led the development of transportation plans for London's successful bid for the 2012 London Olympics. Jay's other postings have included as a Lecturer at the John F. Kennedy School of Government at Harvard University (from 1995 to 2001) and Partner at McKinsey & Company, London (from 2007 to 2009) where he was the Global Leader of the Infrastructure Practice for the firm.