Russian Railways' infrastructure ready to serve Sochi 2014 Winter Olympics
Posted: 12 February 2014 | Vladimir Yakunin, President, Russian Railways | No comments yet
In February 2014, the Russian city of Sochi on the Black Sea will host the Winter Olympic Games followed by the Paralympic Games in March 2014. Over the past few years the city has been completely transformed with new sporting facilities, housing and transportation interchanges being constructed. Russian Railways, one of the largest companies in the country, could not ignore this main sporting event and we have contributed to the infrastructure of Sochi to help support the 2014 Winter Olympic Games.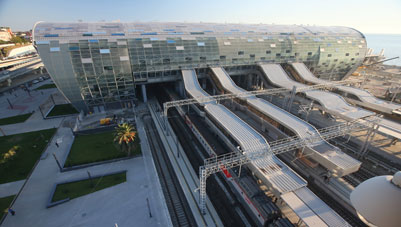 The combined rail and road built by Russian Railways will be an essential infrastructure asset during the Sochi 2014 Winter Olympics
Participants and guests attending previous large-scale events across the world have made it clear that they have had to spend a lot of time travelling from one stadium to another. Visitors to the Winter Olympics in Sochi will not be faced with this problem as the ice rinks on the coast are just a 30 minute journey away from the ski slopes. This quick journey time has been made possible thanks to the construction of a new 'combined road' built by Russian Railways. 
The 'combined road'
The 'combined road' is a railway and motorhighway placed next to each other that connects Adler on the coast with Krasnaya Polyana in the mountains, and was perhaps the most complicated in terms of implementing our project in Sochi. It includes 130km of road in the mountains and the coastal zone, plus two mountain stations with passenger terminals (Olympic Village and Krasnaya Polyana) which will function as transfer units for trucks and cableways, and it also includes six tunnel complexes with a total length of 25.5km, 37 railway bridges and 41 automobile bridges.
The rest of this article is restricted to logged-in members. Login or subscribe free to read it.