Station Construction: From the fjord and into the mountain
Posted: 18 September 2014 | Stine Ilebrekke Undrum – Project Manager at the Norwegian National Rail Administration | No comments yet
Norway is famous for its fjords and mountains – beautiful to look at, but a challenge for road and railway construction. So when construction of a new double-track railway line was decided from Holm to Nykirke, past the town of Holmestrand in southern Norway, both the track and the station had to be moved into the mountain, otherwise it will not be possible to accommodate the design speed of 250km/h along the twisting coastline. Stine Ilebrekke Undrum – Project Manager at the Norwegian National Rail Administration – provides construction details of this challenging project which is scheduled to open in autumn 2016.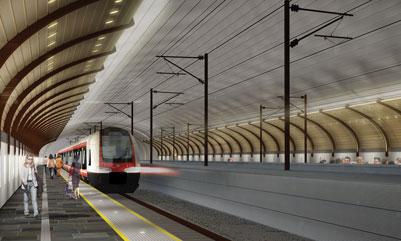 The train journey past Holmestrand in southern Norway is special in that the track clings to the rocks along the twisting coastline, just above sea level, and is particularly beautiful at sunrise and sunset. There are some great drawbacks associated with this section of track, however, the speed is slow and demand has far outgrown capacity. There is a risk of landslides due to poor ground conditions along the whole track section, and the maintenance costs are high. The 15km-long track section dates back to 1881.
When construction of a new double-track railway line was decided along this section, it was an aspiration from the Ministry of Transport and Communications that it should be designed to accommodate speeds of up to 250km/h. A double-track tunnel through the mountain will allow for such high-speeds. Since the speed is curvaturedependent, it was also necessary to move the station into the mountain.
The rest of this article is restricted to logged-in members. Login or subscribe free to read it.