Developing and evolving RTPI strategies in an era of cost-cutting
Keeping people informed is one of the simplest ways to reduce complaints, increase satisfaction and gain a reputation for good customer service, writes David Whitley – Head of Regional Services at London Midland. It's all part of thinking like a passenger, and arguably more important than operational performance itself: a quick scan through the National Rail Passenger Survey reveals that Britain's least punctual train operator has a higher customer satisfaction rating than Britain's most punctual! The same survey points out that handling delays well is the single biggest way to reduce customer dissatisfaction. In fact, it has three times the impact of punctuality itself…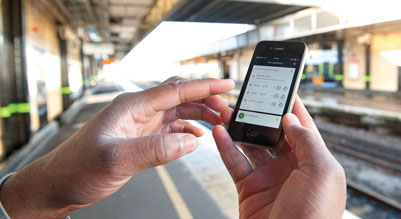 For those of us who operate along the West Coast Main Line – Europe's busiest mixed traffic railway – or squeeze our trains through Birmingham New Street on a daily basis, this is good news: we have a lot of practice dealing with delays. And it's therefore no coincidence that real-time passenger information (RTPI) has played an important role in our business strategy since our Franchise was created in 2007.
Fifteen years ago, RTPI focused specifically on the introduction of digital live departure boards and at an unstaffed station – or a remote bus stop – such reassurance was revolutionary, putting passengers in control of their journeys for the first time: Do I wait? Do I get back in my car? Do I go home?
But with it came genuine concern from some operators – would passengers abandon their journeys quicker if they knew about delays in advance?
Happily, things have moved on since then and more modern thinking supports a strong correlation between information, customer satisfaction and sales. It's no coincidence that six of London Midland's nine customer satisfaction targets – as set by the Department for Transport (DfT) – relate to information provision.
However, what constitutes an acceptable level of information is constantly evolving; RTPI is now something passengers expect to access not just at the point of travel, but before they leave home and throughout their journey. Simply displaying the expected departure time at the station is no longer acceptable. Passengers increasingly expect companies to provide them with solutions, ideally helping them to avoid the problem in the first place; and that can mean getting a message to them before they contact you.
The rest of this article is restricted to logged-in members. Login or subscribe free to read it.