Developing and evolving RTPI strategies in an era of cost-cutting
Keeping people informed is one of the simplest ways to reduce complaints, increase satisfaction and gain a reputation for good customer service, writes David Whitley – Head of Regional Services at London Midland. It's all part of thinking like a passenger, and arguably more important than operational performance itself: a quick scan through the National Rail Passenger Survey reveals that Britain's least punctual train operator has a higher customer satisfaction rating than Britain's most punctual! The same survey points out that handling delays well is the single biggest way to reduce customer dissatisfaction. In fact, it has three times the impact of punctuality itself…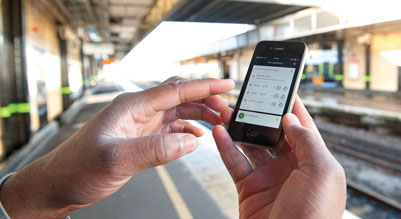 For those of us who operate along the West Coast Main Line – Europe's busiest mixed traffic railway – or squeeze our trains through Birmingham New Street on a daily basis, this is good news: we have a lot of practice dealing with delays. And it's therefore no coincidence that real-time passenger information (RTPI) has played an important role in our business strategy since our Franchise was created in 2007.
Fifteen years ago, RTPI focused specifically on the introduction of digital live departure boards and at an unstaffed station – or a remote bus stop – such reassurance was revolutionary, putting passengers in control of their journeys for the first time: Do I wait? Do I get back in my car? Do I go home?
But with it came genuine concern from some operators – would passengers abandon their journeys quicker if they knew about delays in advance?
Happily, things have moved on since then and more modern thinking supports a strong correlation between information, customer satisfaction and sales. It's no coincidence that six of London Midland's nine customer satisfaction targets – as set by the Department for Transport (DfT) – relate to information provision.
However, what constitutes an acceptable level of information is constantly evolving; RTPI is now something passengers expect to access not just at the point of travel, but before they leave home and throughout their journey. Simply displaying the expected departure time at the station is no longer acceptable. Passengers increasingly expect companies to provide them with solutions, ideally helping them to avoid the problem in the first place; and that can mean getting a message to them before they contact you.
Meeting such a challenge, especially in an era of cost-cutting, is why RTPI strategies need to constantly evolve, using technology to provide both efficiencies and solutions. In this digital age, examples of poor customer service are quickly shared on social media, and switched-on competitors are ready to target your existing and potential customers even if you avoid reputational damage. And if you're not engaged with these channels, you can lose custom without even realising why.
When developing an RTPI strategy this means there are two golden rules: make sure your real-time information is evolving with the needs of your customers and ignore social media at your peril.
But before the accountant in you takes a deep intake of breath, there is light at the end of the tunnel, because meeting those needs doesn't need to be cost prohibitive. In fact, whilst it is true that people expect increasing levels of personalisation when it comes to information, much of this data is already available. And in some cases personalisation is actually quite general, because everyone wants the same thing!
From a technology perspective, Network Rail's open source data in particular has already helped to highlight the myriad of possibilities when it comes to presenting train times, by allowing developers – many of whom are public transport users – to tailor information in a variety of different ways, sometimes to address specific issues that help them as a passenger. Indeed, London Midland's first smartphone App – downloaded over 100,000 times and rated 9/10 by users – was created for just a few thousand pounds by using an existing App as a base, and offered a variety of user-specific options, from a 'next train home' function and disruption alerts to car park payment and Twitter feed.
Personalisation doesn't have to mean relying purely on new technology, though, and even the most tech-savvy individuals would probably agree that a human voice is more reassuring when things aren't going to plan. However, whilst a computer apologising for a delay may lack sincerity, using technology to disseminate information efficiently allows front line teams to provide accurate and up-to-date advice when it's needed most. The national Passenger Information During Disruption (PIDD) protocol already contains guidelines on internal communication, and at London Midland this led to the introduction of a multiple user instant messenger system to enable two-way information between station staff and the control room in addition to the standard suite of alerts broadcast by controllers.
However, with almost 9/10 journeys free of disruption, it is important that passengers feel just as valued when things are going well. Making announcements during normal running means people will know who to turn to when things go wrong. All too often people can't get hold of the information they need because they don't know where to go rather than it not being available.
It's also true that not all real-time information changes constantly and any RTPI strategy should consider how more traditional media can be used to provide static information. This particularly applies to details that aren't easy to disseminate quickly, such as alternative travel options from individual stations, something that customers are often seen to request on Twitter during disruption. Whilst this should be hosted on train companies' websites too, technology isn't infallible: we shouldn't forget that signal failures are a common feature of mobile phones, not just the railway!
Listening to customers is a key element of any effective RTPI strategy, and with or without technology, adopting a culture of helpfulness throughout the business – and collating feedback from all channels – is one of the simplest ways to help the strategy evolve around customer needs.
At the most fundamental level, thinking like a passenger means getting the basics right, and the ideal 'belt and braces' solution remains the installation of help points and live customer information system (CIS) screens at every station, ideally showing wider network updates as well as individual train departures. However, whilst for some operators this could still be a multimillion pound investment (although potentially a franchise commitment), third party funding – such as through local authorities – can be available through integrated transport budgets. Keeping future costs under control can also be helped by choosing systems common to local operators, creating economies of scale regarding system upgrades. Such an approach has saved London Midland many thousands of pounds in development costs, as well as having the added benefit of simplifying the integration of train running data from other operators running through our stations.
However, as smartphone use grows, there is no doubt that the business case for CIS hardware will weaken in favour of investment in Apps and mobile websites – both of which can be developed for less than the price of a single station CIS scheme – and station Wi-Fi to drive them. At staffed stations, the focus for train companies needs to be communication between the control room and front line staff. The PIDD protocol, adopted by all UK operators, sets minimum standards for the way disruption is handled, but this also means that more information can be disseminated when things are running well. Local engagement is now a key focus at London Midland and one of the latest developments in information provision has been to make regular manual PA announcements when services are running well to provide reassurance and help passengers feel valued as customers. The announcements are the result of passenger feedback and include confirmation that specific trains are running to time, suggestions for alternative services when trains are full, advice on number of carriages and warnings of future issues affecting services. However, as well as live announcements, station staff have recorded their own local messages that give detailed alternative travel information during disruption, allowing them to spend more time catering to individual passengers' needs when things do go wrong.
On-board trains is a similar situation, where the introduction of GPS Passenger Information Systems (PIS) and smartphones for senior conductors can deliver greater consistency in announcements and enable staff to increase their visibility throughout the train. This in turn can improve customer satisfaction regarding security and helpfulness. On-train staff having access to information on delays, connecting trains, the Underground and platform numbers can also reassure even the most anxious of passengers, and even PIS can have a major impact. Indeed, introducing a fleet of PIS-fitted trains on London Midland's Snow Hill line in 2011 saw satisfaction scores for information provision immediately increase by 21%.
Of course, when there is disruption, the most useful information is that which enables customers to avoid it altogether, and companies need to embrace new technology to enable sufficient personalisation of messages to allow customers to make the best use of their time. Whether that means making alternative arrangements or just leaving the office later, there is a growing expectation that real-time information should be available before arriving at the station. And rather than being a burden for train operators, having fewer passengers at stations in the midst of disruption can only assist the management of incidents, even reducing the numbers of staff required 'on the ground'.
Alerting passengers to a particular train company's delays on a route and even special timetables are already possible and largely cost-effective (especially by email), one of the most popular systems being Nexus Alpha's JourneyCheck Alerts, which is driven by control room messages. However, both this and National Rail Enquiries' Journey Alerts system rely on a level of manual input – which means human error can creep in – and do not offer alternative travel advice. That said, making such a tool available for all journeys planned online, irrespective of operator, is something that would offer a considerable benefit to passengers.
However, whilst alerting systems work well as an 'early warning system', the exponential growth of smartphone and tablet use now enables passengers to access information throughout their journeys, with or without on-train Wi-Fi. Mobile device users now account for 40% of visits to the London Midland website and at that level train operators need to consider both the format and content of their online presence. For any company developing a new website, responsive design (which adapts the user experience dependant on the device being used) should be a given, but quick access to live departure information, train tracking on-the-move and disruption advice should be the bare minimum for all train operator websites. Developing a smartphone App is not essential, but may offer customers an even easier means of accessing information, and can potentially be funded by integrating with a ticket booking engine.
Of course the smartphone hasn't just physically changed the way we view information, it's driven a cultural change, too. Easy access to social media sites has created a world where people share photos, opinions and complaints with relative (or complete) strangers, and coupled with the 'boredom factor' of a train journey, Twitter in particular (with its message limit of 140 characters) has become a haven for frustrated passengers.
Train operators in the UK have embraced this channel, and over two million tweets have now been sent, with around one million people currently 'following' at least one train company. This has been driven by the channel's potential for both quick and efficient conversations/explanations coupled with the facility for open messaging to all followers and the sharing of photos to explain specific disruptive incidents. For train companies themselves, Twitter has also helped to reduce pressure on front line teams and call centre operators, as well as providing valuable intelligence of live issues and passenger expectations well before they turn into complaints. Indeed, such was the impact of London Midland's own @LondonMidland account, passengers' satisfaction with delay handling increased by 17% in just 12 months.
But will social media be here to stay? In the medium-term, certainly, but looking to the future, even more personalisation is likely, with the spread of smartcards and better use of GPS driving Apps to become even more sophisticated. That could include automatic remapping of your journey when there's disruption, and more proactive alerts to help you make decisions. What is certain is that the successful companies will be the ones whose information evolves with the needs of their customers.
And a final word of advice? Remember to keep your front line staff onside. However good your strategy, it will never end well if your passengers have more information than they do!
Biography
David Whitley is currently Head of Regional Services at London Midland, and an award-winning marketer who has spent almost 20 years improving marketing and communications in the bus and rail industry. David also created the @LondonMidland Twitter account, winner of the National Rail Awards for Putting Passengers First in 2011 and 2012.
David Whitley will be sharing his experiences of integrating passenger information and social media at European Railway Review's forthcoming Real-Time Passenger Information conference on 26 November 2014 in London.
To gain further insight and learn more from David's work, book your place now by visiting www.rtpiconference.com